Need for Data Capture Crucial, Now and After 'Meaningful Use'


It's never enough. Whether it is the Centers for Medicare & Medicaid Services (CMS), other payers, pharmaceutical manufacturers, or specialty companies, one can never provide enough data. When will it all end? The problem, or the opportunity for many, is that it won't end. The need for discrete data to accomplish even basic reimbursement today is compounding daily and will never go away. Physicians cannot just provide a basic set of charge codes, diagnosis codes, and a dictated note to fully support their practice in the most efficient and prosperous way anymore. They have to go further, and this involves harnessing a full range of technology to assist them.
At the core of this technology is the electronic health records (EHR) solution, which is pivotal to a robust and vibrant oncology practice today. "Meaningful use"—the CMS-incentivized implementation of EHR technology in ways that can be measured significantly in quality and quantity—is now upon us. Not only is there an opportunity to gain $44,000 in incentive payments, but this will be a requirement by 2015, when CMS reimbursement penalties (1%–5%) will affect claims for all of a physician's Medicare patients.
Will other payers follow? Probably. And just having a certified EHR in place isn't enough for this initiative. There are no fewer than 20 measures that must be reported, ranging from actions as simple as using ePrescribing consistently for patients, to formal quality criteria involving the documentation of specific oncology-related details.
Other Ramifications
Meaningful use measures will also envelop the launching of online "patient portals" for practices. Beyond the valuable services, information, and efficiencies that can and will be achieved for the improvement of care and engagement with patients, clinical information (ie, lab results and visit summaries) will be provided to patients as well. It will be critically important that the information being provided is up to date, complete, and accurate.
Again, will other payers follow suit and try to affect physician reimbursement by the successful certification of meaningful use? Plan on it. Additionally, the Quality Oncology Practice Initiative (QOPI®), developed by ASCO, is not just "nice to have" in practices today. Payers are now setting expectations of QOPI certification by oncologists as a benchmark to reimbursement. This involves a core set of metrics to be reported on, mostly separate from the meaningful use measures, and wholly focused on oncology care.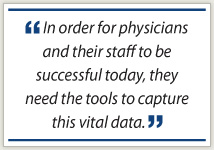 While QOPI is a great reporting initiative for measuring the health of clinical practices, many other quality mechanisms need to be provided to practices, involving clinical dashboards, and robust reporting—all to improve the quality and efficiency with which physicians care for patients.
Clinical research is another vast landscape begging for complete and robust data. In order to better identify patients who may be eligible for participation in clinical research, proactive measures, such as the harnessing of technical reporting tools, must be in place to help physicians target patients in their practice immediately for enrollment. These reporting tools can only be successful if they embrace data from physicians' current patient populations and generally within the domain of their EHR.
Reportable Data
Data is important. The data, however, must also be provided in a manner that can be reported. Today, dictation and typing into the EHR solution are not ways in which one can pull the relevant data out of electronic records. Whether it is for meaningful use, QOPI, research, or payer contracting, the reporting to support such initiatives must be in a structured format. That generally means "point and click" or "check the box."
In order for physicians and their staff to be successful today, they need the tools to capture this vital data. Physicians should be aware that embracing and adopting EHR solutions, practice management systems, and patient portals are necessary for a successful and vibrant practice, and I expect, one day will be viewed as a requirement by patients and their referring physicians.■
Disclosure: Ms. Chavez is Senior Director of Operations, Oncology and Multispecialty Customer Products, McKesson Specialty Health.
---