Medical Students Can Now Be ASCO Members, Thanks to an Intern Who Pressed

ASCO has just added a membership category for medical students, spurred on by—you guessed it—a medical student.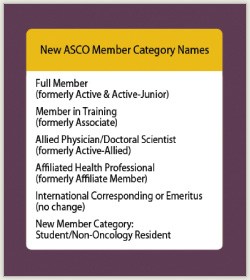 Daniel G. Stover, MD, knew he wanted to go into oncology from very early on. But when he contacted ASCO to join as an intern, having just graduated from Vanderbilt School of Medicine, he was told that no category existed for him. Dr. Stover crafted a letter to ASCO asking that the organization create a new membership category for those who haven't yet progressed to their oncology fellowship program but already have a keen interest in oncology.
"I wanted to be able to engage in ASCO, learn about what it is to be a clinical oncologist, and tap into the resources of the largest clinical oncology organization in the world," said Dr. Stover, now the Hugh Jackson Morgan Chief Resident in Internal Medicine at Vanderbilt University Medical Center.
A Way to Stanch the Oncologist Shortage
Helping him with the letter was his mentor Mace L. Rothenberg, MD, now Senior Vice President of Clinical Development and Medical Affairs for Pfizer Oncology, but then Professor of Medicine and Ingram Professor of Cancer Research at Vanderbilt, as well as an ASCO member who had held various leadership positions since 1986. Dr. Rothenberg agreed that allowing med students to become ASCO members just made good sense.
"We are already beginning to experience a significant manpower shortage in oncology. We should do everything we can as an organization to highlight the excitement and opportunities in the field and to attract the best people to careers in oncology," he said. "Ideally, this process should begin as early as possible, well before people start their fellowships. This is exactly what we need to be doing on an individual level, as well—helping spur interest in a field that so desperately needs good young physicians."
Dr. Stover's request was approved, and at the 2011 ASCO Annual Meeting it was made official: Medical students can now be ASCO members.
Reaching Them Earlier
The upside for ASCO: helping inspire interest in oncology earlier in the education cycle, and potentially helping alleviate the worsening shortage of oncologists. The upside for med students: access to sessions and thousands of oncologists at ASCO-sponsored meetings at a greatly discounted rate, and a yearly subscription to the Journal of Clinical Oncology for $50.
Dr. Stover says finding mentors should prove to be one of the key benefits for students, as will the opportunity to network with other like-minded individuals at the same stage in their career.
"I had a mentor in oncology when I wrote to ASCO, but that's definitely not the case for everyone; finding mentors isn't always easy," Dr. Stover commented. "Nothing fosters excitement about a topic like engaging with other people like you who are interested in the same thing. Now med students will be able to do that through ASCO."
Although a track at ASCO meetings specifically designed for med students doesn't yet exist, such programs, along with social events targeting med students, could provide additional substance and value to this new category of ASCO membership, Dr. Rothenberg pointed out.
Robust Networking
"There are limited opportunities at medical schools for students to interact with oncology specialists in a meaningful way," Dr. Rothenberg noted. "I am hopeful that this new membership category will enable students to connect with potential mentors and role models. Med students have so many questions for people who have gone through the same decision-making process as they are facing," he said. "It would be tremendously beneficial for them to have a way to meet and interact with people at various stages of their careers."
Dr. Stover is already taking advantage of networking provided through ASCO meetings, After attending the Gastrointestinal Cancers Symposium in September, he commented that just being able to attend the meetings and blend in with the fellows, researchers, and other doctors is very edifying.
"Getting to meet the people doing the research was inspiring, and their willingness to include me—a 29 year old—in their discussions just floored me," he said. "Their collegiality was really encouraging. Experiences like the one I just had will help push med students who are on the fence about oncology and excite those who already know it's what they want to go into, spurring them on to become the people making the big decisions about the field at the meetings 10 years from now." ■
© 2011. American Society of Clinical Oncology. All rights reserved.
---