Gathering Data Point to Potential Advantages of Vismodegib in Basal Cell Carcinoma and Other Advanced Cancers

Vismodegib is a small-molecule, orally active hedgehog pathway inhibitor that has shown considerable promise in treating basal cell carcinoma and is currently being evaluated alone and in combination in early-phase trials in medulloblastoma and a long list of other cancers.1 Owing to its first-in-class specificity for the Hedgehog pathway and relatively low toxicity, this drug has potential advantages compared with conventional chemotherapy in a variety of settings.
Hedgehog Pathway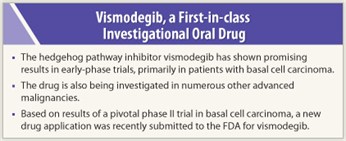 The hedgehog pathway is a primary regulator of many fundamental processes in vertebrate embryonic development, including stem cell maintenance, cell differentiation, tissue polarity, and cell proliferation. In knockout mice lacking components of the pathway, the brain, skeleton, musculature, gastrointestinal tract, and lungs fail to develop correctly. Although the pathway is normally inactive in differentiated cells, recent data indicate a role of hedgehog signaling in regulating adult stem cells involved in tissue maintenance and regeneration.
The pathway consists of three ligands (sonic, Indian, and desert) and two interacting transmembrane receptors, known as patched (PTC) and smoothened (SMO). In the absence of hedgehog ligand binding, PTC and SMO form a complex that inhibits cellular proliferation. With ligand binding, SMO is activated by the dissociation of the PTC receptor, initiating G protein–mediated signaling cascades that upregulate the glioma-associated oncogenes GLI1, GLI2, and GLI3. The associated proteins act as transcription factors that alter gene expression in apoptotic and cell-cycle pathways, as well as in the hedgehog signaling pathway. Reactivation of the hedgehog pathway through mutations or aberrant autocrine or paracrine ligand stimulation can result in uncontrolled cellular proliferation and tumor formation.
Constitutive activation of the hedgehog pathway leading to tumorigenesis is found in basal cell carcinomas and medulloblastoma.2 A variety of other cancers, including prostate, stomach, pancreatic, and colon, cancers, glioma, lymphoma, leukemia, and melanoma also exhibit inappropriate activation of this pathway. This pathway has also been shown to regulate proliferation of cancer stem cells and to increase tumor invasiveness.
Vismodegib is a ligand-specific inhibitor of the hedgehog pathway. It suppresses hedgehog signaling by binding to and interfering with the SMO transmembrane receptor, thereby preventing positive signaling to the pathway.
Phase I Trial
Vismodegib is furthest along in development in the setting of basal cell carcinoma, the vast majority of cases of which appear to involve aberrant hedgehog signaling.3 In a phase I trial,4 68 patients (including 33 with advanced basal cell carcinoma, 8 with pancreatic cancer, 1 with medulloblastoma, and 17 with other types of cancer) received vismodegib at 150, 270, or 540 mg/d. Grade 4 adverse events occurred in 9% of patients (hyponatremia, fatigue, pyelonephritis, presyncope, resectable pancreatic adenocarcinoma, and paranoia with hyperglycemia), and 28% experienced a grade 3 event, most commonly hyponatremia (10%), abdominal pain (7%), and fatigue (6%).
No maximum tolerated dose was reached. The recommended phase II dose was 150 mg/d, based on achievement of maximal plasma concentration and pharmacodynamic response at this dose. Tumor responses were observed in 20 patients, including 19 with basal cell carcinoma and 1 with unconfirmed response in medulloblastoma; 14 patients had stable disease as best response, and 28 had progressive disease. In patients with basal cell carcinoma, evidence of down-modulation of the oncogene GLI1 was observed in noninvolved skin, indicating inhibition of the hedgehog pathway.
Phase II Trial
A pivotal phase II study of vismodegib in patients with advanced basal cell carcinoma (ERIVANCE BCC trial) was reported to meet its primary endpoint of overall response rate as assessed by independent review, showing that vismodegib shrank tumors in a predefined percentage of study subjects.5 This international, single-arm, multicenter, two-cohort, open-label study included 104 patients with locally advanced disease (n = 71) or metastatic disease (n = 33). Patients with locally advanced disease had lesions that were inappropriate for surgery (defined as inoperable lesions or those requiring surgery that would result in substantial deformity) and unresponsive to or ineligible for radiotherapy. Metastatic disease was defined as disease that had spread to other parts of the body, including the lymph nodes, lung, bones, or internal organs. Study sites were located in the United States, Australia, and Europe.
Patients received oral vismodegib at 150 mg/d until disease progression or intolerable toxicity. Responses were achieved in 43% of patients with locally advanced disease and 30% of those with metastatic disease as assessed by independent review, with investigator assessment (a secondary endpoint of the trial) indicating response rates of 60% and 46%, respectively. The clinical benefit rate, including the proportion of patients with stable disease for more than 24 weeks, was 75% on independent review, and the median duration of progression-free survival for both metastatic and locally advanced disease patients was 9.5 months.
The most common adverse events in the phase II trial were muscle spasms, hair loss, altered taste sensation, weight loss, fatigue, nausea, decreased appetite, and diarrhea. Serious adverse events occurred in 25% of patients and were considered related to vismodegib treatment in 4%. Seven patients (7%) died, with none of the deaths thought to be related to vismodegib treatment; in all cases, patients had other preexisting diseases or symptoms that were related to their presumed cause of death.
Further Evaluation
On the basis of the findings in the phase II study in basal cell carcinoma, Genentech filed a new drug application for vismodegib in September.6 The drug is being developed by Genentech in collaboration with Curis.
Vismodegib alone or in combination is also being evaluated in early-phase studies in numerous malignancies, including metastatic colorectal cancer, small cell lung cancer, advanced stomach cancer, pancreatic cancer, chondrosarcoma, basal cell nevus syndrome, relapsed multiple myeloma, and recurrent glioblastoma multiforme, in addition to medulloblastoma.7 Phase II studies of vismodegib in ovarian cancer were discontinued in 2010 due to the absence of evidence of sufficient improvement in progression-free survival. ■
References
1. De Smaele E, Ferretti E, Gulino A: Vismodegib, a small-molecule inhibitor of the hedgehog pathway for the treatment of advanced cancers. Curr Opin Investig Drugs 11:707-718, 2010.
2. Gupta S, Takebe N, LoRusso P: Targeting the Hedgehog pathway in cancer. Ther Adv Med Oncol 2:237-250, 2010.
3. Caro I, Low JA: The role of the hedgehog signaling pathway in the development of basal cell carcinoma and opportunities for treatment. Clin Cancer Res 16:3335-3339, 2010.
4. LoRusso PM, Rudin CM, Reddy JC, et al: Phase I trial of hedgehog pathway inhibitor vismodegib (GDC-0449) in patients with refractory, locally advanced or metastatic solid tumors. Clin Cancer Res 17:2502-2511, 2011.
5. Roche Media Release: Pivotal study showed vismodegib helped shrink tumours or heal lesions in people with rare form of advanced skin cancer. June 20, 2011. Available at http://www.roche.com.
6. Genentech Media Release: Genentech submits new drug application to FDA for vismodegib for rare form of advanced skin cancer. September 12, 2011. Available at http://www.gene.com.
7. Clinical trials of vismodegib. Available at http://clinicaltrials.gov/.
---