Clinical Cancer Advances 2011: ASCO's Report on Progress Against Cancer

This year marks the 40th anniversary ofthe National Cancer Act and places a more prominent focus on how much progress against cancer has been made over the past 4 decades. In the past year alone, significant advances have been made in cancer prevention and screening, hard-to-treat cancers, and reducing cancer recurrence. Clinical Cancer Advances 2011: ASCO's Annual Report on Progress Against Cancer documents the year's most important clinical cancer research.
About the CCA Report
Every year ASCO appoints an editorial board of renowned oncologists in the field to undertake the compilation and publishing of Clinical Cancer Advances (CCA). Now in its seventh year, the report continues to document the advances that have significantly altered the way a cancer is understood or had a direct effect on patient care. The CCA report also covers the full scope of patient care, including cancer disparities, advanced cancer care, prevention, screening, and survivor care. 
Specialty editors were selected for each of the disease- and issue-specific sections of the report and the co-executive editors oversaw its development. The editors reviewed research presented at major scientific meetings and studies published in peer-reviewed scientific journals from October 2010 to September 2011 for consideration in this year's report. They also identified the most promising trends in oncology and provided their insights on where the future of cancer care is heading. 
Major Advances in Care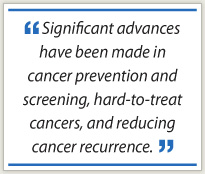 The 2011 CCA features a total of 54 advances in clinical oncology over the past year.  Twelve of the studies are noted as "major" advances, meaning they have the greatest potential impact on patients' lives. Highlights of these major developments include:
The first conclusive evidence that an aromatase inhibitor reduced the risk of a first breast cancer, making exemestane an option for postmenopausal women who are at high risk for the disease
A phase III trial showing that a new combination of chemotherapy drugs, busulfan (Busulfex, Myleran)/melphalan, improved survival for children with high-risk, metastatic neuroblastoma
Two phase III studies showing improved survival for patients with advanced melanoma:
Vemurafenib (Zelboraf), which targets a common mutation in melanoma in the BRAF gene, improved overall survival compared to standard chemotherapy.
Ipilimumab (Yervoy), an immune therapy that activates the immune system's T cells, combined with the standard chemotherapy drug dacarbazine improved overall survival by 2 months in patients with previously untreated metastatic melanoma.
A new standard of care for children and young adults with acute lymphoblastic leukemia—giving the common chemotherapy drug methotrexate in large, consistent doses rather than in the gradually increasing doses of the standard regimen
Cancer Policy Priorities
A new feature in this year's report is the "Year in Review," which describes key cancer policy developments and ASCO policy initiatives from the past year that are likely to influence cancer care over the coming years. Some of the important topics covered in this section include the growing problem of oncology drug shortages, ASCO's recommendations to transform clinical cancer research, an analysis of the potential impact of health-care reform on cancer disparities, the United Nations High-Level Meeting to address noncommunicable diseases, and potential solutions for oncology workforce shortages.
Clinical Cancer Advances 2011: ASCO's Annual Report on Progress Against Cancer was published online in the Journal of Clinical Oncology (www.jco.org) on December 5.  The full color report and additional resources are available at www.cancer.net/clinicalcanceradvances. ■
© 2011. American Society of Clinical Oncology. All Rights Reserved.
---