ASCO Issues Blueprint for Transforming Cancer Research in the 'Molecular Era'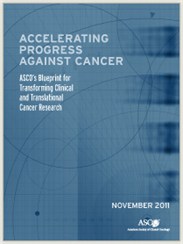 On November 3, ASCO issued a new report that lays out ASCO's vision for transforming clinical and translational research to deliver more effective and personalized cancer therapies faster. The report, Accelerating Progress Against Cancer: ASCO's Blueprint for Transforming Clinical and Translational Cancer Research, also articulates recommendations for achieving that vision over the next several years and ASCO's commitment to enacting the recommendations.
ASCO's report emphasizes that cancer science is undergoing a period of revolutionary change, thanks to a rapidly growing understanding of the molecular biology of cancer and new technologies that are leading to entirely new ways to develop therapies. However, the report argues that the U.S. cancer clinical research system is not fully equipped to deliver on the promise of these scientific and technologic advances in three key areas:
Drug and diagnostic development
Clinical trials design and implementation
Health information technology (HIT)
Real-world Recommendations
ASCO's Blueprint provides real-world recommendations for each of these areas that ASCO plans to address, in partnership with policymakers and the cancer community. Specific recommendations include:
1. Establish a new approach to therapeutic development, driven by our more thorough understanding of cancer biology and the advent of new technologies.
Identify and prioritize the molecular targets that have the greatest promise to improve survival.
Incentivize collaboration to encourage industry and researchers to pursue high-priority targeted therapies and diagnostics in combination.
2. Design smarter, faster clinical trials to provide evidence for effective treatments targeted to patients most likely to benefit, sooner.
Prioritize trials with the greatest potential benefits for patients, or that address clear unmet needs; shift away from trials that promise only marginal improvements in care.
Select trial participants primarily based on molecular characteristics, to ensure that only those who are most likely to benefit are included and that patients aren't excluded from trials because of health conditions that are not relevant.
3. Harness advances in health information technology to seamlessly integrate clinical research and patient care.
Use HIT tools, including electronic health records (EHRs) and "rapid learning" systems, to enable the experiences of all patients to inform our understanding of the effectiveness and safety of treatments and to help us focus on the most important research questions.
Standardize EHRs by defining functional requirements, harmonizing data fields, and ensuring secure patient and provider access to information at any time.
Develop industry standards for working with, storing, and capturing information from biospecimens (tissue and blood samples), which are essential to identifying and evaluating new ways to target cancer development.
Plans of Action
Over the next 3 years, ASCO plans to work with partners throughout the research community to develop more detailed plans of action for each of the three areas covered in this report.
To read the Blueprint, please go to www.asco.org/blueprint. For more about the progress already achieved due to cancer research, visit ASCO's CancerProgress.Net. ■
© 2011. American Society of Clinical Oncology. All Rights Reserved.
---