A Conversation with Ezekiel J. Emanuel, MD, PhD
How medical ethics and public health-care policy are converging in oncology

Last September, Ezekiel J. Emanuel, MD, PhD, a leading scholar in bioethics and health-care policy, was named the Diane v.S. Levy and Robert M. Levy University Professor and Vice Provost for Global Initiatives at the University of Pennsylvania in Philadelphia. His appointment will be shared between the newly created Department of Medical Ethics & Health Policy and the Department of Health Care Management in the Wharton School.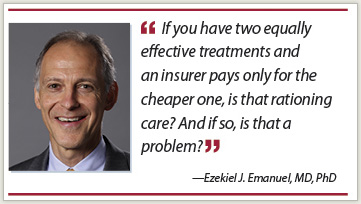 A long-time proponent of health-care reform, Dr. Emanuel was a member of the Healthcare Task Force during the Clinton Administration, focusing on the issues of biomedical ethics, and later became Chair of the Department of Bioethics at the Clinical Center of the National Institutes of Health, where he trained physicians in the ethics of human medical research and investigated the ethics of managed care and end-of-life care. In 2009, Dr. Emanuel became special advisor for health policy in the White House Office of Management and Budget and was one of the chief architects of the Patient Protection and Affordable Care Act signed into law in March 2010.
Dr. Emanuel talked with The ASCO Post about the changing role of medical ethics in oncology and how the Affordable Care Act will improve health care for all Americans.
New Role
Could you discuss your personal goals and objectives in your new position?
Health-care policy encompasses many medical ethical questions, including issues centered on allocating resources and determining what procedures and types of care should be covered. Yet there is very little research being done from the ethics standpoint. We definitely have to analyze those issues more. It's an area where I think the country is calling out for clarity. For example, if you have two equally effective treatments for a specific disease and an insurer pays only for the cheaper one, is that rationing care? And if so, is that a problem? That is both a health policy issue and a serious medical ethics issue.
There are many questions like that where ethics and policy come together. Another example involves care for terminally ill patients and how much we do for them at the end of their lives. I hope that we will be looking at those issues.
Teaching Ethics
Could you discuss the training that young physicians and medical students currently receive in medical ethics and how it should or could be improved?
There is a requirement for teaching ethics, but the quality and the focus of ethics courses vary, and the manner in which they are taught differs among medical schools. To be honest, the quality of the teachers varies tremendously as well. Some schools have very deep and well developed bioethics programs, but most don't. So I often see medical ethics being taught by people who really have no training in it, which we wouldn't accept in any other part of the medical school curriculum. That's one of the problems.
At Penn, we are going to try to address that issue by creating a fellowship program so that we train the next generation of bioethicists who can, in turn, be the experts on medical ethics, and teach it to future physicians and nurses.
Ethics and Oncology
Please talk about the importance of medical ethics in oncology care.
Medical ethics is integral to oncology care. When I ran ethics rounds at the Dana-Farber Cancer Institute, I used to say that every single oncology patient faced at least three ethical dilemmas. Informed consent is one. Do patients really understand what they are signing? There's typically a dilemma about allocating resources for treatment because these are very expensive therapies and many of them put a lot of financial pressure on families. And for many patients there's the dilemma of facing end-of-life care, as there will be for all of us since we're all going to die someday.
Affordable Care Act
Can you share your experience of helping to craft the Patient Protection and Affordable Care Act?
One of my roles was to develop ideas and policy alternatives that would help improve quality and reduce costs. We also spent a lot of time working out the details of policy proposals to ensure integrating the uninsured into the health-care system would be efficient and seamless. Two other areas I was particularly involved in were related to creating the health insurance exchanges and reforming the delivery system by changing mechanisms of payment to physicians and other providers. It was a great honor to serve President Obama and the nation in this most important of issues.
Optimal Cancer Care
If you could make the final decision, what do you believe would be the best system for delivering cancer care to all Americans?
First of all, we have to get to a point where we're delivering care efficiently and we're delivering the best care at the lowest price. We have a lot of choices in cancer care. In many situations, there are equivalent chemotherapies to treat cancer and we could appropriately choose the lower-priced chemotherapy over the more expensive drugs that really don't add very much in terms of survival or quality-of-life benefit.
In the case of radiation therapy for malignant bone metastases, for example, we know from randomized trials that 1 fraction is as good as 10 fractions. We have to start administering only 1 fraction and not 10, which drives up the cost, not to mention the inconvenience to patients.
Those are some of the things the oncology community needs to begin doing. We have to begin the conversation and take a stand about being efficient and when given equivalent options, choosing the less expensive one. There are plenty of things we do that aren't more beneficial to the patient but that cost more, and we have to stop practicing oncology that way.
Impact of Health-care Reform
Do you have any additional comments you would like to offer ASCO members regarding the Affordable Care Act?
Here's the question I always ask people: In 2020, when the pain and upset of change are past us, will the Affordable Care Act have resulted in a better health-care system or not? And the answer is, undeniably yes.
Because of health-care reform, every American is going to have an electronic health record and every American is going to have access to health insurance. We're going to provide better coordinated care, especially for chronically ill people, and we're going to have fewer hospital infections and hospital errors. We're going to have better quality metrics to assess the care we provide, and we're going to have much more information about the treatments that work and the treatments that don't work. From every one of those aspects, I think we're going to have a better health-care system because of health-care reform.
On Being an Oncologist
In light of the coming workforce shortage of oncologists, what would you say to encourage young physicians to specialize in oncology?

What drew me to oncology was a combination of three things. First, oncology has the most cutting-edge science, so if you're a science person, it's the medical specialty to be in. Second, if what really turns you on is getting to know patients and doing the best for them, the field of oncology is the place for that, too. You see patients intensely for months and you're helping them get through a life-threatening illness. You get to know patients in an intimate way that a primary care provider who sees patients once a year doesn't. It's an enormous privilege. And third, if you're like me, and what interests you are the ethical dilemmas—trying to understand what the right thing to do is in these very complex situations—again, the medical specialty for you is oncology.
No matter what your interest is, it seems to me that oncology is the most attractive specialty in medicine because it's all there: the science, the humanistic aspects of patient care, and the challenging ethical dilemmas. ■
Disclosure: Dr. Emanuel reported no potential conflicts of interest.
---