The Effect of the Reversal of Roe v Wade on Care of Pregnant Women With Cancer
Clinicians and a legal scholar discuss the consequences of abortion bans on patients and their health-care providers

The repercussions from the decision by the U.S. Supreme Court on June 24, 2022, to overturn Roe v Wade, effectively ending a nearly 50-year federal constitutional right to an abortion and allowing instead states to determine abortion access, are starting to be felt in the cancer care community. The results could be potentially catastrophic for pregnant women with cancer—and the physicians who treat them.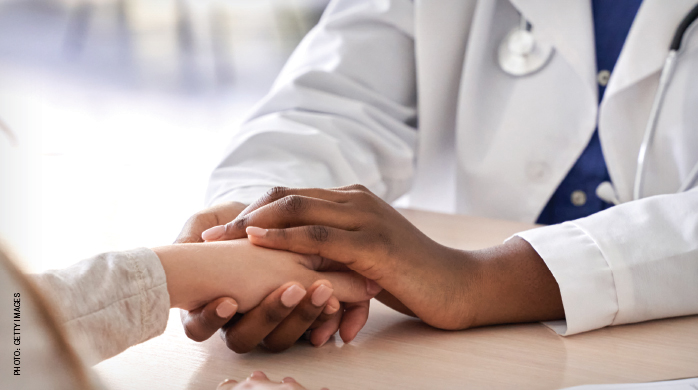 The ability of oncologists to discuss life-saving ­treatment options with their pregnant patients with ­cancer could be on the line. Photo: Getty Images
Although the geographic map keeps changing, it is expected that 26 states will either outlaw abortions entirely with an exception to save the life of the pregnant woman—but in many states not for rape or incest—or heavily restrict access to abortions (Figure 1). Many of these states also have laws that heighten penalties for physicians who perform abortions, including a trigger law that went into effect in Texas on August 25, which calls for life in prison and fines of no less than $100,000 for physicians performing the procedure unless the pregnant patient is in a medical emergency.1 However, it is difficult for physicians to discern what constitutes a "medical emergency" in these situations to justify an abortion, which may be the point, according to Katie Keith, JD, MPH, Director of Health Policy and Law Initiative at the O'Neill Institute for National and Global Health Law at Georgetown University Law Center, and Associate Research Professor at Georgetown University's Center on Health Insurance Reforms.

Katie Keith, JD, MPH
"Many of these laws are written vaguely, and some of them are very, very old and completely unclear. I think ambiguity is the point and is meant to have a chilling effect on providers," said Professor Keith.
Although oncologists do not perform abortions on their patients, they may not be exempt from potential legal jeopardy if necessary oncologic therapy endangers the health or development of their pregnant patient's fetus.
"Should an oncology provider be able to discuss all life-saving treatment options with their pregnant patients with cancer, including pregnancy termination if necessary? Absolutely. But will abortion bans cause oncologists to look over their shoulders and maybe hold back care? I don't know what these providers will do, but it puts them in an extremely difficult position in terms of having to practice medicine while consulting a lawyer as opposed to just practicing medicine and saving lives," said Professor Keith.
"An additional wrinkle for oncologists and patients with cancer is where does the need for cancer treatment fall in compliance with these bans? Even though there are some exceptions for the life of the mother, they do not clearly explain how sick the mother must be to justify an abortion. I think we are going to start to see a different application of these laws, and I'm waiting for the cases of harm to the fetus due to treatment brought to court. If these cases focus on providers, we are going to be in a whole new world," predicted Professor Keith.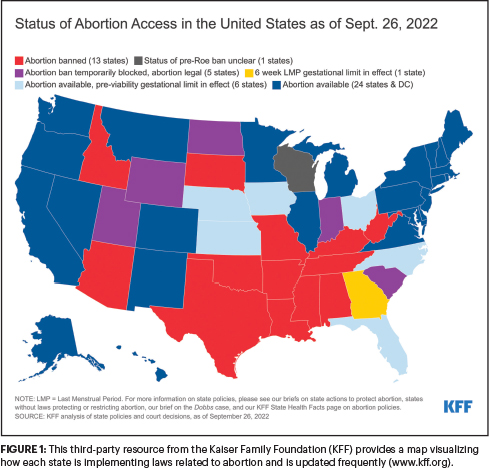 According to recent research, in 2020, there were 3.6 million births in the United States, and 1.5 million births (41%) were in the 26 states slated to enact abortion bans. The study authors estimated that at least 1,500 women of childbearing age in these states will be diagnosed with pregnancy-associated cancers, including breast, ovarian, cervical, and colorectal cancers, as well as lymphoma, leukemia, and melanoma. Based upon the occurrence rate and estimated rates of pregnancy termination, the authors projected that between 135 and 420 women with pregnancy-related cancers will experience compromises in their cancer care and potential loss of life.2
Understanding the Risks for Pregnant Patients and Physicians
Until these lawsuits are brought to court, and some clarity of the downstream effects of restrictive abortion bans comes into focus, Poland, which instituted a similar ruling banning access to abortion in nearly all circumstances, in 2021, may offer the clearest look at the risks these bans pose for pregnant women with cancer. Reports are emerging from the country that Polish women with cancer are being told they cannot receive treatment because it could harm the fetus.3 Nearly identical cases are being reported in other countries with abortion bans, including the Dominican Republic and Nicaragua, where there are reports that pregnant women are unable to receive potentially life-saving cancer care because it could potentially harm the fetus or induce a spontaneous abortion.4 Could a similar scenario in which cancer treatment is delayed, potentially putting the pregnant patient's health at risk, play out in the United States?
"Yes, absolutely," said Julie R. Gralow, MD, FACP, FASCO, Chief Medical Officer and Executive Vice President of ASCO. "Not broadly throughout the United States, but potentially in a subset of states. The whole question of who defines that the 'mother's life is in danger' is one we must answer. Is it the oncologist, the gynecologist performing the procedure, the hospital, or the lawyers? It's just not clear." (See ASCO's perspective in the November 25, 2022, issue of The ASCO Post.)

Julie R. Gralow, MD, FACP, FASCO
Evidence is starting to appear that compromised oncology care for these patients may already be happening in the United States. According to a recent report in The New York Times, some oncologists in Texas said they now wait for pregnant women with cancer to become sicker before treating them, because the standard of care would be to abort the fetus rather than prescribe treatments that damage it.5 However, a state law allows abortion only when a patient is "in danger of death or a serious risk of substantial impairment of a major bodily function."6
In addition, affidavits filed in Ohio showed that pregnant patients with cancer had to travel out of state for abortions after their physicians refused to treat them until their pregnancies were terminated. (Ohio instituted a 6-week ban on abortion after Roe v Wade was overturned in June. However, that law was temporarily blocked by a judge on September 14, 2022, restoring access to abortion in the state for up to 20 weeks after fertilization. It is unclear when the 6-week ban on abortion will take effect again.7)
In August, ASCO, the American Cancer Society Action Network, and the Leukemia & Lymphoma Society issued a joint brief (www.fightcancer.org/sites/default/files/cancer-care-and-reproductive-health-v4.pdf) on reproductive health and cancer care. The brief provides background on reproductive health, including medication access and fertility preservation, as it relates to cancer care and outlines the organizations' advocacy principles and priorities regarding these issues.
Anticipating the Unintended Consequences of Abortion Bans
The strict abortion bans across the United States are also posing unintended challenges for the health systems in these states: a reluctance by obstetrician-gynecologists to practice there. Reports from medical recruiting firms show that obstetricians-gynecologists are turning down offers to work in states prohibiting or limiting abortion, not only due to confusion over the medical circumstances allowing abortion care, but how the laws meant to protect a fetus could expose physicians to criminal prosecution as well.8

Alice S. Mims, MD

Karen M. Winkfield, MD, PhD

Stephanie V. Blank, MD

Leslie Coker Appiah, MD
To learn more about the potential far-reaching consequences restrictive abortion bans may have on pregnant patients with cancer and the physicians who treat them, as well as the impact the laws may have on fertility preservation, gynecology-oncology services, and physician liability, The ASCO Post talked with two oncologists practicing in states with prohibitive abortion laws: Alice S. Mims, MD, Acute Leukemia/Myeloid Malignancies Section Head at The Ohio State University Comprehensive Cancer Center in Columbus, and Karen M. Winkfield, MD, PhD, Executive Director, Meharry-Vanderbilt Alliance and Professor of Radiation Oncology at Vanderbilt University Medical Center in Nashville; Stephanie V. Blank, MD, Director of Gynecology Oncology for the Mount Sinai Health System, Professor of the Icahn School of Medicine at Mount Sinai, and President of the Society of Gynecologic Oncology; fertility preservation expert, Leslie Coker Appiah, MD, Professor and Division Chief of Academic Specialists in Obstetrics and Gynecology and Director of Fertility Preservation and Reproductive Late Effects program at UC Health in Colorado; and legal scholar Professor Katie Keith.
On the Front Lines
A Conversation With Alice S. Mims, MD
In Ohio, abortion is banned at 6 weeks of pregnancy when a fetal heartbeat can be detected. (Editor's Note: At publication, this ban is being challenged in court.) First, please explain what is meant by "fetal heartbeat." The heart is not yet developed at 6 weeks, so is the term medically inaccurate and misleading?
Yes, it is medically inaccurate and misleading. The electrical activity detected at 6 weeks of pregnancy is sporadic, and there is no coordinated pulses or true heartbeat happening at that time. A true anatomic heart structure does not form until about 10 weeks of pregnancy.
The law does not allow for exceptions, such as rape, incest, or a fetus determined to have a genetic defect, but it does allow abortion in cases of life endangerment or severely compromised physical health to the mother. Is a cancer diagnosis, for example, acute lymphoblastic leukemia, in a woman who is pregnant and needs life-saving treatment that may cause harm to the fetus, considered a "medical emergency," and is it therefore legal to perform a medically necessary abortion?
When the law went into effect, we reached out to our legal team to try to determine what would constitute a medical emergency, and it is not clear. No one really knows because the law is so new, and we do not know who is defining what constitutes a "medical emergency."
I feel that in my role as an oncology provider, it should be the medical team deciding whether a patient is in a medical emergency. However, the concern is that determination is going be made by the state attorney general, because if the state does not deem the condition a medical emergency, then we worry about litigation and being charged with a felony afterward. No one is clear on what defines a medical emergency for the pregnant woman.
What are the consequences to the pregnant patient if cancer treatment is delayed?
For some patients, it could mean death. I focus on treating acute leukemias. Sometimes patients need to start treatment within a matter of hours or days and cannot wait weeks or months until they are past pregnancy complications from their disease. The other concern is what if you prescribe chemotherapy for someone in her second or third trimester, when, hopefully, it would be safer for the fetus, but there is still a poor outcome with the pregnancy? What if the patient has a miscarriage, or there are fetal abnormalities because you treated through the pregnancy? There is also concern that we could face litigation in the future if the patient is not allowed to undergo a medically necessary termination.
How has overturning Roe v Wade impacted your ability to treat your pregnant patients? Are you able to counsel them about the risks to their health if they delay cancer treatment?
We still must counsel patients on the reality of what is going to happen if treatment is delayed. My concern is that if pregnancy termination is recommended, will obstetric-gynecologic colleagues be comfortable that the patient is in a medical emergency and perform the abortion? Will we have to recommend that patients go to another state where they can receive the treatment that they need without delays, which could put them at risk for a poor cancer outcome?
These decisions must be made very quickly. The question is, how do you still take good care of your patients when you have this sword hanging over your head?
Are you concerned about putting yourself in legal jeopardy if you counsel a patient to have a medically necessary abortion?
I took the Hippocratic Oath to do no harm and to do what is best for my patient. Of course, I worry about how these decisions could impact my career and my family, and whether I could go to jail. But for me, it is more important that I do what is right for my patients.
A Conversation With Karen M. Winkfield, MD, PhD
How will Tennessee's Human Life Protection Act, which prohibits abortion at fertilization except for preventing death or irreversible impairment of bodily function of the pregnant woman,9 impact your ability to care for pregnant patients with cancer?
I worry that this law and other state bans were not well thought out and will impact our ability to provide excellent oncology care to our pregnant patients. One of the cancers that is often associated with pregnancy is cervical cancer, which we know has a short timeline for a good outcome. If a patient is treated immediately with radiation therapy after a diagnosis, she has a good chance for a good outcome, but waiting even a few days reduces that chance substantially.
However, we know the health consequences to a fetus from radiation therapy can be severe, even at extremely low doses. If you are a pregnant woman with cancer, in some instances, you may have to decide whether to save yourself or your unborn child.
Given the parameters of the new law, would you be able to counsel your patients to have a therapeutic abortion if it would allow them to receive life-saving cancer treatment?
There is so much confusion in terms of what can and cannot be legally done. Cancer institutions are scrambling to figure out what to do. Every institution will need a standard operating procedure on how to handle these questions. There are going to have to be ethical consultations, but that will delay treatment options.
I personally still believe that it is within my scope of work to state to a patient what her medical options are. But here is where there is confusion in the law because there is the potential for criminal prosecution for providers who perform abortions. It looks like the actual prosecution is for providers who perform the abortion, but we know it can be extended to those who recommend abortions as well.
How concerned are you that you could be at legal risk if you counsel a patient to have a therapeutic abortion?
If I knew I was seeing someone who is pregnant and I needed to have a conversation with her regarding treatment options and maintaining a pregnancy, I would certainly talk with my institution representative first and ask for guidance. As a physician, I feel it is my job to discuss all treatment options with my patients, but I'm also representing an institution, and there is institutional risk with these laws as well.
The Impact on Gynecologic Oncology Services
A Conversation With Stephanie V. Blank, MD
How will abortion bans impact medical training in comprehensive obstetrics and gynecology services?
The Accreditation Council for Graduate Medical Education -(ACGME), which assesses and certifies residency programs, requires all residents to learn how to perform abortion procedures before graduating. I have heard that ACGME is asking medical institutions in the states that restrict abortions to provide physicians with funding to travel to another state to receive this training, but that will be very difficult for institutions in terms of financing and logistics.
The abortion procedure is common, but there are many nuances to performing it safely, and physicians need to be well trained and experienced in the procedure. If fewer physicians receive this training, the downstream effects will mean that both therapeutic and elective abortions will become riskier for women. Overturning Roe v Wade is not going to prevent abortions. It will only prevent ones that are safe and legal, which will disproportionately affect people of color and less affluent women from vulnerable communities.
How will this lack of medical training in abortion procedures jeopardize physicians' ability to fulfill their accreditation requirements to practice medicine both in restrictive states and in states that allow abortions?
The American Board of Obstetrics and Gynecology (ABOG), which establishes the standards for voluntary certification in obstetrics-gynecology practice, requires residents to have both teaching and experience in comprehensive family planning. This includes instruction and clinical patient care experience in patient education and counseling about available procedural and medical abortion, as well as management of abortion complications. Programs in states where abortion is not legal will be required to find this experience for their trainees, perhaps through simulation or going to states without this restriction.
Are you hearing from colleagues in the states with abortion bans that they may leave their practice over fear the bans will limit their ability to provide care for pregnant women with cancer and perhaps put them in legal jeopardy as well?
In some cases, yes. Others feel they need to stay to help their patients as best they can. But the fear is real. We don't even want to hold professional meetings in these states because we are concerned about the health of our members. We are anticipating this is going to result in fewer people wanting to go into obstetrics-gynecology practice altogether.
The Impact on Fertility Preservation
A Conversation With Leslie Coker Appiah, MD
Please talk about how state abortion bans, especially those in states with personhood laws, in which life is defined as beginning at fertilization, will limit fertility preservation options for patients with cancer.
In many of the states, the definition of -abortion is "to terminate the pregnancy in a woman"; therefore, pursuing in vitro fertilization and creating embryos outside of the womb do not necessarily fall under these laws currently. However, one of the challenges will be if the definition of a life is widely expanded to include embryos. For example, if patients undergoing fertility preservation with embryo freezing have genetic conditions that are heritable, and elect to freeze, thaw, and test those embryos prior to embryo transfer, the question becomes what to do with those embryos carrying a genetic mutation?
Once embryos are created and the laws restrict the ability to use these embryos, patients may elect to keep them stored indefinitely either because of the inability to decide on what to do with the embryos or because it may be unlawful. This could quickly make embryo cryopreservation more cost-prohibitive than it currently is, deter the use of this technology, and potentially affect what fertility preservation services insurance companies decide to cover. We have seen this in other countries where embryo creation is illegal.
How might abortion restrictions affect fertility preservation nationwide, for example, from a lack of continuing research innovation?
Freezing eggs or embryos requires 2 weeks of stimulation followed by retrieval and fertilization, in the instance of embryo creation. Because of the urgency to start chemotherapy immediately after a cancer diagnosis, research is being conducted to try to extract immature ovarian follicles and mature them in the lab to later fertilize and create an embryo. This process is termed in vitro maturation. We do not know whether there will be restrictions in our ability to create embryos from in vitro maturation if the laws become more and more restrictive. We need to be able to continue this research, so we can provide better fertility preservation options for patients with a life-threatening diagnosis who require urgent intervention.
How will abortion bans impact reproductive health in general?
One of the potential outcomes of abortion bans is that more women are likely to pursue long-acting, reversible contraceptive methods, such as intrauterine devices, which is a positive consequence. However, the same states with abortion bans also tend to be those that restrict access to contraception by limiting insurance coverage.
It will also be interesting to observe whether reproductive-aged women elect to attain higher education and pursue employment in states that allow early-term abortion and are more reasonable in providing access to reproductive health services. This will affect representation across state lines and may leave some marginalized women in the states with abortion bans without the advocates they need.
A major question remains: What will become of victims of sexual assault or those who do not have access to early pregnancy care? These laws may be tragic for them. I think this speaks to who we are as a society and how we provide care and compassion to individuals living in very challenging circumstances.
Understanding the Legal Ramifications for Physicians
A Conversation With Katie Keith, JD, MPH
Where can oncologists go for guidance on what is allowed to say or do for patients in the states that have outlawed abortion?
They should probably start with the legal teams in their medical institutions or hire a lawyer upfront. Oncologists are not performing abortions, but someone might try to argue that they are aiding and abetting an abortion if they refer a patient to an obstetrician-gynecologist for the procedure. I would like to think that physicians could counsel their patients the way they need to, but I do not know whether they are 100% safe and secure if they recommend abortion to provide life-saving cancer care for their pregnant patients.
What are the legal ramifications for patients with cancer seeking in vitro fertilization to protect their fertility during treatment? For example, if they had to discard a frozen embryo, could they and their physicians be in legal jeopardy for homicide?
My understanding of the current laws is that no, not yet. But these questions all have to be addressed. The abortion bans now in effect vary from state to state and are written so vaguely it is difficult to know what the legal liabilities might be.
I am watching for the next legislative session when I think we might get more clarity on these questions. My suspicion is, however, these laws will go even further in their restrictions and will be worse for women and their physicians.
Will it ultimately take lawsuits to get more clarity on the definition of what is meant by exceptions for the life of the mother?
Yes, but my concern is that patients with cancer pose such an emergency that they won't have time to wait for cases to come before the courts and then for the courts to resolve. My assumption is that women with the financial means will travel out of state if they need a therapeutic abortion. However, the idea that these laws are forcing immunocompromised patients to travel to another state for this care and then return to their home state for their cancer care adds an incredibly heartbreaking dimension for patients and their families. 
DISCLOSURE: Dr. Gralow is a member of the steering committee and data safety monitoring committee at Roche/Genentech; a member of the data safety monitoring committee and advisory board at AstraZeneca; a member of the advisory board at Puma Biotechnology; a member of the data safety monitoring committee at Novartis; a member of the data safety monitoring board at Immunomedics; and a consultant at Seagen. Professor Keith, Dr. Mims, Dr. Winkfield, Dr. Blank, and Dr. Appiah reported no conflicts of interest.
REFERENCES
1. Klibanoff E: Texans who perform abortions now face up to life in prison, $100,000 fine. The Texas Tribune, August 25, 2022. Available at www.texastribune.org/2022/08/25/texas-trigger-law-abortion/. Accessed October 17, 2022.
2. Silverstein J, Van Loon K: The implications of the Supreme Court decision to overturn Roe v Wade for women with pregnancy-associated cancers. JAMA Oncol. August 11, 2022 (early release online).
3. Bennhold K, Pronczuk M: Poland shows the risks for women when abortion is banned. The New York Times. June 12, 2022, updated June 26, 2022. Available at www.nytimes.com/2022/06/12/world/europe/poland-abortion-ban.html. Accessed October 17, 2022.
4. Hutchison C: Nicaragua's anti-abortion policy endangers women, criminalizes doctors, experts say. ABC News. February 25, 2010. Available at https://abcnews.go.com/Health/Wellness/nicaragua-abortion-ban-stymies-woman-chemotherapy-cancer-treatment/story?id=9936908. Accessed October 17, 2022.
5. Zernike K: Medical impact of Roe reversal goes well beyond abortion clinics, doctors say. The New York Times. September 10, 2022. Available at www.nytimes.com/2022/09/10/us/abortion-bans-medical-care-women.html. Accessed October 17, 2022.
6. LegiScan: Texas S.B. No. 8: Relating to abortion, including abortions after detection of an unborn child's heartbeat; authorizing a private civil right of action. Available at https://legiscan.com/TX/text/SB8/id/2395961. Accessed October 17, 2022.
7. Luthra S: State abortion bans are preventing cancer patients from getting chemotherapy. The 19* News. Available at https://19thnews.org/2022/10/state-abortion-bans-prevent-cancer-patients-chemotherapy/. Accessed October 17, 2022.
8. Rowland C: A challenge for antiabortion states: Doctors reluctant to work there. The Washington Post. August 6, 2022. Available at www.washingtonpost.com/business/2022/08/06/abortion-maternity-health-obgyn/. Accessed October 17, 2022.
9. Human Life Protection Act: Senate Bill 1257 by Gresham. Available at https://www.capitol.tn.gov/Bills/111/Bill/SB1257.pdf. Accessed October 17, 2022.
---