Mammen Chandy, MD, FRACP, FRACPA: A Pioneer in India's Bone Marrow Transplantation Services

In this installment of the Living a Full Life series, guest editor Jame Abraham, MD, FACP, spoke with bone marrow transplant expert Mammen Chandy, MD, FRACP, FRACPA, Director of Tata Medical Center, in Kolkata, India. Dr. Chandy was instrumental in establishing the first sustained bone marrow transplantation program in India.
Mammen Chandy, MD, FRACP, FRACPA, was born on August 30, 1949, in a small town in Kerala, a state on India's tropical Malabar Coast. Dr. Chandy did his schooling in The Laidlaw Memorial School of St. George's Homes, in the Nilgiri hills, founded in 1914 by the late Reverend John Breeden. After high school, he did a year of pre-university in Chennai; then he entered Christian Medical College (CMC) in 1967 and graduated in 1972. His earlier career choice was to become a veterinarian, but he has never regretted the final choice of medicine.
MAMMEN CHANDY, MD, FRACP, FRACPA

On his first bone marrow transplantation: "The most important lesson was regarding gut sterilization. I realized it killed only the drug-sensitive bacteria and allowed the resistant bacteria to survive. Now, I do not do gut sterilization in Indian patients."
On the lack of a radiation facility in Oman: "We imported a blood irradiator from the Atomic Energy Agency of Canada. The Royal Oman Police escorted the unit to the university, where it was installed."
On transforming the campus at Tata Medical Center: "I love plants, trees, and gardening. We went out to a nursery and bought these huge trees growing in large tubs; we put them into the ground and in no time had a beautiful campus full of trees."
"After that, I did my sponsorship obligation in Christian Fellowship Hospital, in a small rural town called Oddanchatram, for 2 years, doing everything from tooth extraction, delivering babies, giving anesthesia, and surgery. It was after this all-round experience that I realized I wanted to do internal medicine, and I joined the MD Medicine postgraduate program in 1975, at CMC Vellore," shared Dr. Chandy.
He continued: "The department of clinical pathology had what I would still consider one of the best teaching modules in all of hematology. There were brilliant lectures by eminent personalities such as Dr. S.J. Baker, Dr. Cyrus Kapadia, Dr. Robert Carmen, and Dr. A.B.A. Karat. Each lecture was followed by a 2-hour practical session, which was formative in creating my desire to do hematology. This shows that a well-structured teaching program can influence an individual, even at an early stage in life, to make a career choice."
While doing his MD postgraduate course, Dr. Chandy was involved in treating patients with hematologic malignancies. "I noticed that the treatment of patients with acute myeloid leukemia [AML] in CMC was inadequate and not backed by solid research, which I found troubling. The treatments were given more out of a sense of compassion and duty than based on scientific rigor. This was when I decided that hematology was the field of medicine I would like to specialize and work in—a specialty that gave me the opportunity not only to treat patients, but to advance the field," said Dr. Chandy.
Starting Small
After attaining his medical degree, Dr. Chandy joined the Department of Medicine at CMC as a consultant. At that time, the office of Medicine Unit I, consisted of only a small room for the secretary, a meeting room, and three 5 × 7 foot rooms for consultants. "While working there, I looked after hematologic patients as well. After working for about a year, I realized I needed some specialized training in hematology. However, there was no formal course in clinical hematology in India at that time. With the help of Dr. B.M. Pulimood, I joined the hematology and pathology fellowship in Westmead Center, Sydney, Australia, and was trained by the eminent hematologist Dr. Peter Castaldi and his faculty. After completing the fellowship, I returned to Vellore and joined the Department of Medicine at CMC," he shared.
Dr. Chandy founded CMC's fledgling clinical hematology unit in 1984 in a small office with a single intern, and he later added another small room in the outpatient department for bone marrow biopsies. "The first trephine biopsy was done using a Jamshidi bone marrow needle donated by a patient. Initially, I began by seeing general medicine cases along with hematology cases and then slowly restricted myself to hematologic cases. In the beginning, no one would refer hematology cases to me. There were informal queries on management of some cases by postgraduate registrars but no formal referrals. It took several years before hematology cases were referred to me," said Dr. Chandy.
He continued: "After the initial slow start, we found we were overwhelmed with work, and patients were being referred to us even for management of iron deficiency anemia. Gradually, other clinicians who had specialized in hematology joined me, and we formed a small team. This was how the hematology department started and grew. About 5 years after I finished my hematology training, the Department of Hematology was formally inaugurated as a separate unit in 1986."
First Bone Marrow Transplantation
Dr. Chandy described his first bone marrow transplantation as well as a lesson learned. "We performed the first bone marrow transplantation on a 26-year-old man from Kerala who had AML with multiple relapses. He had given up all hope and was ready for anything. He survived for about 2 weeks and finally died of severe Pseudomonas septicemia. This patient taught me several things."
He continued: "The most important lesson was regarding gut sterilization. In Australia, I had learned that gut sterilization with antibiotics was important before a transplant, but what I realized was that it killed only the drug-sensitive bacteria and allowed the resistant bacteria to survive. Now, I do not do gut sterilization in Indian patients. Today, the transplant unit in Vellore is the largest transplant unit in the country, doing approximately 150 allogeneic transplants a year."
Setting Up a Center in Oman
As hisretirement age neared, Dr. Chandy was invited by the Sultanate of Oman to come and start a transplant program in Oman, which is the oldest continuously independent state in the Arab world. "Professor Joe White from the UK had started the hematology unit in the university hospital in Oman, and he thought we should have a transplant program there. He invited me over, but sadly, by the time I joined the university in Oman, he had developed myeloma and died in the United States. Within 6 months of joining, the university authorities finally gave us permission to start a transplant program," said Dr. Chandy.
Guest Editor

Jame Abraham, MD, FACP
Jame Abraham, MD, FACP, is Acting Chair of the Taussig Cancer Institute and Chair of the Department of Hematology and Medical Oncology at Cleveland Clinic. He is also Professor of Medicine at Cleveland Clinic Lerner College of Medicine.
From the outset, Dr. Chandy was faced with a substantial challenge: There was no radiation facility in the Sultanate of Oman. "So, we imported a blood irradiator from the Atomic Energy Agency of Canada. The Royal Oman Police escorted the unit to the university, where it was installed. Once we had blood irradiation going, it was okay to start the transplant program. Within 6 months, we had done six transplants, by which time my sabbatical was over, but the transplant program continued to develop (actually by one of my students)."
Dr. Chandy spoke of the high incidence of genetic disorders in Oman. "You name it, you can find it in Oman. Because of the small population of 1.3 million, with intermarriages, the incidence of rare genetic disorders is huge; in fact, about 90% of the population inherit at least one alpha thalassemia gene. If you want a normal blood film in Oman, you must get it from an expatriate," he explained.
Short Retirement
Dr. Chandy continued his research and clinical work at CMC Vellore, until 2009, when he turned 60 and was required to retire by the institution's retirement mandate. "Shortly after my retirement from CMC, I was invited by the Tata family, who founded the Tata Memorial Centre in Mumbai, to run a new cancer center in Kolkata. The hospital was not yet completed, so for a year, I wore a construction helmet and walked around, helping to put together a greenfield project, now known as the Tata Medical Center. It was a tremendous amount of work, but today, it is a fully funded center with excellent laboratories, a good imaging department and an excellent radiotherapy unit with four linear accelerators, a pediatric hematology unit, and a nine-bed bone marrow transplant unit. We have completed 550 transplants in the new center, and much more importantly, we have started fellowship programs to train young doctors in different disciplines," he said.
Dr. Chandy continued: "We've also been instrumental in helping the Balco Hospital in Chhattisgarh, which today is a good cancer hospital. We have recruited a top-notch faculty and see approximately 20,000 new patients with cancer a year. We see about 700 to 900 outpatients per day and have a full repertoire of what is required for high-value cancer treatment—from robotic surgery to imaging to stem cell transplantation. We have also been receiving research grants from the Department of Biotechnology, and we hope to develop a chimeric antigen receptor T-cell program soon. So, it keeps me very busy."
Cost of Care in India
Dr. Abraham noted the financial challenges of cancer care in the United States and asked Dr. Chandy to shed some light on the situation on the ground in India. "To me, a tragedy in our profession is that the valuable new molecules are just so expensive. However, Indian pharma has made them available at a fraction of the cost you pay in the West. Imatinib, for instance, is manufactured now in India, and even a farmer with cancer can afford treatment at merely $15 a month, which is unheard of. I can now treat my patients without the concern of financial toxicity, which is such a benefit in the care continuum."
Dr. Chandy shared another example of differences in cost between India and the United States. "An allogeneic bone marrow transplant in most U.S. centers would cost about $250,000. At our center in Calcutta, we can do an allogeneic transplant for about $30,000 U.S. dollars. It's lower, partly because drugs are less expensive, partly because salaries are lower, and setting up the infrastructure in India is not as expensive as it is in Western countries. We still depend on technology from all over the world, but it is possible to deliver cancer care at a much lower cost than anywhere else in the world, at least in the Western world."
Horticulture and Words of Wisdom
How does a busy oncology leader decompress? "I love plants, trees, and gardening. It was a fantastic opportunity when I became Director of the Tata Medical Center in Kolkata and was given free rein to transform the campus. I went out to a nursery 100 kilometers from the Center and bought these huge trees, which were growing in tubs. We put them into the ground, and the freed roots now grew rapidly; in no time we had a beautiful campus full of trees."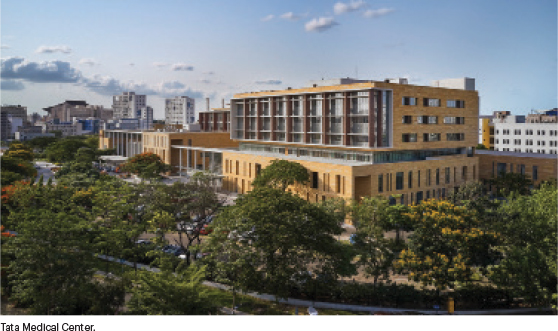 Dr. Chandy continued: "What I like about the Tatas is that they are willing to spend money on things you wouldn't otherwise spend it on. I had a 75-year-old PhD in horticulture who helped design the gardens, which are really very beautiful. That is something I enjoy doing; other than that, I spend time reading. Those are the only two things I do apart from my work, which is central to my life. In fact, my wife and a colleague of hers, who is also the wife of a doctor, were called the Medicine Widows, because their husbands were never around."
When asked to share some parting words of wisdom, Dr. Chandy replied: "When I was in medical school, I came across this definition of success by Ralph Waldo Emerson. 'To appreciate beauty, to find the best in others; To leave the world a bit better, whether by a healthy child, a garden patch, or a redeemed social condition; To know even one life has breathed easier because you have lived. This is to have succeeded.' I honestly believe that if you set that aim of success, your life can be quite rewarding." 
DISCLOSURE: Dr. Chandy reported no conflicts of interest.
---