SITC Announces Creation of Steven A. Rosenberg, MD, PhD, Endowed Scholars Fund


Steven A. Rosenberg, MD, PhD
The Society for Immunotherapy of Cancer (SITC) has announced the creation of the Steven A. Rosenberg, MD, PhD, Endowed Scholars Fund. Established in honor of Dr. Rosenberg, this fund recognizes his many contributions to the field by supporting investigators who are emerging leaders in immuno-oncology and focused on a novel approach to advancing the field of cancer immunotherapy.
After completing surgical residency training in 1974, Dr. Rosenberg became Chief of Surgery at the National Cancer Institute (NCI) at the National Institutes of Health (NIH)—a position he still holds today. As Chief of Surgery, he oversees an extensive clinical program to translate scientific advances into effective immunotherapies for patients with cancer.

Patrick Hwu, MD
"Through his lab at the NCI, Dr. Rosenberg has engaged with hundreds of scientists, both young and old," said SITC Vice President Patrick Hwu, MD, who worked with Dr. Rosenberg at the NIH. "He has focused on creating a whole new way to approach cancer through immune cells. His work is inspiring a whole new generation of physician-scientists to put the patient first, tackle the tough problems, and never give up."
Dr. Rosenberg's work pioneered the first effective immunotherapies and gene therapies for patients with advanced cancers, and his studies of cell-transfer immunotherapy have resulted in durable complete remission in patients with metastatic melanoma. He has also trained hundreds of cancer researchers, many of whom are leaders in the field of immunotherapy.
Inaugural Award Recipient
Eric Tran, PhD, of the Earle A. Chiles Research Institute, a division of Providence Cancer Institute, was recognized as the inaugural recipient of the Dr. Steven A. Rosenberg Scholars Award for Cancer Immunotherapy Research at SITC's 35th Anniversary Annual Meeting on November 11.

Eric Tran, PhD
His research award project, titled "Enhancing Cellular Therapy Against Cancer Neoantigens," contributed to a paradigm shift in basic immunology. It definitively demonstrated that neoantigens arising from patient-specific somatic mutations are a major class of antigens being targeted by tumor-infiltrating T cells in most patients with epithelial cancers. His work was also the first to demonstrate that immunotherapy with neoantigen-specific CD4-positive or CD8-positive T cells could mediate the regression of metastatic human epithelial tumors, which helped usher in a new wave of cancer treatment by immunologically targeting cancer mutations.
Dr. Tran trained at the NCI with Dr. Rosenberg and has extensive experience in translational and clinical adoptive T-cell therapy against cancer and in evaluating the T-cell response against tumor neoantigens. Dr. Tran's goal is to develop novel and more effective T-cell–based immunotherapies for patients with cancer.
Each year, SITC will seek new candidates to continue Dr. -Rosenberg's legacy with research awards granted specifically for early career scientists focused on tackling challenges that face the field of cancer immunotherapy. Recipients will be picked through an abstract submission process.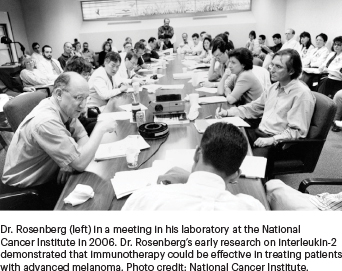 ---