Breaking the Cultural Norms: A Young Indian Girl Attains Her Dream of Becoming a Global Oncologist

For this installment of the Living a Full Life series, guest editor Jame Abraham, MD, spoke with Bhawna Sirohi, FRCP, who is currently the lead medical oncologist at the Apollo Proton Cancer Centre in Chennai, Tamil Nadu, India. Along with her work in the clinic and her research endeavors, Dr. Sirohi has served on the global stage as a senior consultant specializing in breast and gastrointestinal cancers.
BHAWNA SIROHI, FRCP

On her father's influence: "My father supported me in convincing my family to take the entrance exams for medical school, and the rest is history."
On thinking outside the box: "It was a challenge to get the ladies to come for a simple breast exam or cervical smear. Constantly engaging and educating the volunteer workers helped to break the barriers.
Advice for young clinicians: "Never be afraid to be a strong advocate for your patients with cancer and empower people around you."
Like most young Indian girls, it was made clear to Dr. Sirohi, by her mother, grandmother, and aunts, that she needed to learn how to manage a home; hence, she was taught to cook, bake, sew, stitch, and knit in preparation for marriage as soon as she turned 18. Yet Dr. Sirohi was fortunate to have a father who made her believe she could do anything she wanted with her life.
"My father was an officer in the Indian army, so we transferred every year or so, all across India. I have two sisters, and our uncle's daughter also lived with us for a while, so there were four of us growing up in an amazingly happy childhood. Each army posting was a fresh adventure to meet new friends, see different places, experience unique cultures and cuisine," said Dr. Sirohi.
Dr. Sirohi recalled an exciting childhood, growing up in stages across each quadrant of India's vast landscape, noting special times spent in the southern village of Cochin and in Ranikhet, a resort in the shadow of the towering Himalayas. An avid reader, sometimes burning through two novels in a day, Dr. Sirohi gained inspiration from her favorite authors (Ayn Rand and Robin Cook) and her forward-looking maternal grandmother, a strong-willed woman who didn't believe in her country's embedded cultural biases of caste and gender.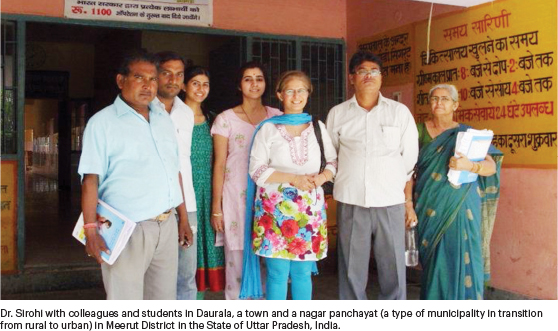 "As a teenager, I read Fever by Robin Cook and decided I wanted to be a cancer specialist and fight like the book's protagonist for my patients. It dawned on me much later that this meant being a doctor and a long journey to postgraduation and cancer specialization. As a woman, my first fight was to be allowed to study medicine and not get married. My father supported me in convincing my family to take the entrance exams for medical school, and the rest is history," said Dr. Sirohi.
A Global Citizen
When Dr. Sirohi was deciding on medical school, the family was living in Amravati. This mid-sized city in the Indian state of Maharashtra was where her father was stationed and was also home to the Government Medical College, where Dr. Sirohi began to pursue her medical degree in 1986.
Dr. Sirohi continued: "Though my family was initially concerned about me entering medical school, once I got there, everyone was excited I was the only person to accomplish this. In my second year, I transferred to Lala Lajpat Rai Memorial Medical College in Meerut, where I completed my undergraduate and postgraduate work."
Many Valued Mentors
Dr. Sirohi noted several mentors who taught her to seek out simple solutions to medical problems and the importance of maintaining a healthy work-life balance. One valued mentor, Dr. Adhip Mitra, saw an early acumen for surgery in his bright young charge. Although talented, however, Dr. Sirohi fainted during long hours in the OR, due to her unusually low blood pressure.
GUEST EDITOR

Jame Abraham, MD, FACP
Dr. Abraham is Professor of Medicine, Lerner College of Medicine, and Chair of the Hematology and Medical Oncology Department at Taussig Cancer Institute, Cleveland Clinic.
When Dr. Abraham asked about oncology mentors, Dr. Sirohi responded: "Dr. Suresh Advani was my first oncology mentor, and he taught me the basics of oncology and was instrumental in fulfilling my dream of seeing William Wordsworth's country and the daffodils. I fondly remember having tea with Dr. Katie Dinshaw and discussing everything under the sun. And, of course, Ray Powles taught me the true art of oncology, compartmentalizing during clinics, putting a smile on every patient's face, and sharing the art of driving research from phase I to phase III trials. I decided to specialize in breast and gastrointestinal cancers due to the amazing influence of my mentors—Drs. Ian Smith, David Cunningham, Stephen Johnston, and Mary O'Brien—each of whom made me a complete oncologist. I am proud today to think of them as colleagues, friends, and still mentors."
A Dream Realized
Dr. Abraham asked Dr. Sirohi to elaborate on her road to a career in oncology. "For one, a personal experience played into my decision to become an oncologist. My grandmother's father had been treated for cancer at Tata Memorial Hospital in Mumbai, and she talked about this 'godly' place that had helped him through his diagnosis and treatment. After that, my sole aim was to get to Tata Memorial Hospital. One day, I met Dr. Advani at a cancer awareness event in Delhi and went up to him and asked him when I could work with him at Tata Hospital, to which he immediately offered a warm invitation."
"So, when I completed my postgraduate studies, I traveled to Mumbai in 1994 and went to his office and reminded him of his promise. He asked me to meet with Dr. Praful Desai, then Director of Tata Memorial Hospital. I joined Tata Memorial Hospital in September 1994, something I had dreamed of as a 15-year-old girl."
Dr. Sirohi recalled the challenges faced by India's oncology community and its patients with cancer. "To this day, there is no coordinated cancer care in rural India. Most of the tertiary or quaternary cancer care centers are in metropolitan cities, which makes access extremely difficult for poor patients with cancer living in rural areas. An effort is being made now to set up cancer centers in some remote parts of India by Tata Trusts and the government," said Dr. Sirohi.
Thinking Outside the Box
During medical school, Dr. Sirohi worked in remote villages during her preventive and social medicine posting, a challenge she found rewarding and edifying. "I spent lot of my time counseling men and women to undergo birth control surgeries to control our population. Since then, I have worked with Accredited Social Health Activist and Anganwadi workers in Uttar Pradesh to raise cancer awareness. I've also done snapshot screening for breast and cervical cancers in villages of Haryana, Rajasthan, and Karnataka," said Dr. Sirohi.
Dr. Sirohi described going to a school clinic in the village of Thamli in the Kota district of Rajasthan, where she was confronted by obstacles to early detection and preventive care. "It was a challenge to get the ladies to come for a simple breast exam or cervical smear. I worked with the village elders, local gurus with a large following, local politicians, and celebrities to try to engage the people. Constantly engaging and educating the volunteer workers helped to break the barriers."
Sometimes thinking out of the box was necessary: "When working in Bangalore, I asked patients on chemotherapy to take high-protein diets; some of them could not afford it, so we arranged for 10 almonds, 2 eggs, 4 biscuits, and 2 bananas to be given to each patient admitted for chemotherapy in day care. After that, patients looked forward to coming to have chemotherapy. We did not have nurse specialists, so I recruited people to volunteer 2 hours a month to call to check on these patients. I personally trained them and designed a questionnaire. The joy on patients faces when I next saw them was indescribable!"
A Memorable Time in London
After her training at Tata Memorial Hospital, Dr. Sirohi left India for an oncologic adventure in England, one that would accelerate her career path. "When I came to London in 1998, I didn't know anyone, so it was quite lonely. In India, we were used to working 18 to 20 hours a day, with no thought about personal health or work-life balance. London was an eye-opener, especially the "cultural weekend" concept! I was quite impressed by the structured learning, featuring academic study days, mandatory communications skills courses, site-specific oncology driving excellence, introduction to end-of-life decision-making, and involvement with international cooperative groups, to name a few," shared Dr. Sirohi.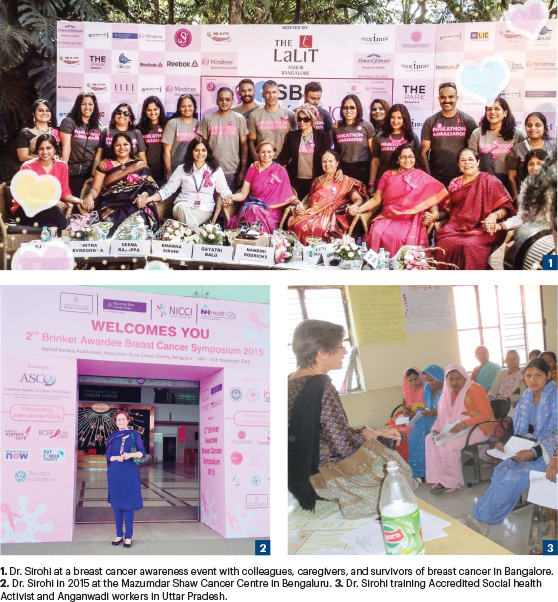 During her last 4 years in London, Dr. Sirohi became deeply involved with global oncology. "In 2018, I was elected President of the Oncology Section of the Royal Society of Medicine, the first person from India. I was able to see first-hand the huge disparities in a low-income country like Kenya, where I had gone with the international division of the Royal College of Physicians to train the trainers. I served as the program training director. It was most fulfilling to work with the next generation of medical oncologists and involve some in global oncology."
Passion and Commitment
Dr. Abraham asked whether Dr. Sirohi had any advicefor medical students. "My simple advice would be to stay focused and remember that passion, discipline, and commitment make the journey easy and happy. If you get to do what you really want to do, then you end up not working a single day, as you enjoy it so much, as I do. Never be afraid to be a strong advocate for your patients with cancer and empower people around you. And don't neglect to look after your own mental and physical health."
How does a super busy global oncologist decompress? "I love walking and being close to nature. Mountains and farms are where I always gravitate to for fun and relaxation. I also enjoy reading and watching cinema and live sports on TV; tennis, football, and cricket are my favorites, though I enjoy watching rugby also." 
DISCLOSURE: Dr. Sirohi reported no conflicts of interest.
---