An Early Love of the Duck-Billed Platypus Sparks a Career in Cancer Research


Elaine R. Mardis, PhD
Elaine R. Mardis, PhD, Co-Director of the Institute for Genomic Medicine at Nationwide Children's Hospital, was born and reared in North Platte, a small city located in the west-central part of Nebraska. "My love of science was sparked and nurtured by my father, who was a chemistry professor for 36 years. I remember how exciting it was to go the college and visit his laboratory. I was hooked on science at an early age," said Dr. Mardis.
Fascination With Zoology
After graduating high school in 1980, Dr. Mardis had to decide on her next academic step. "Most Nebraskans who want a large university setting go to the University of Nebraska, but I didn't want to follow the crowd, so I went to the University of Oklahoma [OU], Nebraska's archrival in football, which in Nebraska is pretty much everything. But what really sparked my interest in OU was it had a department of zoology; as a kid, I would go through my father's science textbooks, and zoology fascinated me," said Dr. Mardis.
"One thing in particular that caught my interest in my father's zoology textbook was a picture and discussion about the duck-billed platypus. It's funny, that when I was studying at Washington University in the early days of genomics, one of the genomes we ended up sequencing was of the duck-billed platypus, which kind of came full circle from my childhood."
A Professor's Advice Pays Off
At OU, Dr. Mardis took a course in biochemistry and found herself working in the laboratory of a nationally noted fruit fly geneticist. "It was a great learning opportunity, but I found the overall lab experience unsatisfactory in terms of my connection to the specific science. However, things changed during my senior year, when I took a course in molecular biology, which, in 1984, was still a fairly new science and really sparked my interest. My professor, Bruce Roe, PhD, suggested I stay on at his lab and pursue a PhD, which I did. Dr. Roe was one of the first academic scientists to have a fluorescent DNA sequencer in the laboratory," said Dr. Mardis.
A Stint in Industry Before Returning to Academia
After earning her PhD in chemistry and biochemistry in 1989, Dr. Mardis did postgraduate work in industry at Bio-Rad Laboratories in Hercules, California. "I stayed at Bio-Rad in research and development for about 4 years, all the time still focusing on the DNA-sequencing space and keeping my ear to the ground to keep track of how the government was progressing with The Human Genome Project," said Dr. Mardis.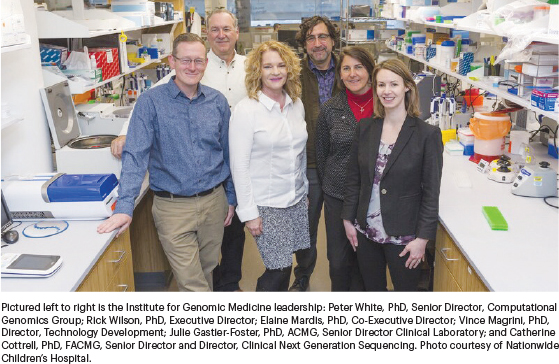 In 1993, Dr. Mardis left Bio-Rad and joined the faculty of Washington University School of Medicine in St. Louis. "I took the lead at Washington University in terms of developing technology for its DNA-sequencing project. Technology is really my first love, especially technology that solves human problems," she shared.
Dr. Mardis continued: "We were one of three centers funded by the National Institutes of Health to sequence the human genome, and I spent the bulk of the next few years doing sequencing. First, we sequenced the roundworm, Caenorhabditis elegans, which we did in concert with the Sanger Centre in England. It was published in 1998, and we considered it our training process during which the fine mapping of the human genome was occurring."
"After the roundworm sequencing, we quickly transitioned to sequencing the human genome, along with a multitude of other labs around the world. At the end, our group contributed about 20% of the genome's bulk sequencing. We also completed several chromosomes to high quality, which gave us the ability to use polymerase chain reaction and all the other tools we had to study the genes. We finished the Y chromosome and also chromosome 7, which is where a lot of cancer genes lie, EGFR, for example," said Dr. Mardis.
The Human Genome Project
The Human Genome Project came to completion in 2003. Soon after that historic event, Dr. Mardis and her team began a collaboration with Harold Varmus, MD, who at the time was Director of Memorial Sloan Kettering Cancer Center in New York.
"At the time, Dr. Varmus and a young trainee, William Pao, were conducting clinical trials on patients with lung cancer, testing the new tyrosine kinase inhibitors. The drugs worked on some patients and not others, so the obvious question was why? So, with the samples from Harold and William, we basically began working through a list of suspected genes in lung cancer and ended up publishing, along with two other independent groups, the first descriptions of EGFR tyrosine kinase mutations. That work led to our decision about how to use the incredibly valuable human genomic reference in human disease biology," said Dr. Mardis.
According to Dr. Mardis, the advent of next-generation DNA sequencing in the mid-2000s accelerated the field. "Since we were still one of the large genome centers, we got early access to these new instruments. We first worked with a technology that is now obsolete, called 4-5-4-sequencing. Then we quickly turned to the Illumina platform, which predominates the current market. We proposed to the National Cancer Institute [NCI] to take this next-generation sequencing technology and sequence the whole tumor genome and the matched normal genome from patients with acute myeloid leukemia," said Dr. Mardis.
Although the NCI denied the ambitious grant, undaunted, Dr. Mardis and colleagues garnered $1 million in philanthropy from Alvin Siteman, the benefactor of the eponymous Siteman Cancer Center. "We sequenced that first tumor genome, and it was reported in Nature, in 2008. I think the rest of it is kind of history; we were not the only ones pursuing this goal, but we were the first to get there. I never looked back in terms of applying next-generation sequencing to important clinical questions that have informed the basic understanding of cancer—of what drives cancer and how it can be treated as well," said Dr. Mardis.
Another Leg of Her Journey
Over her 23 years at Washington University, Dr. Mardis held several academic and leadership roles, one of which was Co-Director of the -McDonnell Genome Institute, where her work contributed largely to establishing massively parallel sequencing technologies for understanding cancer biology. In 2016, Dr. Mardis joined Nationwide Children's Hospital, where her focus has been incorporating next-generation sequencing assays and current knowledge of cancer genomics into new clinical approaches in cancer.
"Our institution is not focused solely on cancer but on all of the opportunities we have to use these marvelous tools to diagnose and treat a panoply of genetically driven pediatric diseases and deficiencies. In my current position, I participate in biweekly tumor boards. For about 3 years, we have studied more than 200 pediatric patients with cancer on a protocol I would call comprehensive genomic characterization. In short, we are looking to learn what the genome can tell us that will alter the course of therapy," said Dr. Mardis. "We ultimately want to apply these molecular characterizations to every child with cancer in the hope a targeted therapy or immunotherapy could possibly offer large potential in the pediatric realm."
Still Works in Adult Cancer
Although Dr. Mardis is known more for her work in pediatric cancer, she still works in the adult cancer world. "I'm currently active with a group called the Aurora Project, funded by the Breast Cancer Research Foundation. We are focused on an extensive study of breast cancer, comparing primary to metastatic disease. It's been underway for a few years, and we're readying for our first publication, so that's exciting. I'm also working with a colleague in a project that offers genomic clinical testing for women across the state of Ohio who have endometrial cancer. I'm also one of the leaders in The Ohio State University Comprehensive Cancer Center, where we have a translational genomics project underway. There's never a dull moment," said Dr. Mardis. 
DISCLOSURE: Dr. Mardis has served as a consultant or advisor to Interpreta, Kiadis Pharma, and PACT Pharma.
---