Role of Integrative Therapies for Patients With Colorectal Cancer

Richard T. Lee, MD
The ASCO Post's Integrative Oncology series is intended to facilitate the availability of evidence-based information on integrative and complementary therapies sometimes used by patients with cancer. In this installment, Richard T. Lee, MD, describes the symptoms associated with colorectal cancer and summarizes current research on acupuncture as a treatment option when conventional approaches are ineffective.
GUEST EDITOR

Jun J. Mao, MD, MSCE
Integrative Oncology is guest edited by Jun J. Mao, MD, MSCE, Laurance S. Rockefeller Chair in Integrative Medicine and Chief of Integrative Medicine Service at Memorial Sloan Kettering Cancer Center, New York.
Overview
In 2019, colorectal cancer will have affected an estimated 245,000 new patients in the United States, and it is the third most common cancer among men and women as well as the third most common cause of cancer death in the United States.1 Early-stage colorectal cancer is frequently treated with surgery, which can provide a cure for many patients. For those with stage II colorectal cancer who have high-risk features or stage III disease, adjuvant chemotherapy is generally recommended to help improve cure rates. For patients with rectal cancer, radiation therapy maybe recommended for locally advanced cancers prior to surgery. When detected early, colorectal cancer has a 5-year survival rate of approximately 90%; for those with metastatic disease, the average life expectancy is limited but now reaching more than 2 years.2
Studies show that patients with colorectal cancer are interested in the use of complementary and integrative medicine therapies, with herbs and supplements being the most popular followed by mind-body practices.3 There is growing evidence that such integrative treatments provide benefit for specific symptoms.
Acupuncture for Symptom Control
• Postoperative ileus: Because most patients with curable colorectal cancer will require surgery, they will be at risk for developing postoperative ileus, which is defined as lack of bowel function, an inability to take in food or water, and nausea and/or vomiting after surgery.4 This syndrome frequently prolongs the length of stay in the hospital. The exact mechanisms of postoperative ileus are yet to be elucidated but are likely multifactorial.4,5 The most commonly cited factors leading to the development of postoperative ileus are disorganized electrical activity, sympathetic inhibitory neural reflexes, release of proinflammatory mediators, excessive intravascular volume, and use of opioid analgesia.
A variety of perioperative strategies may help to prevent the development of and/or reduce the duration of postoperative ileus. These strategies have been incorporated into postoperative pathways, including early feeding, ambulation after surgery, and limiting opioid use.6-8 A number of agents (eg, erythromycin or bisacodyl) are commonly used, but studies have shown them to be of limited benefit.9,10
Acupuncture has also been investigated to help address postoperative ileus. Acupuncture is part of traditional Chinese medicine, and according to traditional Chinese medicine theory, meridians of energy exist throughout the human body that channel energy, or qi (pronounced chee). Acupuncture is thought to modulate qi by using needle manipulation to alter its flow, thus allowing the body to be healed. Modern scientific research has shown changes in peripheral nerve signaling as well as changes within the brain.
Four acupuncture clinical trials for the prevention of postoperative ileus have been published, two of which demonstrated significant benefits.11-14 The largest study randomly assigned 165 patients to receive acupuncture, sham acupuncture, and usual care; a 36-hour improvement in the time to defecation was reported, as was a 2-day improvement in the length of hospital stay when compared with no acupuncture. These data suggest acupuncture may be a possible treatment option to consider for patients who develop postoperative ileus.
• Chemotherapy-induced nausea and vomiting: Another common symptom experienced by patients with colorectal cancer during diagnosis and into treatment is nausea and vomiting, especially chemotherapy-induced nausea and vomiting.15 Complementary and integrative approaches can be considered for patients whose symptoms are refractory to standard antiemetics (such as serotonin receptor and neurokinin-1 antagonists).
Several studies have shown acupuncture to be helpful for chemotherapy-induced nausea and vomiting. A high-quality study involving 104 women with high-risk breast cancer demonstrated a two-thirds reduction in emesis with acupuncture compared with usual care.16 Although these studies have been conducted in other cancer populations, acupuncture can potentially be useful for patients with colorectal cancer as well.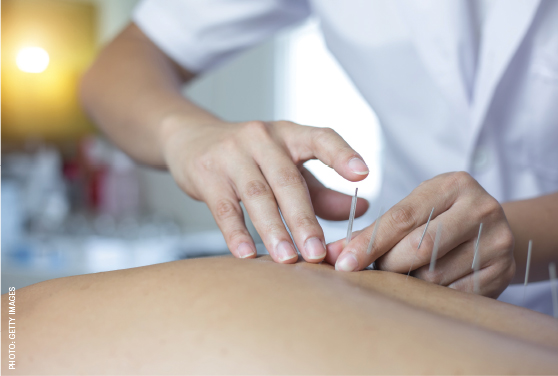 An additional therapy to consider for nausea is the use of ginger supplements. A recent review by Crichton et al indicated a 60% reduction in acute chemotherapy-induced nausea and vomiting following the intake of ginger.17 In another study, consumption of 500 mg to 1,000 mg of ginger twice daily was reported to be the most effective dose.18 Not all studies of ginger for chemotherapy-induced nausea and vomiting have shown positive results, and thus some patients may not respond to this treatment. It is likely that compared with current antiemetic medications, the effect size of ginger will be smaller.
• Chemotherapy-induced peripheral neuropathy: For patients with colorectal cancer receiving adjuvant chemotherapy as well as for those with metastatic disease, oxaliplatin is commonly recommended.19 However, oxaliplatin-based chemotherapy often leads to the particularly bothersome and sometimes debilitating syndrome known as chemotherapy-induced peripheral neuropathy. Patients may describe paresthesia (eg, tingling), hyper/hypoesthesia (increased or decreased sensitivity), numbness, dysesthesia (abnormal or unpleasant sensations), and cold sensitivity, the latter being unique to oxaliplatin.
OF NOTE
Four acupuncture clinical trials for the prevention of postoperative ileus have been published, two of which demonstrated significant benefits.11-14
The incidence of chemotherapy-induced peripheral neuropathy is directly related to the dose of oxaliplatin and its schedule, with higher cumulative doses (> 780–850 mg/m2) leading to a greater incidence.20,21 The symptoms of chemotherapy-induced peripheral neuropathy may also lead to dose-limiting toxicity, which prevents potentially curative therapies.21-23 The incidence of acute neurotoxicity with the commonly used combination therapy FOLFOX (oxaliplatin, fluorouracil, and leucovorin) has been reported to be as high as 92%.22,24 However, chemotherapy-induced peripheral neuropathy often improves with cessation of treatment within 3 to 6 months, and it appears to be more stable after this time, with a prevalence of 20% to 40%.22,25,26 Data from the N08CB randomized phase III study of FOLFOX chemotherapy in patients with colon cancer confirmed these findings: In patients with moderate-to-severe chemotherapy-induced peripheral neuropathy, symptoms appeared to be relatively stable, 6 months after treatment.25
Acupuncture is being studied as a possible nonpharmacologic approach to treat chemotherapy-induced peripheral neuropathy. Although no specific studies of this approach in colon cancer have been conducted, trials in patients with multiple myeloma and breast cancer provide some evidence of benefit.27-29 However, one study of prevention of chemotherapy-induced peripheral neuropathy in patients with breast cancer showed no benefit with acupuncture.30 For patients experiencing chronic chemotherapy-induced peripheral neuropathy who have tried standard treatments with duloxetine, gabapentin, or pregabalin, a trial of acupuncture would be reasonable to consider. More research is needed to further evaluate the role of acupuncture in patients with colorectal cancer.
Additional Comments
Finally, colon cancer survivors should be encouraged to follow the American Cancer Society guidelines for cancer survivorship.31 They emphasize the importance of healthy nutrition and exercise. Specifically, patients should be encouraged to incorporate more fruits and vegetables in their diets, aiming for at least 5 to 6 servings a day, and to limit foods such as red meat and processed foods. For exercise, patients should target 150 minutes of moderate-level physical activity each week. Several retrospective studies have shown that adherence to these guidelines may reduce the risk of recurrence and may also help with symptoms such as fatigue.32 Clinical trials to examine the benefits of exercise in patients with colorectal cancer are ongoing.■
Dr. Lee is Associate Professor in the Division of Hematology and Oncology and the Helen Moss Foundation–Schoff Family Professor of Integrative Oncology at Case Western Reserve University School of Medicine, Cleveland.
DISCLOSURE: Dr. Lee reported no conflicts of interest.
REFERENCES
1. American Cancer Society: Cancer Facts & Figures 2017. Available at https://www.cancer.org/research/cancer-facts-statistics/all-cancer-facts-figures/cancer-facts-figures-2017.html. Accessed November 25, 2019.
2. Loupakis F, Cremolini C, Masi G, et al: Initial therapy with FOLFOXIRI and bevacizumab for metastatic colorectal cancer. N Engl J Med 371:1609-1618, 2014.
3. Sewitch MJ, Rajput Y: A literature review of complementary and alternative medicine use by colorectal cancer patients. Complement Ther Clin Pract 16:52-56, 2010.
4. Venara A, Neunlist M, Slim K, et al: Postoperative ileus: Pathophysiology, incidence, and prevention. J Visc Surg 153:439-446, 2016.
5. Bauer AJ, Boeckxstaens GE: Mechanisms of postoperative ileus. Neurogastroenterol Motil 16(suppl 2):54-60, 2004.
6. Zhuang CL, Ye XZ, Zhang XD, et al: Enhanced recovery after surgery programs versus traditional care for colorectal surgery: A meta-analysis of randomized controlled trials. Dis Colon Rectum 56:667-678, 2013.
7. Senagore AJ, Champagne BJ, Dosokey E, et al; Pharmacogenetics-guided analgesics in major abdominal surgery: Further benefits within an enhanced recovery protocol. Am J Surg 213:467-472, 2017.
8. Keller DS, Bankwitz B, Woconish D, et al: Predicting who will fail early discharge after laparoscopic colorectal surgery with an established enhanced recovery pathway. Surg Endosc 28:74-79, 2014.
9. Traut U, Brügger L, Kunz R, et al: Systemic prokinetic pharmacologic treatment for postoperative adynamic ileus following abdominal surgery in adults. Cochrane Database Syst Rev CD004930, 2008.
10. Zingg U, Miskovic D, Pasternak I, et al: Effect of bisacodyl on postoperative bowel motility in elective colorectal surgery: A prospective, randomized trial. Int J Colorectal Dis 23:1175-1183, 2008.
11. Deng J, Yang S, Yuan Q, et al: Acupuncture ameliorates postoperative ileus via IL-6-miR-19a-KIT axis to protect interstitial cells of Cajal. Am J Chin Med 45:737-755, 2017.
12. Meng ZQ, Garcia MK, Chiang JS, et al: Electro-acupuncture to prevent prolonged postoperative ileus: A randomized clinical trial. World J Gastroenterol 16:104-111, 2010.
13. Ng SS, Leung WW, Mak TW, et al: Electroacupuncture reduces duration of postoperative ileus after laparoscopic surgery for colorectal cancer. Gastroenterology 144:307-313, 2013.
14. Zhang Z, Wang C, Li Q, et al: Electroacupuncture at ST36 accelerates the recovery of gastrointestinal motility after colorectal surgery: A randomised controlled trial. Acupunct Med 32:223-226, 2014.
15. Röhrl K, Guren MG, Småstuen MC, et al: Symptoms during chemotherapy in colorectal cancer patients. Support Care Cancer 27:3007-3017, 2019.
16. Shen J, Wenger N, Glaspy J, et al: Electroacupuncture for control of myeloablative chemotherapy-induced emesis: A randomized controlled trial. JAMA 284:2755-2761, 2000.
17. Crichton M, Marshall S, Marx W, et al: Efficacy of ginger (Zingiber officinale) in ameliorating chemotherapy-induced nausea and vomiting and chemotherapy-related outcomes: A systematic review update and meta-analysis. J Acad Nutr Diet. September 10, 2019 (early release online).
18. Ryan JL, Heckler CE, Roscoe JA, et al: Ginger (Zingiber officinale) reduces acute chemotherapy-induced nausea: A URCC CCOP study of 576 patients. Support Care Cancer 20:1479-1489, 2012.
19. Benson AB, Venook AP, Al-Hawary M, et al: NCCN Clinical Practice Guidelines in Oncology: Colon Cancer, version 4.2019—November 8, 2019. Available at https://www.nccn.org/professionals/physician_gls/pdf/colon.pdf. Accessed November 25, 2019.
20. Grothey A: Clinical management of oxaliplatin-associated neurotoxicity. Clin Colorectal Cancer 5(suppl 1):S38-S46, 2005.
21. Cassidy J, Misset JL: Oxaliplatin-related side effects: Characteristics and management. Semin Oncol 29(5 suppl 15):11-20, 2002.
22. André T, Boni C, Mounedji-Boudiaf L, et al: Oxaliplatin, fluorouracil, and leucovorin as adjuvant treatment for colon cancer. N Engl J Med 350:2343-2351, 2004.
23. Tournigand C, André T, Achille E, et al: FOLFIRI followed by FOLFOX6 or the reverse sequence in advanced colorectal cancer: A randomized GERCOR study. J Clin Oncol 22:229-237, 2004.
24. de Gramont A, Figer A, Seymour M, et al: Leucovorin and fluorouracil with or without oxaliplatin as first-line treatment in advanced colorectal cancer. J Clin Oncol 18:2938-2947, 2000.
25. Pachman DR, Qin R, Seisler DK, et al: Clinical course of oxaliplatin-induced neuropathy: Results from the randomized phase III trial N08CB (Alliance). J Clin Oncol 33:3416-3422, 2015.
26. Land SR, Kopec JA, Cecchini RS, et al: Neurotoxicity from oxaliplatin combined with weekly bolus fluorouracil and leucovorin as surgical adjuvant chemotherapy for stage II and III colon cancer: NSABP C-07. J Clin Oncol 25:2205-2211, 2007.
27. Bao T, Goloubeva O, Pelser C, et al: A pilot study of acupuncture in treating bortezomib-induced peripheral neuropathy in patients with multiple myeloma. Integr Cancer Ther 13:396-404, 2014.
28. Bao T, Seidman AD, Piulson L, et al: A phase IIA trial of acupuncture to reduce chemotherapy-induced peripheral neuropathy severity during neoadjuvant or adjuvant weekly paclitaxel chemotherapy in breast cancer patients. Eur J Cancer 101:12-19, 2018.
29. Garcia MK, Cohen L, Guo Y, et al: Electroacupuncture for thalidomide/bortezomib-induced peripheral neuropathy in multiple myeloma: A feasibility study. J Hematol Oncol 7:41, 2014.
30. Greenlee H, Crew KD, Capodice J, et al: Randomized sham-controlled pilot trial of weekly electro-acupuncture for the prevention of taxane-induced peripheral neuropathy in women with early stage breast cancer. Breast Cancer Res Treat 156:453-464, 2016.
31. Rock CL, Doyle C, Demark-Wahnefried W, et al: Nutrition and physical activity guidelines for cancer survivors. CA Cancer J Clin 62:243-274, 2012.
32. Van Blarigan EL, Fuchs CS, Niedzwiecki D, et al: Association of survival with adherence to the American Cancer Society Nutrition and Physical Activity Guidelines for Cancer Survivors after colon cancer diagnosis: The CALGB 89803/Alliance Trial. JAMA Oncol 4:783-790, 2018.
---