Scientific and Career Development Retreat: Networking and Collaborating With Promising Researchers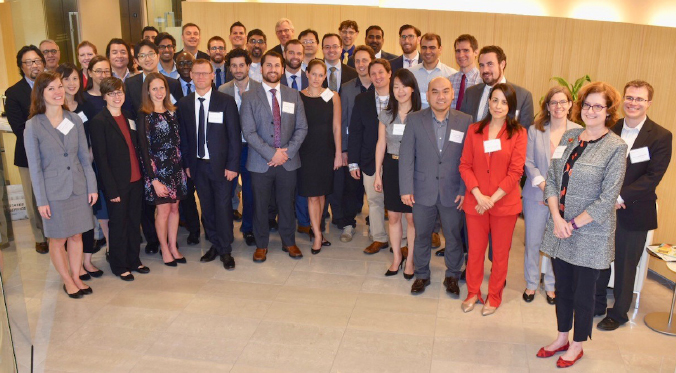 2018 retreat attendees and distinguished speakers.
ASCO's Conquer Cancer Foundation is committed to supporting the research and career development of young researchers through its Grants & Awards Program. On October 10–11, 2018, Conquer Cancer hosted its 4th Scientific and Career Development Retreat at ASCO headquarters in Alexandria, Virginia. Attendees included Career Development Award (CDA) and Young Investigator Award (YIA) recipients who received awards between 2012 and 2018, ASCO and Conquer Cancer leadership and staff, as well as distinguished speakers and guests, some of whom are past Conquer Cancer grant recipients. The 2-day event encouraged networking and collaboration among grant recipients and provided attendees the opportunity to learn from and interact with speakers on several career development topics.
The retreat began with a networking reception and dinner, where Clifford A. Hudis, MD, FACP, FASCO, Chief Executive Officer of ASCO and Conquer Cancer, opened the program with an informative introduction to both ASCO and Conquer Cancer. The evening continued with an overview of CancerLinQ Discovery, led by Wendy S. Rubenstein, MD, PhD, FACMG, FACP, Deputy Medical Director of CancerLinQ.
Conquer Cancer Grants Selection Committee Chair-Elect Daniel J. George, MD, of Duke University, served as moderator for the second day of the retreat and began by presenting awards to the two highest-ranking abstracts submitted to the retreat, as determined by the Conquer Cancer Grants Selection Executive Committee: 2015 CDA recipient David Margel, MD, PhD, of Rabin Medical Center, and 2013 YIA recipient Ben Creelan, MD, MS, of H. Lee Moffitt Cancer Center and Research Institute. The morning continued with poster and oral presentations, allowing plenty of time for attendees to network and share their research findings with fellow award recipients and distinguished guests.
Daniel F. Hayes, MD, FACP, FASCO, 2016–2017 ASCO President, gave a keynote address entitled "Career Development and Serendipity: From Fleming to You." In his enlightening talk, Dr. Hayes offered pearls of wisdom for success as a physician-scientist. Two of these pearls included encouraging attendees to "pick good mentors, mentees, and colleagues" and to take advantage of serendipity when it occurs.
In the afternoon, attendees benefited from a panel discussion on how to build an effective research team that includes a mentor, patient advocate, and biostatistician. ASCO President Monica M. Bertagnolli, MD, FACS, FASCO, shared a mentor's perspective, while Mary Lou Smith, JD, MBA, Co-founder of the Research Advocacy Network, discussed the importance of patient advocates, and Elizabeth Garrett-Mayer, PhD, Division Director of Biostatistics and Data Management at ASCO, explained how to incorporate the support of a biostatistician in research.
The afternoon continued with career development breakout sessions. In the first session, David S. Hong, MD (2004 YIA), of The University of Texas MD Anderson Cancer Center, provided information on best practices for interacting with industry, while Dawn Hershman, MD, MS, FASCO (2002 CDA, 2007 ACRA, 2015 CERP), of Columbia University, discussed health services, health outcomes, and cancer care delivery research. In the second breakout session, Jaishri Blakeley, MD (2009 CDA), and Christine Pratilas, MD (2004 YIA), of Johns Hopkins University, co-led a talk on how to effectively manage a lab, while Eduardo Sotomayor, MD, of George Washington University, provided a presentation about the hiring and the contract negotiation process.
A 2015 YIA recipient and two-time retreat attendee shared, "I have attended the past 2 years and have benefited in meaningful ways each time—the first [year] as I was still in training and planning for my job search, and this most recent time as a new faculty member in the process of setting up my lab."
The 2019 Scientific and Career Development Retreat will be held October 29–30, 2019, at ASCO headquarters. Abstract submission, which is by invitation only, will open in May 2019. For more information about the Conquer Cancer Grants & Awards Program, visit conquer.org. ■
© 2018. American Society of Clinical Oncology. All rights reserved.
---