Walther Cancer Foundation Endows New ASCO Special Award and Lecture for Palliative and Supportive Care

The Walther Cancer Foundation, Inc., a private foundation based in Indianapolis, Indiana, has endowed a new ASCO award and lecture bearing its name to be presented annually at the Palliative and Supportive Care in Oncology Symposium. This grant represents a new foray for the foundation as it expands its investment in the area of supportive oncology.
The foundation's history stems from the Walther Cancer Institute, a medical research organization in Indianapolis. The institute was founded in 1985 by Joseph E. Walther, MD, a physician and philanthropist whose role in cancer research was significantly influenced by the death of his wife, Mary Margaret Walther, from colon cancer. Dr. Walther had successful careers as an internist and Assistant Professor of Medicine at Indiana University School of Medicine and as a business executive presiding over the Walther Cancer Institute. He was also a veteran of the U.S. Army Air Corps and Air Force Reserves and, in his youth, an athlete who qualified for the 1932 Olympics. Yet, he is perhaps best known for his legacy of not only providing funding for cancer research, but also for programs improving the quality of life for patients.
D. Craig Brater, MD, Vice President of Programs for the Walther Cancer Foundation, reflected, "It was important to Dr. Walther to focus on research, but he also realized there was a need in the areas of supportive and behavioral oncology." 
As early as 1985, the Walther Cancer Institute began supporting behavioral oncology programs at Indiana University. In 2007, the institute merged into the Walther Cancer Foundation, which has continued Dr. Walther's legacy and is one of the few private foundations with established programs to support palliative care in oncology.
The foundation currently manages approximately 40 active grants for "high-risk, potentially high-reward efforts" in basic laboratory, clinical, and behavioral cancer research in the state of Indiana. It offers faculty development awards to nurture the careers of faculty engaged in supportive oncology at schools of medicine, nursing, and psychology. Most of its grants have been made to the Purdue University Center for Cancer Research, Melvin and Bren Simon Cancer Center and School of Medicine at Indiana University, and Harper Cancer Research Institute at University of Notre Dame.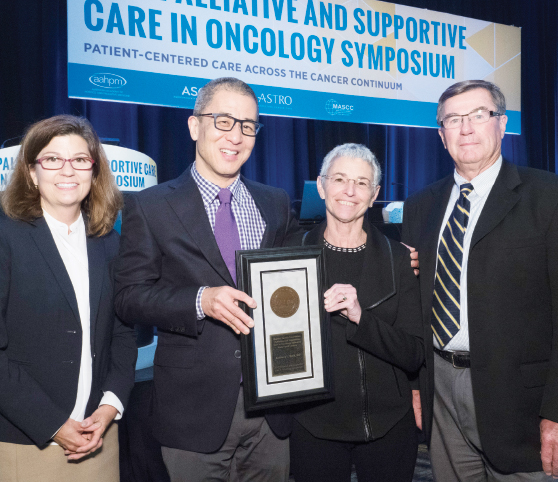 From left to right: Mary Eisler; Anthony L. Back, MD; Jamie Von Roenn, MD, FASCO; and D. Craig Brater, MD; at the 2017 Palliative and Supportive Care in Oncology Symposium. Photo by © ASCO/Phil McCarten 2017
The establishment of an endowed ASCO special award represents a new chapter in Walther's giving. Dr. Brater explained, "Through a planning process that the foundation went through a few years ago, we asked ourselves, 'Is there an opportunity for us to be more strategic? How can we have the greatest impact in supportive care?' We became interested in what ASCO was doing in this sphere." 
According to Dr. Brater, Walther has typically worked "behind the scenes," preferring limited recognition. It decided to establish a named award that would increase recognition for the field of palliative and supportive care. 
"We thought the need for supportive oncology is so great, that we should extend beyond our comfort zone to see if the new award could bring a lot more attention to supportive oncology and encourage more support for the discipline as a whole," said Dr. Brater.
The Walther Cancer Foundation Palliative and Supportive Care in Oncology Endowed Award and Lecture recognizes a distinguished lecturer and leader with multiple significant and enduring contributions to this specialized area of oncology through the prevention, assessment, and management of cancer- and treatment-related suffering. The first recipient, Anthony L. Back, MD, Professor of Medicine at the University of Washington, affiliate member at the Fred Hutchinson Cancer Research Center, and 24-year member of ASCO, accepted his award and presented a keynote lecture at the Palliative and Supportive Care in Oncology Symposium on October 28, 2017, in San Diego.
"This award celebrates the growing recognition and integration of palliative and supportive care in cancer care, and the critical role of communication between patients and families and their cancer clinicians," remarked Dr. Back. "I am truly grateful to the Walther Cancer Foundation for recognizing the work that I and many other cancer clinicians and researchers do to bring together the new technologies in cancer treatment with person-centered, values-driven care, to create the kind of care that patients and families want and deserve."
"As one of the few, if not the only, foundation dedicated to advancing the field of supportive oncology, we commend Dr. Back for his contributions to this area of study," said Thomas W. Grein, President and Chief Executive Officer for the Walther Cancer Foundation. "Partnering with ASCO on a prestigious lectureship is both a statement of our commitment and a challenge to others to support this vitally important field." ■
© 2017. American Society of Clinical Oncology. All rights reserved.
---