Mary Pazdur Award for Excellence in Advanced Practice in Oncology Announced

The inaugural Mary Pazdur Award for Excellence in Advanced Practice in Oncology was announced at the 2017 JADPRO Live at APSHO (Advanced Practitioner Society for Hematology and Oncology) conference.
Jack Gentile, Chairman of Harborside, which sponsors the JADPRO Live at APSHO conference (and publishes The ASCO Post), described Mary Pazdur, RN, MSN, and her contribution to the field of oncology and to the development of the Journal of the Advanced Practitioner in Oncology (JADPRO). Ms. Pazdur is the late wife of Richard Pazdur, MD, Director of the Oncology Center of Excellence at the U.S. Food and Drug Administration. The couple met during Dr. Pazdur's fellowship at Rush-Presbyterian Medical Center in Chicago and were "team members" in both marriage and oncology.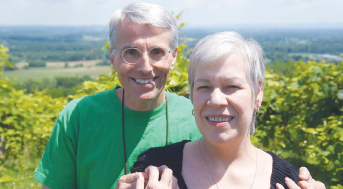 Richard and Mary Pazdur
The Mary Pazdur Award for Excellence in Advanced Practice in Oncology will be presented annually at the JADPRO Live at -APSHO conference. It will recognize and honor an APSHO member who consistently demonstrates exemplary leadership and outstanding contributions in clinical practice, research, education, collaboration, and/or mentorship. Nominations are now being accepted for the 2018 award, which will be presented at the 2018 JADPRO Live at APSHO conference in Hollywood, Florida. For more information on this award and the nomination process, visit http://marypazduraward.com.
Deep Personal Connections
Mr. Gentile told attendees that he first met Mary and Rick in 1993, when Rick was a medical oncologist and Mary an advanced practitioner at MD Anderson. They became fast friends and went on to develop a number of educational programs and publications together for cancer professionals. Years later, while undergoing treatment for malignant melanoma, Mr. Gentile credited the couple with helping him understand his disease and convincing him he would "win this battle." He also credited the exceptional care he received and was particularly grateful to his nurse practitioners. After more than 2 years of treatment, Mr. Gentile won his battle against cancer. Between 2010 and 2012, Mr. Gentile and his partners at Harborside created APSHO and JADPRO as a way to express this gratitude, he explained, and he naturally turned to his good friend, Mary Pazdur, for advice on how to start a publication and society that would benefit the advanced practitioner in the oncology community.
"Mary was kind, compassionate, sensitive, soft spoken, and just an all-round wonderful person," shared Mr. Gentile. "Her favorite thing was dealing with patients themselves…. I knew if we could create a publication that spoke to Mary's needs as an advanced practitioner, we would know we did a good job."
'For All the Nurses in the Field'
At JADPRO Live, Mr. Gentile presented Dr. Pazdur with the award's prototype. In accepting the award, Dr. Pazdur alluded to the irony of his wife's death from ovarian cancer in 2015. "It is a bittersweet experience to be diagnosed with the disease you once treated," he said, and "Mary approached her illness with a great deal of strength."
"Mary was a humble person, but she loved nursing, so she would be proud to be honored this way. She would also emphasize that this is not only for her, but for all the nurses in the field," Dr. Pazdur said. "On behalf of our family, I thank the publishers of JADPRO. It's something we will remember for the rest of our lives." ■
---