ASCO Answers Palliative Care: A Resource for Patients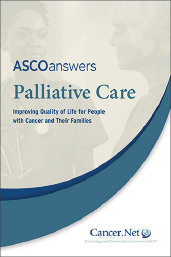 Do your patients have questions about palliative care/supportive care? Help them better understand their prognosis and goals of treatment, clarify their expectations, and maintain their quality of life with the ASCO Answers Palliative Care booklet. 
This booklet shows how palliative care is used to manage symptoms and side effects; help with practical concerns; address spiritual questions; and support caregivers, family, and friends. 
Order ASCO Answers Palliative Care booklets for your practice at www.cancer.net/estore—available in packs of 50 booklets or 125 booklets. Enjoy free domestic shipping; ASCO members save 20%. ■
© 2017. American Society of Clinical Oncology. All rights reserved.
---