Achieving One's Childhood Dreams While Facing Pancreatic Cancer

BOOMARK
Title: The Last Lecture
Author: Randy Pausch with Jeffrey Zaslow
Publisher: Hyperion
Date: April 2008
Price: $21.95, hardcover; 206 pages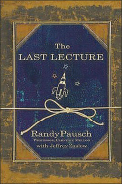 Faced with imminent death, how does one chose to live out the remainder of one's life? Such is the question at the heart of The Last Lecture, a memoir derived from lectures given by Professor Randy Pausch after he was diagnosed with advanced pancreatic cancer. The lectures were put into book form, with the help of The Wall Street Journal columnist Jeffrey Zaslow, and became an instant national bestseller when published in April 2008.
"I was having an engineering problem. While for the most part, I'm in terrific physical shape, I have 10 tumors on my liver and only have a few months to live," writes Prof. Pausch. "I am a father of three young children and married to the woman of my dreams. While I could easily feel sorry for myself, that wouldn't do them any good. So, how to spend my very limited time?"
So begins The Last Lecture, a bracing book on facing one's mortality. Although The Last Lecture is written by a man dying of pancreatic cancer, you won't find the usual detailed account of treatment and side effects or difficult social or intimacy situations. In fact, cancer is never once mentioned.
Prof. Pausch was Professor of Computer Science and Design at Carnegie Mellon University, where he was also a beloved lecturer. In 2006, he was diagnosed with pancreatic cancer, and in August 2007, his oncologist told him he had about 3 to 6 months of fairly stable health left. Shortly thereafter, he gave an optimistic lecture titled "The Last Lecture: Really Achieving Your Childhood Dream." It quickly became a YouTube sensation, which prompted the writing of his best-selling book. Prof. Pausch died of complications of pancreatic cancer on July 25, 2008.
Inspirational Book
It is quite usual for professors to be asked to give a last lecture, one in which they consider their death and ruminate on what matters most to them in their remaining time as well as what wisdom they would like to impart to society as a whole. Naturally, Prof. Pausch did not have to imagine death, as he was staring it in the face. His wonderful, inspirational book is organized into 6 chapters comprising 61 stories, which only spans a slim 206 pages. However, the book is so nourishing on multiple levels it feels like a much larger work.
Each of the stories is a glistening gem, imparting wisdom and joy but never in a pedantic voice—the author speaks to the reader as if having a conversation with an old friend. Some of the best writing is when he reminisces about his wife, Jai, who he introduces in story 16, "Romancing the Brick Wall."
"Even as a tenured professor who could afford something better, I lived in a $450-a-month attic apartment with a fire-escape walkup, a place my grad students wouldn't live in," wrote Prof. Pausch. "A friend once asked me what kind of woman would be impressed by this place. And I replied the right one." The right one, of course, is Jai, a 31-year-old graduate student in comparative literature. Theirs is a beautiful marriage, soul mates, but like any marriage, it involves hard work, especially after the author is diagnosed with pancreatic cancer.
In the book's penultimate story, "Jai and Me," Prof. Pausch makes an observation that rings true in the oncology community. He writes: "There are so many things Jai and I discuss to come to terms with what life will be like when I'm gone. Lucky is a strange word to describe the situation, but a part of me does feel fortunate…. Cancer has given me the time to have vital conversations that wouldn't be possible if my fate were a heart attack or a car accident."
The Last Lecture is a book that can be read in a single sitting, over and over again. This book is recommended for The ASCO Post readers and their patients. ■
---