MD Anderson Cancer Center Marks 75 Years of Research to End Cancer

In November, The University of Texas MD Anderson Cancer Center celebrated its 75th anniversary with a week-long series of events that raised nearly $15 million to support its efforts in patient care and in the investigation and treatment of cancer. Housed on 16 million square feet in the city of Houston, the cancer center has the largest clinical trials program in the world, with more than 9,400 patients participating in nearly 1,200 clinical trials. In 2015, MD Anderson invested about $800 million in research in innovative cancer therapies and cancer prevention strategies.
Everyone who celebrated this important milestone with us can take pride in the significant difference our institution makes in the lives of cancer patients every day. This outpouring of support drives and enables us to accomplish our goal of Making Cancer History.

— Ronald A. DePinho, MD




Tweet this quote



Among the guests at a celebration gala to mark the occasion were Vice President Joe Biden; his wife, Dr. Jill Biden; and former President George H.W. Bush. During a presentation at the gala, Ronald A. DePinho, MD, President of MD Anderson, announced the creation of the Beau Biden Chair for Brain Cancer Research, in memory of the Vice President's son Beau, who died of glioblastoma on May 30, 2015. W.K. Alfred Yung, MD, Professor of Neuro-oncology and Cancer Biology at MD Anderson and a member of the cancer center's Glioblastoma Moon Shot initiative, and who served as Beau Biden's physician during his illness, presented a commemorative memento to Dr. Jill Biden and Vice President Biden. The Biden Chair also honors Dr. Yung as one of the pivotal figures in brain cancer research and patient care.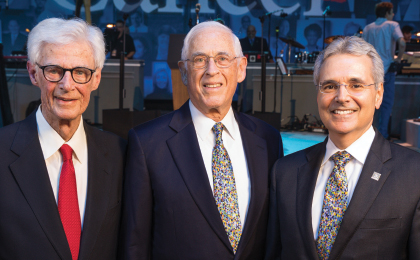 MD Anderson Cancer Center's 75th anniversary celebration brought together the center's second, third, and fourth presidents. From left: Charles LeMaistre, MD; John Mendelsohn, MD; and Ronald DePinho, MD. Photo courtesy of MD Anderson Cancer Center.
Over its 75-year history, MD Anderson Cancer Center has provided care for 1 million patients with cancer and is among the 45 National Cancer Institute–designated comprehensive cancer centers in the United States. In 2016, MD Anderson was ranked number 1 for cancer care by U.S. News & World Report, a position it has held 9 times over the past 10 years.
"We are so inspired by the hope and positivity shared during this week of remarkable events," said Dr. DePinho. "Everyone who celebrated this important milestone with us can take pride in the significant difference our institution makes in the lives of cancer patients every day. This outpouring of support drives and enables us to accomplish our goal of Making Cancer History." ■
---