Roswell Park Care Network and Oneida Health Name New Radiation Oncology Medical Director

Roswell Park Comprehensive Cancer Center and Oneida Health announced the appointment of Maya Mathew, MD, as Medical Director of the Dorothy G. Griffin Radiation Oncology Center in Oneida, New York, part of the Roswell Park Care Network. In her new position, Dr. Mathew will lead a team that includes a medical dosimetrist and medical physicists, along with radiation therapy and nursing personnel, whose goal is to deliver personalized, peer-reviewed treatment plans.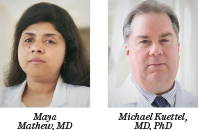 "We look to Dr. Mathew to further the Roswell Park and Oneida Health mission of quality radiation treatment for patients who come to the Central New York center," said Michael Kuettel, MD, PhD, Chair of the Department of Radiation Medicine at Roswell Park. Oneida Health and Roswell Park opened the Dorothy G. Griffin Radiation Oncology Center in 2019. Oneida Health also operates a medical oncology center in affiliation with Roswell Park. Both organizations have worked closely together since 2016, when Oneida Health received a grant from the New York State Department of Health to expand oncology services to Central New York in partnership with Roswell Park.
Dr. Mathew previously served as a radiation oncologist at Memorial Hospital in Gulfport, Mississippi. She earned her medical degree from India's Kerala University and completed a radiation oncology residency at Loyola University Medical Center in Chicago. 
---