Raymond N. DuBois, MD, PhD, Named Director, MUSC Hollings Cancer Center

The Medical University of South Carolina (MUSC) President David J. Cole, MD, FACS, has announced the appointment of MUSC College of Medicine Dean Raymond N. DuBois, MD, PhD, to the additional role as Director of the MUSC Hollings Cancer Center. Dr. DuBois has headed the College of Medicine for more than 4 years.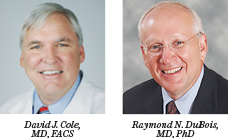 "Dr. DuBois is a nationally recognized oncology leader with an outstanding reputation in cancer research both across the country and internationally," Dr. Cole said. "He is a highly respected leader at MUSC and has been a senior leader at two previous cancer centers: Vanderbilt and MD Anderson. He understands the operation of a cancer center and knows what it takes to be successful. With dual training as an MD and PhD researcher, he commands the insight and experience required to fully support both the clinical and academic missions of the Hollings Cancer Center."
Dr. Dubois brings more than 30 years of research experience to his new role at Hollings along with more than 20 years of concurrent experience in leadership at academic health systems. An MUSC Distinguished University Professor in the Departments of Biochemistry and Medicine, he was elected to the National Academy of Medicine in 2019. He is also a Fellow in the American Association for the Advancement of Science and the American Association for Cancer Research. 
---