Penn Medicine Receives $4.9 Million Grant to Improve Uptake of Cancer Care Best Practices

Although extensive research has suggested ways to ensure that patients receive evidence-based cancer care, putting these solutions into widespread practice can be a complex, challenging, and inefficient process. Now, a new grant awarded to the Perelman School of Medicine at the University of Pennsylvania will help identify methods to bridge this gap, improving uptake of state-of-the-science care that can have a significant impact for patients. The National Cancer Institute (NCI) is funding the work through a P50 grant worth almost $5 million over 5 years. The award, part of the Beau Biden Cancer Moonshot Initiative, makes Penn one of seven centers across the country working on this effort as part of the NCI's Implementation Science Centers in Cancer Control.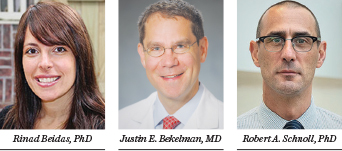 The research program is focused on the intersection of implementation science and behavioral economics. Early projects include increasing referrals of patients with cancer to a tobacco cessation program, increasing the use of more affordable but equally effective cancer drugs, and exploring how COVID-19 has affected cancer treatment. Across the projects, questions related to health equity will be a key focus.
"We are unwavering in our commitment to deliver the best possible care for patients with cancer, and this programmatic grant will help us accumulate a body of evidence on how to efficiently implement research-supported best practices to transform cancer care," said Rinad Beidas, PhD, Associate Professor of Psychiatry and Director of the Penn Implementation Science Center at the Leonard Davis Institute of Health Economics, one of three principal investigators of the program. The other two principal investigators are Justin E. Bekelman, MD, Professor of Radiation Oncology and Director of the Penn Center for Cancer Care Innovation at the Abramson Cancer Center; and Robert A. Schnoll, PhD, Research Professor of Psychiatry, Senior Fellow in Penn's Center for Public Health Initiatives, Associate Director of Population Science, and Co-Leader of the Tobacco and Environmental Carcinogenesis Program at the Abramson Cancer Center. 
---