Managing Cancer in Older Adults During the COVID-19 Pandemic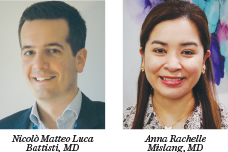 The COVID-19 pandemic is an additional competing risk to factor in when making decisions about anticancer treatment for older adults. It poses a potential barrier to equal and evidence-based management of cancer in this group of patients. Implementing geriatric assessments in routine clinical practice is a unique and important opportunity to guide treatment decisions, especially in the context of the COVID-19 pandemic.
Impact of COVID-19 for Older Patients With Cancer
Older age is a predictor of adverse outcomes from COVID-19 infection, with mortality rates sharply rising over the age of 70 years in published case series from Asia, Europe, and America.1-3 In patients with cancer, the COVID-19 and Cancer Consortium (CCC19) analysis and the TERAVOLT study have highlighted the increased risk of death in the older age group.4,5 Therefore, COVID-19 is an important competing risk to consider in the treatment of older patients with cancer during the pandemic. Not only does it increase the risk of morbidity and mortality, it may also put additional pressure on cancer services and health-care systems. Individualized treatment decisions should be the standard of care when treating older adults with cancer, and implementing this approach becomes even more crucial in the context of the COVID-19 pandemic.
GUEST EDITOR

Stuart M. Lichtman, MD, FASCO
Geriatrics for the Oncologist is guest edited by Stuart M. Lichtman, MD, FASCO, and developed in collaboration with the International Society of Geriatric Oncology (SIOG). Dr. -Lichtman is an Attending Physician at Memorial Sloan Kettering Cancer Center, Commack, New York, and Professor of Medicine at Weill Cornell Medical College, New York. He is also Past President of SIOG. For more information about geriatric oncology, visit www.siog.org and the ASCO Geriatric Oncology website (www.asco.org/practice-guidelines/cancer-care-initiatives/geriatric--oncology/geriatric-oncology-resources).
The coronavirus has reshaped cancer care across different countries. Infection-control policies, including social distancing, shielding, and reducing hospital visits to limit exposure, may have a profound impact on a number of domains relevant to the well-being of older adults, including feelings of estrangement and neglect, functional independence, social support, and deconditioning.6 Goals of care should be established early, documented clearly, and revisited periodically. These goals should also include individualized discussions on advance care planning, which should be based on individual circumstances.
Relevance of Geriatric Assessments
Oncologists should adopt a personalized approach to caring for older patients by evaluating several factors: disease biology; risk of recurrence or disease progression; and whether the available treatment is suitable or safe, efficacious, or too toxic. Geriatric assessments allow clinicians to weigh the risks and benefits of the proposed treatment plan, in addition to predicting the risks of dying from the cancer vs other competing causes.7
During the COVID-19 pandemic, this approach remains essential to avoid the risk of overtreatment of frail patients, where the risk of harm outweighs the benefits, or undertreatment of nonfrail patients, where a less-than-standard approach is undertaken on the basis of chronologic age alone. With the focus of care preferentially shifted toward those with best chance of recovery, older patients with cancer are at risk of being disproportionately disadvantaged during a pandemic.
Various tools have already been proposed to stratify frailty in the context of the COVID-19 pandemic, including the Clinical Frailty Scale and the Frailty Index,8,9 although their use has not been validated in these circumstances and should not replace individualized discussions and care recommendations. Self-administered screening tools, such as the Geriatric 8 screening tool or Vulnerable Elders Survey-13 (VES-13), whose use has been extensively validated in adults with cancer, may be considered.
Telemedicine represents a unique opportunity to ensure a safe, patient-centered care during the pandemic in this age group. Geriatric assessment can be delivered via telehealth, as clinicians from the University of Rochester Specialized Oncology Care and Research in the Elderly (SOCARE) and The Ohio State University group have documented.10 Nevertheless, telemedicine might be challenging to deliver for all older patients due to "digital divide" and/or digital illiteracy. Initiatives to empower older adults to use and access various digital technologies should be encouraged. Phone consultations may be a suitable alternative to video consultations for selected patients because of familiarity with this technology. Certainly, more research is warranted on the implementation of these models of care during the COVID-19 pandemic.
SIOG COVID-19 Working Group
Recently, the International Society of Geriatric Oncology (SIOG) COVID-19 Working Group has been established to provide recommendations, guidelines, and action plans for the management of cancer in older adults during the COVID-19 pandemic based on the available evidence. The group includes a multidisciplinary team of geriatric oncologists, medical oncologists, surgeons, radiation oncologists, geriatricians, nurses, and pharmacists involved in the care of older adults with cancer. Notably, the data on COVID-19 and these patients are scarce and rapidly evolving; thus, the recommendations could change and will be updated as suggested by new evidence. Hence, collaborative global research is needed to gain more insights on the direct and indirect outcomes of the pandemic on older patients with cancer and to mitigate the negative impact of COVID-19.
To minimize the risk of COVID-19 exposure and to conserve resources, several adaptations have been recommended in the management of older adults with cancer during the pandemic.11 The recommendations include specific suggestions on surgery, radiotherapy, systemic treatments, palliative care, and survivorship. The group also has proposed suggestions on research priorities, as shown in Table 1. 
DISCLOSURE: Dr. Battisti has served on a speakers bureau for Pfizer and has received travel expenses from Genomic Health and Pfizer. Dr. Mislang reported no conflicts of interest.
REFERENCES
1. Epidemiology Working Group for NCIP, Epidemic Response, Chinese Center for Disease Control and Prevention: The epidemiological characteristics of an outbreak of 2019 novel coronavirus diseases (COVID-19) in China. Zhonghua Liu Xing Bing Xue Za Zhi 41:145-151, 2020.
2. Livingston E, Bucher K: Coronavirus disease 2019 (COVID-19) in Italy. JAMA. March 17, 2020 (early release online).
3. Statista: Death rates for COVID-19 in New York City as of June 8, 2020, by age group (per 100,000 people). Available at https://www.statista.com/statistics/1109867/coronavirus-death-rates-by-age-new-york-city. Accessed August 10, 2020.
4. Garassino MC, et al: COVID-19 in patients with thoracic malignancies (TERAVOLT). Lancet Oncol 21:914-922, 2020.
5. Kuderer NM, et al: Clinical impact of COVID-19 on patients with cancer (CCC19): A cohort study. Lancet 395:1907-1918, 2020.
6. Armitage R, Nellums LB: COVID-19 and the consequences of isolating the elderly. Lancet Public Health 5:e256, 2020.
7. Mohile SG, et al: Practical assessment and management of vulnerabilities in older patients receiving chemotherapy. J Clin Oncol 36:2326-2347, 2018.
8. National Institute for Health and Care Excellence: COVID-19 Rapid Guideline: Critical Care in Adults. March 20, 2020. Available at https://www.nice.org.uk/guidance/ng159/resources/covid19-rapid-guideline-critical-care-in-adults-pdf-66141848681413. Accessed August 10, 2020.
9. Bellelli G, et al: Frailty index predicts poor outcome in COVID-19 patients. Intensive Care Med 46:1634-1636, 2020.
10. DiGiovanni G, et al: Development of a telehealth geriatric assessment model in response to the COVID-19 pandemic. J Geriatr Oncol 11:761-763, 2020.
11. Battisti NML, et al: Adapting care for older cancer patients during the COVID-19 pandemic. J Geriatr Oncol. July 16, 2020 (early release online).
Dr. Battisti works in the Breast Unit, Department of Medicine, The Royal Marsden NHS Foundation Trust, Breast Cancer Research Division, The Institute of Cancer Research, London. Dr. Mislang works in the Department of Medical Oncology, Flinders Centre for Innovation in Cancer, Bedford Park, South Australia, Australia.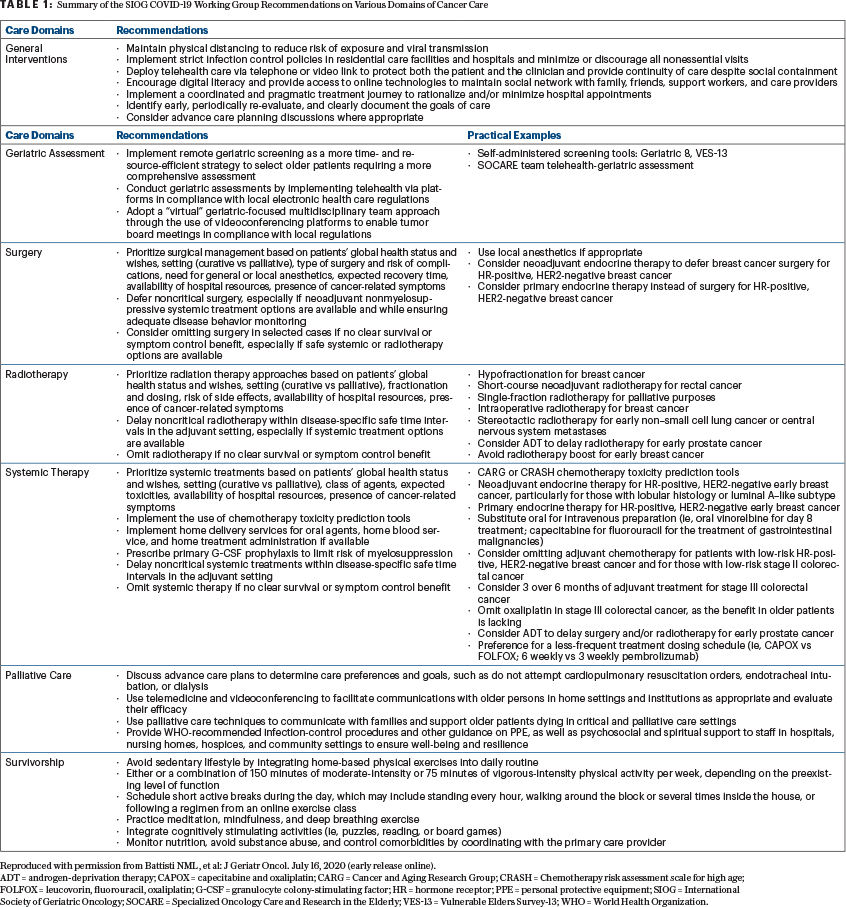 ---