Into the Ring With Tap Cancer Out

Brazilian jiu-jitsu (BJJ) athletes use combat techniques designed to dominate one's opponent with control and force. The goal: make your opponent be the first to tap out. In 2010, BJJ practitioner Jon Thomas was surprised to discover there was no philanthropic presence within his sport. That's when he decided his martial arts community should make cancer its universal challenger.
"At its core, jiu-jitsu is about perseverance under pressure and never backing down, so who better than trained competitors to take on one of the worst diseases in the world?" said Mr. Thomas.In 2011, he founded Tap Cancer Out, a nonprofit organization aimed to motivate and empower the BJJ community to raise awareness and funds. In 2021, Conquer Cancer, the ASCO Foundation will receive support from Tap Cancer Out to fund Young Investigator Award (YIA) grants.
"Conquer Cancer's research-focused mission aligns perfectly with the work we support," said Mr. Thomas, who runs the organization with his wife, Becky. "We're especially excited to be part of advancing the ideas and studies of young researchers whose work could lead to new discoveries, new cures."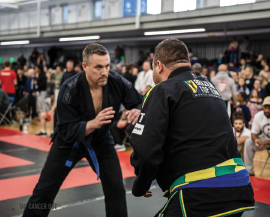 YIA grants give early-career researchers 1 year of support to explore studies across all fields of oncology research at a time in their careers when funding support is often limited.
Tap Cancer Out hosts BJJ tournaments nationwide as its primary fundraising source; those competitions have been impacted by the COVID-19 pandemic, but the Thomas's plan is to continue the tournaments once public health guidelines allow. Since 2012, more than 14,000 competitors have been motivated to fundraise for the cause and compete at their events, helping to raise millions of dollars.
"More than 50,000 people have donated to our cause, which is a testament [to] the impact the community wants to make and to the work of the great organizations we support," said Mr. Thomas.
Conquer Cancer is among a notable list of national charities benefiting from Tap Cancer Out, including Alex's Lemonade Stand Foundation, the American Cancer Society, and the Colorectal Cancer Alliance.
"The generous support from Tap Cancer Out will help patients everywhere," said Nancy R. Daly, MS, MPH, Chief Executive Officer, Conquer Cancer. "We are grateful for its commitment to fund the next generation of oncology researchers, and Conquer Cancer looks forward to developing this exciting partnership in the year ahead that will impact cancer breakthroughs for years to come."
For more information about Tap Cancer Out, please visit tapcancerout.org. 
© 2020. American Society of Clinical Oncology. All rights reserved.
---