Cancer on the Global Stage: Incidence and Cancer-Related Mortality in Cambodia

The ASCO Post is pleased to continue this occasional special focus on the worldwide cancer burden. In this issue, we feature a close look at the cancer incidence and mortality rates in Cambodia. The aim of this special feature is to highlight the global cancer burden for various countries of the world. For the convenience of the reader, each installment will focus on one country from one of the six regions of the world as defined by the World Health Organization (ie, Africa, the Americas, Southeast Asia, Europe, Eastern Mediterranean, and Western Pacific). Each section will focus on the general aspects of the country followed by the current and predicted rates of incidence and cancer-related mortality. It is hoped that through these issues, we can increase awareness and shift public policy and funds toward proactively addressing this lethal disease on the global stage.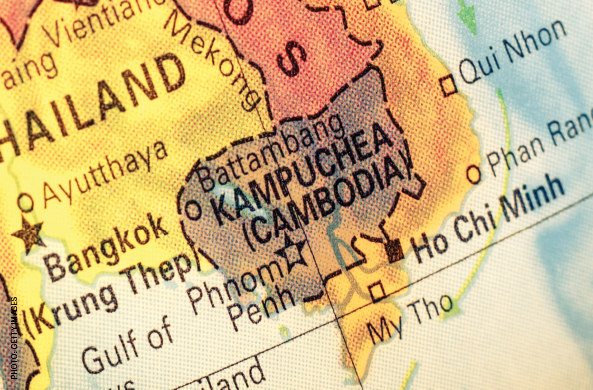 Cambodia is a country in southeastern Asia bordering Thailand and Vietnam, and its population was estimated to be 16.9 million in July 2020, with an annual growth of 1.4%. The country is most densely populated in and around the capital of Phnom Penh with 2.1 million people. The median age of the population is 26 years, and life expectancy is 66 years. Cambodia has 0.2 physicians and 0.8 hospital beds per 1,000 people.
Liver, lung, and breast cancers are the most common cancers by incidence in Cambodia. The highest rates of cancer-related mortality are caused by liver, lung, and colorectal cancers. In women, breast cancer is the most common by incidence, although liver cancer is responsible for the highest mortality.
The incidence of cancer is expected to rise from 15,362 cases in 2018 to 30,451 cases in 2040.
In 2018, there were an estimated 11,636 cancer-related deaths in Cambodia, although cancer does not register among the top 10 causes of death in the country. The top three causes of death in Cambodia are stroke, lower respiratory tract infections, and cirrhosis.
Population

16.9 million (2020)

Median age

26.4 years (2020)

Population growth rate

1.4% (2020)

Birth rate per 1,000 population

21 (2020)

Death rate per 1,000 population

7.3 (2020)

Life expectancy at birth

65.9 years (2020)

Health expenditure as % of GDP

6.1% (2016)

Physicians per 1,000 population

0.17 (2014)

Hospital bed density per 1,000
population

0.8 beds (2015)

Obesity prevalence rate

3.9% (2016)

Mobile telephones

19 million (2018)

Land lines

88,157 (2018)
Hepatitis B was highly endemic, with prevalence rates of between 5% and 10% prior to vaccination efforts, which were initiated in 2005. Hepatitis B was a major contributor to cirrhosis of the liver and hepatic malignancies. A serostudy of the prevalence of hepatitis B in 2017 among pre- and postvaccine cohorts revealed that hepatitis B prevalence rates had dropped to below 1% among children, accomplishing the goal of the World Health Organization (WHO). Efforts are now underway to reduce mother-to-child viral transmission of hepatitis B.
Many of the estimated 15,362 new cases of cancer in Cambodia each year require some type of radiotherapy; this estimate translates to a demand for 17 radiotherapy machines. However, until 2018, there was only one radiotherapy machine in the country, with the capacity to treat 500 people annually.
Recognition of this disparity by government officials prompted the dedication of resources toward building a cancer center beginning in 2014. The new National Cancer Center at Calmette Hospital in Phnom Penh opened in January 2018, bringing with it a new radiotherapy machine. The facility plans to add two more radiotherapy machines by 2025. The construction of two more regional cancer centers with radiotherapy and nuclear medicine facilities are part of the nationwide cancer care plan in the coming years.
Currently, Cambodia does not have a national cancer registry. However, training sessions on the implementation of cancer registration based on international standards were held in Cambodia in 2018, hosted by the National Cancer Center Japan. Efforts are underway to develop a hospital-based cancer registry.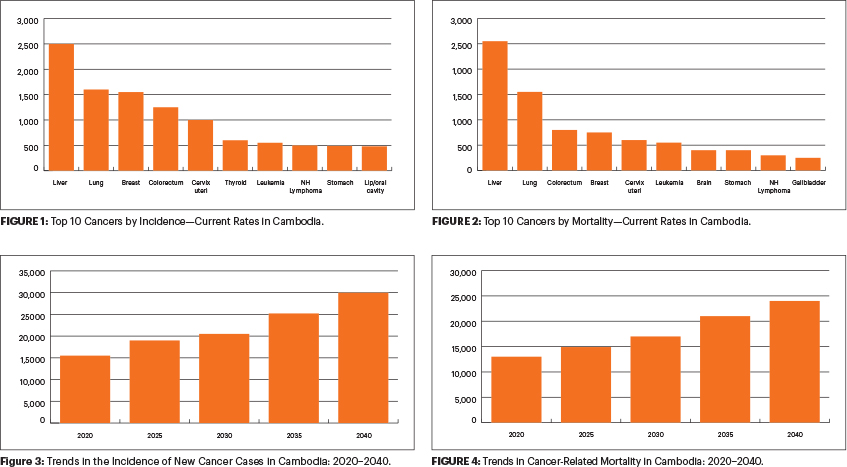 There is also a recognized lack of early identification and preventive measures against cancer in Cambodia. More than 70% of patients with cancer present to oncologists with advanced disease, when treatment options are limited. Part of the WHO Country Cooperation Strategy for 2016 to 2020 consisted of increasing screening for cervical cancer in women between the ages of 30 and 49 and a human papillomavirus vaccine pilot project.
Public Health Efforts
Cambodia remains a low-to-middle-income country in Asia. However, its economy has been growing in recent years, largely driven by tourism, textiles, construction, and agriculture. The civil war during the 1970s had lasting effects on the country's economy, which did not start to recover until the early 1990s. This strong economic growth since the introduction of reform measures in the 1990s has significantly improved health outcomes. In fact, Cambodia was one of the first countries to achieve control of HIV and now aims to eliminate the disease. The health expenditure accounted for 6.1% of the gross domestic product in 2016, and the country's national health budget nearly doubled over the past 7 years. In addition to vaccination efforts and improved cancer care, Cambodia has a well-established network of public health services.
GUEST EDITORS

Chandrakanth Are, MBBS, MBA, FRCS, FACS

Emily Zurbuchen, MD
Dr. Are is the Jerald L & Carolynn J. Varner Professor of Surgical Oncology & Global Health; Associate Dean for Graduate Medical Education; and Vice Chair of Education Department of Surgery, University of Nebraska Medical Center, Omaha. Dr. Zurbuchen is a surgical resident at the University of Nebraska College of Medicine.
Cambodia has demonstrated tremendous and effective efforts toward improving the overall health of the country. The Ministry of Health launched the Third Health Strategic Plan in 2016, which promotes goals of improved health outcomes in communicable diseases, noncommunicable diseases, maternal newborn and child mortality, malnutrition, service delivery, and financial protection. The overarching goal of this national plan is movement toward universal health coverage. The country has improved its cancer care, including investment in various aspects of cancer care combined with ongoing vaccination efforts. 
DISCLOSURE: Dr. Are is a board member with Global Laparoscopy Solutions Inc; has received research funding from Pfizer; and has a patent with the University of Nebraska Medical Center for a laparoscopy instrument. Dr. Zurbuchen reported no conflicts of interest.
ADDITIONAL READINGS
1. https://www.cia.gov/library/publications/the-world-factbook/geos/cb.html
2. https://www.who.int/countries/khm/en/
3. https://www.who.int/cancer/country-profiles/KHM_2020.pdf?ua=1
4. https://www.cdc.gov/globalhealth/countries/cambodia/default.htm
5. https://www.ncc.go.jp/en/information/2018/1010/index.html
6. http://globalrt.org/blog/modernization-of-radiation-therapy-in-cambodia/
7. Ork V, Woodring J, Shafiqul Hossain M, et al: Hepatitis B surface antigen seroprevalence among pre- and post-vaccine cohorts in Cambodia, 2017. Vaccine 37:5059-5066, 2019.
---