Heather Brandt, PhD, to Lead Cancer Prevention Community Outreach Projects for St. Jude

St. Jude Children's Research Hospital has appointed Heather Brandt, PhD, a behavioral scientist with expertise in cancer prevention and control, to lead community outreach and research programs focused on the prevention of human papillomavirus (HPV)-associated cancers through vaccination. In addition to her role as Director of the St. Jude HPV Cancer Prevention Program, Dr. Brandt will serve as Co-Associate Director of Outreach for the St. Jude Comprehensive Cancer Center and will work closely with members of the St. Jude Epidemiology and Cancer Control Department.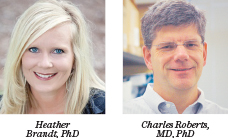 "The HPV vaccine can have a major impact on public health, as we could eliminate most cancers caused by HPV—but people have to get vaccinated," said Charles Roberts, MD, PhD, Executive Vice President at St. Jude and Director of the St. Jude Comprehensive Cancer Center. The center joined all other National Cancer Institute–designated comprehensive cancer centers in 2018 to call for increased HPV vaccination and screening to eliminate HPV-related cancers. "Dr. Brandt brings a depth of experience and a clear vision to lead St. Jude initiatives on this important issue."
Community Outreach
Dr. Brandt comes to St. Jude from the University of South Carolina, where she served as Associate Dean and Professor of Health Promotion, Education, and Behavior in the Arnold School of Public Health. Her research focuses on working with communities to prevent and control cancer by examining and describing cancer-related health disparities and resolving them through innovative approaches in partnership with the community. Dr. Brandt has worked with churches, nonprofit organizations, and health-care settings in rural areas of South Carolina to increase cervical cancer screening, HPV vaccination, and colorectal cancer screening.
Nearly 80 million Americans—1 out of every 4 people—are infected with HPV. Of those millions, more than 31,000 will be diagnosed with an HPV-related cancer this year. Despite the availability of a vaccine to prevent the infections that cause these cancers, HPV vaccination rates remain low in the United States.
"I am inspired by the mission-driven activities of St. Jude and am honored to join the team to help prevent HPV-associated cancers in the community," Dr. Brandt said. "For almost 15 years, we have had a safe, effective, and durable vaccine to prevent six types of HPV-associated cancers in men and women. However, rates of this cancer prevention vaccination remain low…. Far too few have taken advantage of this cancer prevention tool, and I look forward to joining forces with other partners to improve [its] uptake." 
---