ASCO Updates Metastatic Pancreatic Cancer Guideline

ASCO has released an update to its Metastatic Pancreatic Cancer Guideline that includes recommendations for second-line treatment, including early biomarker testing for actionable genomic alterations.1 Last updated in 2018, this new version was triggered by novel evidence related to targeted therapies.
"In many other cancers, targeted therapies are driving treatment, but in pancreatic cancer, that has not been the case," said Guideline Co-Chair Daniel Laheru, MD, of Sidney Kimmel Comprehensive Cancer Center at Johns Hopkins. "Recently, there were three reports of the use of targeted therapies in pancreatic cancer that we thought were important for physicians to know about."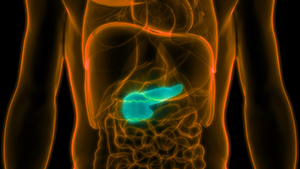 Photo credit: Getty
Testing for Actionable Mutations
Among the new recommendations provided by the guideline expert panel is the inclusion of early testing—both germline and somatic—for actionable genomic alterations for patients who are likely to be potential candidates for additional treatment after first-line therapy.
"Right now, next-generation sequencing is done ad hoc, with some oncologists testing for everything and some testing for nothing," said Guideline Co-Chair Davendra Sohal, MD, MPH, of UC Health. "There was no clear guideline on what to do for the average patient who walks through the door."
Germline and somatic testing can look for one of several actionable mutations. First, some patients with pancreatic cancer may have tumors harboring NTRK fusions, for which treatment with TRK inhibitors larotrectinib or entrectinib is recommended. A 2018 study enrolled 55 patients with TRK fusion–positive cancers, including one patient with pancreatic cancer. The overall response rate for treatment with larotrectinib was 75%, with 13% of patients experiencing a complete response. The patient with pancreatic cancer had a partial response.2
Data from patients in the STARTRK-1, STARTRK-2, and ALKA-372-001 trials showed an objective response rate of 57% after treatment with 600 mg/m2 of entrectinib daily.3 Two of three patients with pancreatic cancer had a partial response.
"For patients with pancreatic cancer, it will only be a very small subset of patients who [have] this mutation profile, but if the patient has that mutation, this treatment can make a difference," Dr. Laheru said.
Role of PARP Inhibitors
Second, screening for germline BRCA1/BRCA2 mutations may allow for the use of poly (ADP-ribose) polymerase (PARP) inhibitors. A patient with a BRCA1/BRCA2 mutation who has received first-line platinum-based chemotherapy without disease progression for at least 16 weeks could qualify for treatment with the PARP inhibitor olaparib.
This recommendation is based on data from the phase III POLO trial, which randomly assigned patients with metastatic pancreatic cancer to maintenance olaparib or placebo.4 Median progression-free survival almost doubled with the use of olaparib compared with placebo (7.4 vs 3.8 months; hazard ratio = 0.53, 95% confidence interval = 0.35–0.82; P = .004).
The decision to proceed to maintenance therapy with olaparib should include a discussion of patient preference, convenience of treatment, toxicity, goals of care, and cost. Patients should also be informed that although POLO showed an improvement in progression-free survival, no overall survival benefit was demonstrated. These two recommendations are in addition to an existing recommendation to test patients for microsatellite instability/mismatch repair deficiency as a qualification for immunotherapy with pembrolizumab.
Guideline Limitations and Benefits
The expert panel noted that "overall evidence was limited in terms of the number of studies and patients with pancreatic cancer in these studies, along with the fact that two of the three included studies were nonrandomized trials."
Dr. Sohal said: "Even though this testing might only affect a small proportion—maybe less than 5%—of patients, for those individuals, it might open the door for a very effective and less toxic targeted therapy."
Finally, Drs. Sohal and Laheru noted that even if one of these actionable mutations is not discovered with biomarker testing, it could help in the identification of a clinical trial of a different targeted therapy for which the patient may qualify.
Any decision to test for these actionable genomic alterations should involve a discussion between the patient and the physician regarding the frequency of actionable findings, treatment implications of testing results, and genetic counseling related to germline testing.
Within the guideline, the expert panel continued to endorse all the remaining recommendations for second-line chemotherapy, as well as recommendations related to treatment, follow-up, and palliative care listed in the 2018 guideline. 
DISCLOSURE: Dr. Laheru reported no conflicts of interest. Dr. Sohal has received honoraria from Foundation Medicine; has served in a consulting or advisory role for Ability Pharma and Perthera; has participated in a speakers bureau for Incyte; and has received institutional research funding from Amgen, Apexigen, Bristol Myers Squibb, Celgene, Genentech, Incyte, and Rafael Pharmaceuticals.
Originally published in ASCO Daily News. © American Society of Clinical
Oncology. ASCO Daily News, August 6, 2020. All rights reserved.
REFERENCES
1. Sohal DPS, Kennedy EB, Cinar P, et al: Metastatic pancreatic cancer: ASCO guideline update. J Clin Oncol. August 5, 2020 (early release online).
2. Drilon A, Laetsch TW, Kummar S, et al: Efficacy of larotrectinib in TRK fusion-positive cancers in adults and children. N Engl J Med 378:731-739, 2018.
3. Doebele R, Paz-Ares L, Farago AF, et al: Entrectinib in NTRK-fusion positive (NTRK-FP) non-small cell lung cancer (NSCLC): Integrated analysis of patients enrolled in three trials (STARTRK-2, STARTRK-1, and ALKA-372-001). 2019 AACR Annual Meeting. Abstract CT131.
4. Golan T, Hammel P, Reni M, et al: Maintenance olaparib for germline BRCA-mutated metastatic pancreatic cancer. N Engl J Med 381:317-327, 2019.
---