After Immigrating From India, Neha Vapiwala, MD, FACR, Followed Her Dream of a Career in Medicine


Neha Vapiwala, MD, FACR
Neha Vapiwala, MD, FACR, Professor and Vice Chair of Education in the Department of Radiation Oncology and newly appointed Dean of Admissions at the Perelman School of Medicine at the University of Pennsylvania (UPenn), Philadelphia, was born in India to parents who aspired to emigrate to the United States to chase the American dream.
"My father left India when I was 2 years old," related Dr. Vapiwala. "His plan was to secure a job, housing, and the necessary regulatory requirements to bring my mom and me over. I remember saying goodbye, not fully understanding where he was going or why. When he left, we moved in with my mother's side of the family in a sweltering, noisy tenement situated in a poor, densely populated section of Mumbai, then known as Bombay. It was a traumatic experience, and parts of it remain with me to this day."
Family Reunites in the States
Three years later, Dr. Vapiwala and her mother were able to get on a plane and join her father. "Landing at JFK airport in New York, even though Ellis Island had long been closed, for us what it represented and symbolized was still very much a reality," said Dr. Vapiwala. The family settled in Teaneck, New Jersey, where her father had obtained a factory job and a one-bedroom apartment.
"My paternal grandmother is a breast cancer survivor, and to this day, she remains my model of what it means to be a strong woman."

— Neha Vapiwala, MD, FACR




Tweet this quote



When Dr. Vapiwala arrived in America at the age of 5, she'd already done a year of schooling in India, so she found herself ahead of her classmates in reading and writing. "Early on, I think my biggest influence was my paternal grandmother, who had been my primary caretaker since birth but left for the States with my father," Dr. Vapiwala explained. "Once we reunited in America, she continued to take care of me while my parents worked hard at their blue-collar jobs. She was kind and loving, and had lived through remarkable challenges in a pre-independence India. She was also a breast cancer survivor, and to this day, she remains my model of what it means to be a strong woman and an empathetic person. Her humanity and life story will inspire me always."
Asked about any early influences in her medical career, Dr. Vapiwala responded: "There were no family members who went into the medical profession. However, thinking back, my grandmother's cancer diagnosis and treatment during my medical trainingundeniably influenced how I view the place of medicine in society."
Supportive Parents
Dr. Vapiwala said her parents encouraged her to follow her career passions, even warning her about the long and difficult road to becoming a doctor. She noted that, at the time, students bent on a medical career could accomplish the undergraduate and medical degrees in 6- and 7-year combined programs; however, Dr. Vapiwala decided to get the full experience of the road to medicine. Although many of her classmates had decided to attend Rutgers University, a well-recognized, affordable state school, she had fallen in love with Johns Hopkins during a visit to the undergraduate campus.
"Not only was it a beautiful campus," she added, "but it was close enough to home without being too close. So, I talked with my parents about the financials involved. They told me the reason they came to the United States was to create better opportunities for me, and that they would take out whatever loans were needed to assist me in my dream."
Along with her parents' help, Dr. Vapiwala participated in work-study programs and used her advanced placement credits from high school to graduate a year early and pursue a passion: teaching. "I got a job teaching high school science and math at an all-girls school called St. Timothy's School in Stevenson, Maryland," she continued. "The salary was rather low, but I was provided room and board on campus, and all in all, it was a tremendous life experience that complemented my undergraduate work. During this time, I became fully committed to pursuing a career in medicine. I wanted to teach, apply science for healing, and give back to the community, all of which a medical career offered."
Finances Dictated Choice of Medical School
During the year when she was teaching, Dr. Vapiwala also applied to medical school, and her road boiled down to two choices: Johns Hopkins and the University of Pennsylvania (Penn). "They are both great schools, but ultimately the decision rested on finances. And the choice was made when Penn offered me a full merit-based scholarship. Once here, after only a year and a half, I started clinical clerskships, working in the hospital and experiencing on-the-ground patient care. No matter which rotation I was on, I found that I gravitated toward the patients with an active or past history of cancer. I found it incredibly rewarding, emotionally and intellectually. In fact, it was my experiences with patients on the wards that convinced me to pursue a career in oncology," said Dr. Vapiwala.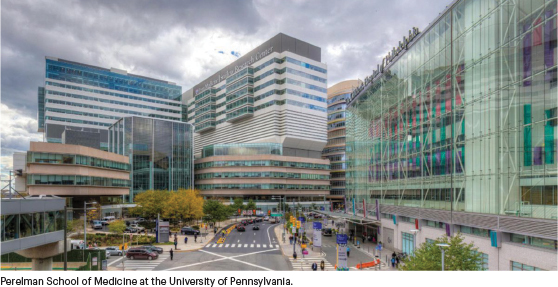 She continued: "As my interest in oncology bloomed, I assumed I'd go into medical oncology, so I signed up for that rotation. However, right around that time, three different senior medical students independently suggested I check out something called radiation oncology, so I did. The attending I was assigned to rotate with, Steve Hahn, currently the Commissioner of the U.S. Food and Drug Administration, was board--certified in both medical and radiation oncology. Aside from being an established researcher, Steve had such an impressive bedside manner and rapport with patients, as well as a genuine interest in teaching me along the way, that I fell in love with radiation oncology and have never looked back on my decision."
A Husband and Wife Team
During the last 2 years of her residency at Penn, Dr. Vapiwala served as Chief Resident. It was there that she met her future husband, also a radiation oncologist who holds a PhD degree as well. "We are now both faculty members at the Perelman School of Medicine at Penn. We're colleagues and partners in every way. My clinical and research efforts focus on genitourinary cancers, and I have several educational roles along with my administrative duties. My husband specializes in gastrointestinal and hematologic malignancies, also juggling research and several administrative roles. We also have three young children, so life is busy but full," said Dr. Vapiwala.
Asked to expand on her multiple duties, Dr. -Vapiwala replied: "One thing I love about my career is that I'm never bored. Whether in the clinic, or classroom, conducting research or a meeting, there's always a new challenge to face and progress to be made. I also focus on diversity issues in our medical workforce pipeline, which has long been a problem that is increasingly gaining attention; unfortunately, it has taken tragic events and long periods of limited to no progress to get things out into public conversation. The diversity of experience we bring to the medical progression is critical as we care for patients and help them navigate their way through treatment and beyond."
Principal Investigator of NCI Trial
Dr. Vapiwala is also Principal Investigator on a recently approved National Cancer Institute (NCI)-sponsored clinical trial that she calls "her baby." It will focus on prostate cancer patients with postoperative recurrence and will use positron-emission tomography scans to direct their treatment using combinations of radiation and systemic therapy. "We have terrific, rapidly evolving imaging technology to better detect cancer, but we don't always have the high-level evidence or experience to guide its use. This study is designed to help us better determine which patients may benefit from additional treatment and which may be overtreated as our ability to "see" cancer improves."
How does a super-busy radiation oncologist--researcher decompress? "We choose to live in the city and love to explore various parts of it, from the rich cultural and historical institutions, to the theater and sporting events as well as the amazing food scene, beautiful city parks, and nearby shore and mountains. And, of course, having three young children naturally takes me away from work to a certain extent. That said, I love my multidimensional career in medicine, and specifically the work we get to do in oncology. I know it's sort of a cliché, but this is an incredibly exciting and dynamic branch of medicine, and I'm proud to be part of it." 
DISCLOSURE: Dr. Vapiwala has served as a consultant or advisor to Magellan Rx.
---