V. Craig Jordan, CMG, OBE, PhD, DSc, Honored for Accomplishments in Women's Health
Queen Elizabeth II Appoints Dr. Jordan Companion of the Most Distinguished Order of St. Michael and St. George


V. Craig Jordan, CMG, OBE, PhD, DSc
The Companion of the Most Distinguished order of St. Michael and St. George (CMG) is generally reserved for ambassadors and leaders of the United Kingdom's defense and security services. Only 1, 750 appointees are permitted. This year, the Head of M16, the Secret Intelligence Service, was in the post for 5 years as a CMG before he was knighted. A handful of UK citizens achieved CMG by being the first to achieve something never done before in a foreign country. The first British male and female astronauts were appointed CMG during the past 3 years. The development of selective estrogen receptor modulators (SERMs) was such an advance, improving millions of lives through the treatment and prevention of breast cancer and osteoporosis. All five U.S. Food and Drug Administration–approved SERMs have discovery connections to the laboratory of V. Craig Jordan, CMG, OBE, PhD, DSc.
Most scientific researchers take rather linear career paths from the university and into a laboratory, typically attached to an academic medical center or industry. However, Dr. Jordan broke that mold, leading a peripatetic life from his birthplace in New Braunfels, Texas, to the United Kingdom for his academic maturation, then off to work in laboratories in Massachusetts; Leeds; Bern; Madison, Wisconsin; Chicago; Philadelphia; Washington, DC; and back to Texas, where he currently serves as Professor of Breast Medical Oncology, and Professor of Molecular and Cellular Oncology at The University of Texas MD Anderson Cancer Center. During that journey, Dr. Jordan was the first researcher to identify the breast cancer prevention properties of tamoxifen, the first SERM and the concept of long-term adjuvant therapy, which eventually led to its clinical role in saving millions of lives.
A Love of Chemistry
Born to an American father and English mother, Dr. Jordan returned to England after his parents' divorce. He candidly admits being an underachiever in his high school years, neglecting most of his classes, which he found dull, and channeling his intellectual energy into his true love: chemistry. Despite his lackluster grades, the school's career master wrote a rousing letter touting Dr. Jordan's unique qualities "Craig Jordan is a very unusual young man. A VERY unusual young man." He was accepted to the highly regarded University of Leeds, where he finished top in his class, excelling in organic chemistry and biochemistry. After a brief interlude of career indecision, Dr. Jordan remained at Leeds to pursue a PhD in pharmacology in 1969 on antiestrogens, then failed contraceptives.
In the summer of 1967, Dr. Jordan worked at ICI Pharmaceuticals with Steven Carter, MD, who was Head of the Anticancer Screening Program. Across the hall, Arthur Walpole, PhD, Head of Reproduction Research, had just published work on a new antiestrogen, ICI 46,474, as a rat contraceptive, hoping the agent could be turned into a human contraceptive.
For many low-income areas, tamoxifen is widely used because they simply cannot afford aromatase inhibitors. And for that reason, it remains an essential drug on the World Health Organization compendia.

— V. Craig Jordan, CMG, OBE, PhD, DSc




Tweet this quote



During this period, Dr. Jordan's improbable life took another turn. His family is rich with military service; while doing his undergraduate work, he joined the Leeds University Officers' Training Corps. This step led to a reservist career with the U.S. and UK military intelligence services as an expert in nuclear, chemical, and biologic warfare followed by decades in the elite Special Air Service (SAS) as a Regular Army Reserve Officer until the age of 50.
In the early 1970s, ICI Pharmaceuticals had lost interest in ICI 46,474 as a contraceptive, but the drug had shown modest activity in preliminary studies in metastatic breast cancer. With the support of Dr. Walpole, Lois Trench, and the Worcester Foundation, Dr. Jordan traveled to the United States and joined the Foundation's lab in Massachusetts, where he worked with laboratory models in breast cancer.
ICI had recently acquired an American company, and as a consultant with the company, Dr. Jordan and Lois Trench, the new drug monitor, worked together to reinventICI 46,474, now called tamoxifen, as the first targeted drug in cancer. He studied the interaction of tamoxifen with the estrogen receptor. He worked tirelessly in the lab, wrote papers, and gave lectures. Although at the time there was scant interest in tamoxifen, his enthusiasm never flagged, and tamoxifen eventually became a mainstay in the adjuvant treatment of breast cancer.
Back to Texas
Asked about the circumstances that brought him back to Texas, Dr. Jordan told The ASCO Post, "I was at a cocktail party in San Diego for the American Association for Cancer Research in 2013, run by MD Anderson, and was offered a job I couldn't refuse. It seemed like a great opportunity, and here I am, having a great time in Houston, torrid heat and all."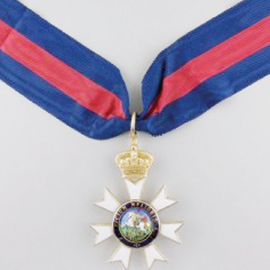 Dr. Jordan was awarded the Companion of the Most Distinguished Order of St. Michael and St. George (CMG) for services to women's health, by Queen Elizabeth II.
Commenting on Queen Elizabeth's unanticipated appointment as CMG, Dr. Jordan reflected, "It was an impossibility, something that would never happen to anybody like me in a lifetime. Those who receive CMG—which in the ambassadorial circles is jokingly referred to as Call Me God—belong to a select historic group, consisting of just 1, 750 people, with only a handful chosen outside the diplomatic services. It was my second meeting with Her Majesty; my first was receiving the Officer of the Most Excellent Order British Empire for my strategic development of tamoxifen," said Dr. Jordan.
Current State of Endocrine Therapies
According to Dr. Jordan, tamoxifen remains a powerful drug around the world because it's so inexpensive. "For many low-income areas, tamoxifen is widely used because they simply cannot afford aromatase inhibitors. And for that reason, it remains an essential drug on the World Health Organization compendia. Aromatase inhibitors began taking over about 10 years ago, but they are expensive in comparison to tamoxifen. That said, the aromatase inhibitors have not been the huge leap forward people had hoped."
I remain cautiously optimistic about research in the field of cancer, especially in our work trying to take the 'brakes off' apoptosis in cancer.

— V. Craig Jordan, CMG, OBE, PhD, DSc




Tweet this quote



Asked about his current work at MD Anderson, Dr. Jordan replied, "I have a personal chair called the Dallas/Fort Worth Living Legend Chair of Cancer Research, which is one of the Center's most prestigious chairs, so I am very honored." Previously, Dr. Jordan held three named chairs created for him: the Diana Princess of Wales Professor of Cancer Research, the Alfred G. Knudson Chair of Cancer Research, and the Lombardi Chair of Translational Research. I'm teaching young PhDs and postdoctoral fellows, and we've just relocated to a bigger space, so I'm hoping to increase the size of my lab. One such postdoctoral fellow is a woman by the name of Balkees Abderrahman, who is working on what we call our 'big project.'"
"In the 1990s, we found that if you gave tamoxifen to animals for up to 5 years using adjuvant tamoxifen, you could slow the growth of tumors. However, if we re-treated with low-dose estrogen, we find that the "whiff" of estrogen can cause these tumors to disappear. This is the basis of an important principle: estrogen-induced apoptosis. So, Dr. Abderrahman came up with the idea that we have a general principle. The program in breast and prostate cancers is embedded in the genome because normal trophoblasts and osteoclasts are killed by estrogen. Identification of this type of mechanism will, in the future, allow new medicine to kill any tumor selectively."
Dr. Jordan continued: "My plan is to document and publish this research in high-impact journals and pose a proposition to the academic community; there is a program in all human cancer in which normal cells contain the ability to activate cancer-killing properties. Therefore, we need to understand this activity, which will open up a huge new area of research, finding ways to unlock the cancer-killing properties of any cell in the body."
A Brief History of International Recognition
Dr. Jordan has received more than 50 international awards for his pioneering studies in the adjuvant treatment and prevention of breast cancer. His major prizes include ASCO's Karnofsky Award (2008), the American Cancer Society Chemoprevention Award (2006), and ASCO awarded him as 1 of the 50 luminaries (2014), the Charles F. Kettering Prize (2003), the American Cancer Society Medal of Honor (2002), the Bristol-Myers Squibb Award (2002), and the European Institute of Oncology Breast Cancer Therapy Award (2001). In 2002, her Majesty the Queen appointed Dr. Jordan Officer of the Most Excellent Order of the British Empire for his contributions to International Breast Cancer Research. His contributions to science and medicine have been recognized by prestigious professional societies, with election to the National Academy of Sciences (2009), and Medicine (2018) in the United States, Fellowship of the Academy of Medical Sciences (2009) in the United Kingdom, and an honorary Fellowship of the Royal Society of Medicine and their Jephcott Gold Medal (2008). In 2016, the German Society of Obstetrics and Gynecology identified Dr. Jordan as one of "the Big Four of the Millennium: those individuals of the 20th century whose work established the standards of medical care in the 21st century."
Moving Forward
Dr. Jordan told The ASCO Post that over the next 10 years or so, he plans to design new agents for patients who develop resistance to long-term tamoxifen or endocrine therapy. "It's not good enough to have estrogen-free women; we need to get much smarter than that. We need supercharged SERMs that improve women's health in general as precision medicines that reduce the known mechanisms of drug resistance to aromatase inhibitors. It is a self-stimulating mutation in the estrogen receptor."
In closing, Dr. Jordan said, "Who would have dreamed all of this was possible for a kid who nearly didn't make it out of grammar school! As always, I remain cautiously optimistic about research in the field of cancer, especially in our work trying to take the 'brakes off' apoptosis in cancer. And MD Anderson has offered me a splendid place to carry out that work." ■
DISCLOSURE: Dr. Jordan reported no conflicts of interest.
---