New From ASCO eLearning: Platform Offers Enhanced, Personalized Online Learning Experience

PERSONALIZATION AND STREAMLINED navigation were two priorities of the recent rebranding of ASCO University. Now known as ASCO eLearning (elearning.asco.org), the rebrand more accurately reflects what the program offers and who it is intended for.
"The priority I see for ASCO eLearning is to make sure that we're building and improving content in a more directed approach—not just responding to needs as they come up," said ASCO eLearning Editor-in-Chief Marie Wood, MD, FASCO.

Marie Wood, MD, FASCO
ASCO eLearning provides courses that fulfill learning requirements for oncology professionals in all career stages and specialties. The program offers an individualized learning dashboard that allows users to make a profile based on their needs and learning gaps. Content recommendations are then made based on the user's profile and course history, offering a more targeted list of suggested courses and materials to help learners meet their educational goals.
The ASCO eLearning platform includes personalized course collections that divide lessons into smaller sections, each about 12 minutes long—intended to make coursework more suitable for on-the-go learning.
The rebrand extends to social media: instead of using the #ASCOU hashtag, use #ASCOeLearning.
"A lot of ASCO eLearning content is accessed but not completed. Moving our programs to more digestible bites is important [to address the needs of ASCO eLearning users]," added Dr. Wood.
Another improvement is that users no longer need to complete all course sections to obtain credit; CE/CME/MOC credits are now offered upon completion of each course section. Additionally, educational assets—relevant ASCO Meeting Library videos, ASCO Educational Book articles, ASCO journal articles, ASCO podcasts, and more—are curated to complement and enhance course takeaways.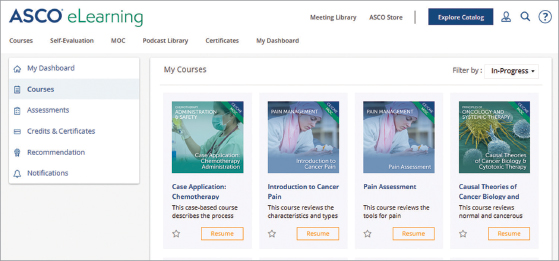 The program rebrand has multiple stages, so members can expect to see additional enhancements in the coming year. Visit elearning.asco.org to explore the improved offerings. ■
© 2019. American Society of Clinical Oncology. All rights reserved.
---