Inaugural Award Recipient Studies Potential of HE4 Blockade as a Novel Immune Therapy in Ovarian Cancer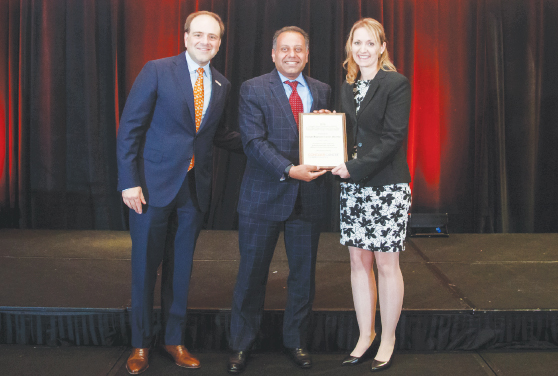 Rachael Rowswell-Turner, MD, PhD (right), receives the Bristol-Myers Squibb Endowed WWCC YIA with Bristol-Myers Squibb's Awny Farajallah, MD (center), and Conquer Cancer Chair Thomas G. Roberts, Jr, MD, FASCO (left), during the 2018 Grants & Awards Ceremony.
In 2018, Bristol-Myers Squibb (BMS) provided funds for Conquer Cancer to establish a Young Investigator Award (YIA) supporting female researchers and underscore the importance of gender diversity in oncology practice and research. 
"We provided this grant as part of our commitment to empowering the next generation of promising female researchers who can help propel scientific innovation and improve patient care," said Nicole Dinello, Lead of Bristol-Myers Squibb Network of Women (B-NOW). 
Conquer Cancer awarded Rachael Rowswell-Turner, MD, PhD, a fellow at the University of Rochester Medical Center, with the first Bristol-Myers Squibb Endowed Women Who Conquer Cancer (WWCC) YIA. Below, she explains her research in gynecologic cancers and the award's effect on her career.
How will your research improve patient outcomes?
RRT: We're looking at the role of human epididymis protein 4 (HE4) in the tumor/ascites microenvironment in ovarian cancer. We have preliminary work implicating it as a mediator of tumor immune suppression. My project will confirm and expand upon these findings and determine the potential of HE4 blockade as a novel immune therapy in ovarian cancer. Our goal: develop a novel treatment strategy that will improve survival, cure rates, and quality of life for ovarian cancer patients. 
What inspired your research study?
RRT: Immunotherapy. Ovarian cancer has a unique immune component. In this cancer type, cells break out of the ovary or fallopian tube and encounter ascites fluid, which is rich in suppressive myeloid cells. 
Additionally, CD8-positive T-cell infiltration has long been recognized as an important prognostic factor in ovarian cancer, yet immunotherapy with programmed cell death protein 1 blockade has yielded relatively low response rates. If we can better understand how the cancer cells and immune cells interact, we have a better shot at designing an effective immunotherapy. 
What does it mean to you to be the first recipient of this YIA?
RRT: It means such a great deal to me. I was able to meet with some of the BMS team at the 2018 ASCO Annual Meeting. It was clear that pioneering this award was a pursuit of passion for them. I could not be more honored to have been chosen by Conquer Cancer. ■
© 2018. American Society of Clinical Oncology. All rights reserved.
---