Newly Updated! ASCO Resource to Help Patients Quit Tobacco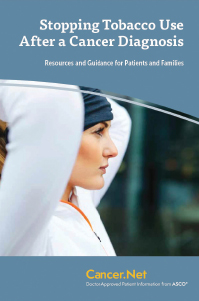 ASCO Answers: Stopping Tobacco Use After a Cancer Diagnosis offers people with cancer and their caregivers information on why and how to quit tobacco use. With information on available treatments and resources, this booklet gives patients practical tools to work with their health-care team to stop using tobacco. 
Download a free printable PDF at cancer.net/tobacco or visit cancer.net/estore to order a pack of 50 booklets for just $20. (That's only $0.40 each!) Free domestic shipping, and ASCO members save 20%. ■
© 2018. American Society of Clinical Oncology. All rights reserved.
---