Turmeric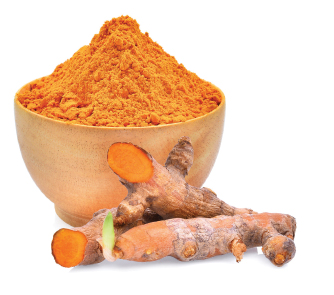 The ASCO Post's Integrative Oncology series is intended to facilitate the availability of evidence-based information on integrative and complementary therapies commonly used by patients with cancer. In this installment, Gary Deng, MD, PhD, and Jyothirmai Gubili, MS, present information on turmeric, and in particular curcumin, a compound in turmeric, and the biological effects of this herb in patients with diseases, including cancer.
Scientific Name: Curcuma longa
Common Names: Indian saffron, curcumin, jiang huang
Overview
Turmeric, thought to have originated in India, is a perennial herb cultivated extensively in Southeast Asia and in many other warm regions of the world, with a medicinal history that dates back 5,000 years. It is used in traditional medicine for wound healing and to treat stomach ailments. The rhizome is used as a spice in many cuisines and as a coloring agent in food and cosmetics. 
Extracts of turmeric are marketed as dietary supplements to improve memory, for arthritis, and for cancer prevention. Turmeric is also available in the form of ointments and creams for topical use. 
Following the discovery of a wide spectrum of biologic effects, turmeric's potential value in the treatment of several diseases, including cancer, is being investigated.
The Science
Studies over the past few decades have shown that turmeric extracts contain many bioactive compounds. However, much of the current investigation is focused on curcumin. It exhibits neuroprotective,1 anti-inflammatory,2 immunomodulatory,3 and chemopreventive effects4 and acts as a weak phytoestrogen5 in vitro. Curcumin and its analogs also have demonstrated chemosensitizing and radiosensitizing effects.6,7
In clinical studies, curcumin was shown to be a safe option and equally effective as a nonsteroidal anti-inflammatory drug for the treatment of osteoarthritis of the knee.8 Data from epidemiologic studies suggest improved cognitive performance in elderly Asians who consume turmeric in the form of curry powder.9 But supplementation with curcumin did not produce such benefits in patients with Alzheimer's disease.10 In other studies, turmeric was reported to help alleviate symptoms of irritable bowel syndrome11 and quiescent ulcerative colitis.12 And preliminary data suggest that a topical turmeric-based cream may be effective for the reduction of radiotherapy-induced dermatitis in patients with head and neck cancer.13
OF NOTE
Curcumin exhibits neuroprotective, anti-inflammatory, immunomodulatory, and chemopreventive effects and also has demonstrated chemosensitizing and radiosensitizing effects.
Interest in the anticancer potential of turmeric has also spurred research efforts. In patients with colorectal cancer, the administration of oral curcumin during the presurgery waiting period improved cachexia and general health of patients.14 In a phase II trial involving 21 patients with advanced pancreatic cancer, clinically relevant biologic activity was seen in 2 patients taking oral curcumin, despite limited absorption.15 Findings from additional early-phase studies point to the safety of coadministering curcumin with docetaxel16 and gemcitabine.17
Suggested mechanisms of action include curcumin's ability to reduce the concentration of tumor necrosis factor–alpha, a key mediator in many inflammatory diseases,18 and to exert biologic effects by inhibiting nuclear traffic via targeting of CRM1, an important nuclear exportin.19 The antitumor actions of curcumin appear to be due to its interactions with arachidonate metabolism and its in vivo antiangiogenic properties.20 Another possible chemopreventive mechanism may be via binding and activating the vitamin D receptor, thereby protecting the small intestine and colon, where vitamin D receptors are expressed. (Vitamin D is known to serve an anticancer function.21)
Despite encouraging findings, efforts to determine the true therapeutic potential of curcumin are impeded by its low bioavailability and, consequently, poor intestinal absorption. But nanoparticle and liposomal curcumin formulations,22 as well as concurrent use of piperine (an alkaloid in black pepper),23 appear promising, as they have been shown to enhance the bioavailability of curcumin.
Adverse Reactions 
Allergic dermatitis,24 contact urticaria,25 and transient atrioventricular block26 have been reported following the intake of curcumin.
Herb-Drug Interactions 
Drugs metabolized by cytochrome P450 enzymes: Curcumin inhibits CYP1A4 and CYP3A4 but induces CYP2A6 enzymes,27,28 thereby altering the metabolism of some prescription drugs.
P-glycoprotein substrate drugs: Curcumin downregulates intestinal P-glycoprotein levels, thereby increasing the absorption of substrate drugs such as midazolam,29 verapamil,30 and tacrolimus.31
Anticoagulants/antiplatelets: Turmeric may increase the risk of bleeding due to its antiplatelet properties.32
Camptothecin: Turmeric inhibits camptothecin-induced apoptosis of breast cancer cell lines in vitro.33
Doxorubicin: Turmeric inhibits doxorubicin-induced apoptosis of breast cancer cell lines in vitro.33
Cyclophosphamide: Dietary turmeric inhibits cyclophosphamide-induced tumor regression in animal studies.33
Norfloxacin (Chibroxin, Noroxin): Pretreatment with curcumin results in increased plasma elimination half-life, thereby reducing the dosage of norfloxacin.34
Summary 
There is evidence that curcumin has anti-inflammatory activities. However, in cancer patients undergoing active treatment, detrimental interactions with cancer treatment must be considered.
For additional information, visit the About Herbs website at https://www.mskcc.org/cancer-care/-integrative-medicine/herbs/turmeric. ■

Gary Deng, MD, PhD

Jyothirmai Gubili, MS
Dr. Deng is Medical Director, Integrative Medicine Service, Attending Physician, Clinical Member, Memorial Sloan Kettering Cancer Center, New York. Ms. Gubili is Editor, Integrative Medicine, Memorial Sloan Kettering Cancer Center, New York.





DISCLOSURE: Dr. Deng and Ms. Gubili reported no conflicts of interest.
REFERENCES
1. Cemil B, Topuz K, Demircan MN, et al: Curcumin improves early functional results after experimental spinal cord injury. Acta Neurochir (Wien) 152:1583-1590, 2010.
2. Yun JM, Jialal I, Devaraj S: Epigenetic regulation of high glucose-induced proinflammatory cytokine production in monocytes by curcumin. J Nutr Biochem 22:450-458, 2011.
3. Jantan I, Bukhari SN, Lajis NH, et al: Effects of diarylpentanoid analogues of curcumin on chemiluminescence and chemotactic activities of phagocytes. J Pharm Pharmacol Mar 64:404-412, 2012.
4. Chang KW, Hung PS, Lin IY, et al: Curcumin upregulates insulin-like growth factor binding protein-5 (IGFBP-5) and C/EBPalpha during oral cancer suppression. Int J Cancer 127:9-20, 2010.
5. Bachmeier BE, Mirisola V, Romeo F, et al: Reference profile correlation reveals estrogen-like trancriptional activity of curcumin. Cell Physiol Biochem 26:471-482, 2010. 
6. Selvendiran K, Ahmed S, Dayton A, et al: HO-3867, a curcumin analog, sensitizes cisplatin-resistant ovarian carcinoma, leading to therapeutic synergy through STAT3 inhibition. Cancer Biol Ther 12:837-845, 2011.
7. Qiao Q, Jiang Y, Li G: Curcumin improves the antitumor effect of X-ray irradiation by blocking the NF-kappaB pathway: An in-vitro study of lymphoma. Anticancer Drugs 23:597-605, 2012.
8. Kuptniratsaikul V, Thanakhumtorn S, Chinswangwatanakul P, et al: Efficacy and safety of curcuma domestica extracts in patients with knee osteoarthritis. J Altern Complement Med 15:891-897, 2009.
9. Ng TP, Chiam PC, Lee T, et al: Curry consumption and cognitive function in the elderly. Am J Epidemiol 164:898-906, 2006.
10. Baum L, Lam CW, Cheung SK, et al: Six-month randomized, placebo-controlled, double-blind, pilot clinical trial of curcumin in patients with Alzheimer disease. J Clin Psychopharmacol 28:110-113, 2008. 
11. Bundy R, Walker AF, Middleton RW, et al: Turmeric extract may improve irritable bowel syndrome symptomology in otherwise healthy adults: A pilot study. J Altern Complement Med 10:1015-1018, 2004. 
12. Hanai H, Iida T, Takeuchi K, et al: Curcumin maintenance therapy for ulcerative colitis: Randomized, multicenter, double-blind, placebo-controlled trial. Clinical Gastroenterol Hepatol 4:1502-1506, 2006. 
13. Palatty PL, Azmidah A, Rao S, et al: Topical application of a sandal wood oil and turmeric based cream prevents radiodermatitis in head and neck cancer patients undergoing external beam radiotherapy: A pilot study. Br J Radiol 87:20130490, 2014.
14. He ZY, Shi CB, Wen H, et al: Upregulation of p53 expression in patients with colorectal cancer by administration of curcumin. Cancer Invest 29:208-213. 2011. 
15. Dhillon N, Aggarwal BB, Newman RA, et al: Phase II trial of curcumin in patients with advanced pancreatic cancer. Clin Cancer Res 14:4491-4499, 2008. 
16. Bayet-Robert M, Kwiatkowski F, Leheurteur M, et al: Phase I dose escalation trial of docetaxel plus curcumin in patients with advanced and metastatic breast cancer. Cancer Biol Ther 9:8-14, 2010.
17. Epelbaum R, Schaffer M, Vizel B, et al: Curcumin and gemcitabine in patients with advanced pancreatic cancer. Nutr Cancer 62:1137-1141, 2010.
18. Sahebkar A, Cicero AF, Simental-Mendía LE, et al: Curcumin downregulates human tumor necrosis factor-α levels: A systematic review and meta-analysis of randomized controlled trials. Pharmacol Res 107:234-242, 2016.
19. Niu M, Wu S, Mao L, et al: CRM1 is a cellular target of curcumin: New insights for the myriad of biological effects of an ancient spice. Traffic 14:1042-1052, 2013.
20. Ng TP, Chiam PC, Lee T, et al: Curry consumption and cognitive function in the elderly. Am J Epidemiol 164:898-906, 2006.
21. Bartik L, Whitfield GK, Kaczmarska M, et al: Curcumin: A novel nutritionally derived ligand of the vitamin D receptor with implications for colon cancer chemoprevention. J Nutr Biochem 21:1153-1161, 2010.
22. Yallapu MM, Jaggi M, Chauhan SC: Curcumin nanoformulations: A future nanomedicine for cancer. Drug Discovery Today 17:71-80, 2012. 
23. Patil VM, Das S, Balasubramanian K: Quantum chemical and docking insights into bioavailability enhancement of curcumin by piperine in pepper. J Phys Chem A 120:3643-3653, 2016.
24. Lamb SR, Wilkinson SM: Contact allergy to tetrahydrocurcumin. Contact Dermatitis 48:227, 2003. 
25. Liddle M, Hull C, Liu C, et al: Contact urticaria from curcumin. Dermatitis 17:196-197, 2006.
26. Lee SW, Nah SS, Byon JS, et al: Transient complete atrioventricular block associated with curcumin intake. Int J Cardiol 150:e50-e52, 2011. 
27. Zhang W, Lim LY: Effects of spice constituents on P-glycoprotein-mediated transport and CYP3A4-mediated metabolism in vitro. Drug Metab Dispos 36:1283-1290, 2008.
28. Chen Y, Liu WH, Chen BL, et al: Plant polyphenol curcumin significantly affects CYP1A2 and CYP2A6 activity in healthy, male Chinese volunteers. Ann Pharmacother 44:1038-1045, 2010.
29. Zhang W, Tan TM, Lim LY: Impact of curcumin-induced changes in P-glycoprotein and CYP3A expression on the pharmacokinetics of peroral celiprolol and midazolam in rats. Drug Metab Dispos 35:110-115, 2007.
30. Hou XL, Takahashi K, Tanaka K, et al: Curcuma drugs and curcumin regulate the expression and function of P-gp in Caco-2 cells in completely opposite ways. Int J Pharm 358:224-229, 2008.
31. Egashira K, Sasaki H, Higuchi S, et al: Food-drug interaction of tacrolimus with pomelo, ginger, and turmeric juice in rats. Drug Metab Pharmacokinet 27:242-247, 2012.
32. Prakash P, Misra A, Surin WR, et al: Anti-platelet effects of Curcuma oil in experimental models of myocardial ischemia-reperfusion and thrombosis. Thromb Res 127:111-118, 2011.
33. Somasundaram S, Edmund NA, Moore DT, et al: Dietary curcumin inhibits chemotherapy-induced apoptosis in models of human breast cancer. Cancer Res 62:3868-3875, 2002.
34. Pavithra BH, Prakash N, Jayakumar K: Modification of pharmacokinetics of norfloxacin following oral administration of curcumin in rabbits. J Vet Sci Dec 10:293-297, 2009.
---