Resource for Your Patients on Weight Management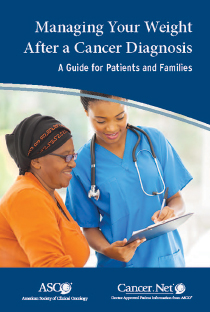 ASCO'S BOOKLET Managing Your Weight After a Cancer Diagnosis: A Guide for Patients and Families addresses how being obese or overweight can slow recovery and affect survival. 
Readers will find information on different weight loss methods, common challenges to losing weight and maintaining weight loss, and emotional challenges associated with weight loss. It includes tips for talking with the health-care team about weight loss and resources to help patients reach their goals. 
Download a free printable PDF of the booklet at www.cancer.net/obesity or purchase copies from the ASCO University Bookstore at www.cancer.net/ estore. Domestic shipping is free, and ASCO members save 20%. ■
© 2017. American Society of Clinical Oncology. All rights reserved. 
---