ASCO's 2016 Quality Training Program: Meet the First International Participant From Greece


The QTP [Quality Training Program] provides a set of tools to identify problems in your particular health-care setting and also the systematic and methodic approach you need to follow to address those problems.

— Georgios Rigakos, MD




Tweet this quote



Launched in 2014, ASCO's Quality Training Program was developed to prepare oncology providers to design, implement, and lead successful quality-improvement activities in their practices. It is a 6-month program that includes a structured and facilitated improvement project selected by each oncology team to solve a problem it has in its own clinical setting with the guidance of experienced coaches.
The 2015 Quality Training Program led to many successes at the practices where the participants worked. One practice focused on understanding patients' access to their practice via the phone and use of the emergency room. Their interventions resulted in a 60% decrease in the number of oncology patients utilizing the emergency room and improvement from 48% to 73% in the percentage of symptom management calls being addressed within 2 hours.1
Oncology practices that wish to participate in the Quality Training Program must apply, and those selected must demonstrate a commitment of time and resources as well as undergo a broad and intensive review process by the program's selection committee.
First International Participant
This year's class comprised 54 participants from multiple teams and was unique. Four of the teams are from safety net institutions in the United States—supported by the Niarcos Foundation and the Conquer Cancer Foundation. One of the teams is the Contemporary Oncology Team from Athens, Greece—the first international participant in the ASCO's Quality Training Program. The ASCO Post recently spoke with the team from Greece along with several ASCO members directly involved in the Quality Training Program.

John V. Cox, DO, MBA, FASCO
Reflecting on the program, participant John V. Cox, DO, MBA, FASCO, of Parkland Health & Hospital System, Dallas, Texas, said: "After 2 days in the program, it became obvious that the quality training principles are generalizable across the globe. And having a team travel all the way from Greece to participate in the program underscores its value. Learning the skills and techniques of quality improvement science is central to oncology no matter where it is practiced, and ASCO has the tools to inform that goal."
Stephen Grubbs, MD, Vice President, Clinical Affairs, ASCO, commented that the team from Greece was a trailblazer, showing that quality care has no boundaries. "This is exactly what we at ASCO want to see as we expand our programs internationally. This experience can be a valuable training model for other practices in Greece and across Europe."

Stephen Grubbs, MD
Georgios Rigakos, MD, of the Contemporary Oncology Team, Athens, Greece, said the original impetus to participate in the QOPI and QTP programs was to assess care delivered by the Contemporary Oncology Team in Greece. "It is vital to continually look for ways to improve quality of care, and we viewed the ASCO programs as an opportunity to do just that. And that's why we're so grateful to QOPI ® (Quality Oncology Practice Initiative), not just for the certification itself, but also for the opportunity to evaluate and improve our own quality standards."
Dr. Rigakos noted that during the 3-year participation of the practice in QOPI ®, they discovered that the team could perform better in certain clinical areas and that there were quality issues that were hampering optimal patient care. Identification and resolution of many of these issues gave the team the opportunity for improvement and eventually led to its QOPI ® certification. Additionally, it revealed the usefulness of a systematic way of tackling a quality issue in an oncology practice, which led to joining the Quality Training Program. "The Quality Training Program provides a set of tools to identify problems in your particular health-care setting and also the systematic and methodic approach you need to follow to address those problems," he explained.
Asked about common problems in care delivery of health-care systems, Dr. Rigakos replied: "A common problem that traverses all systems is the high cost of care, especially with all the new targeted therapies, and the need to balance cost and value when treating our patients. We believe that having high-quality procedures with checkpoints can reduce costs, reduce mistakes, and enhance value."
He pointed out that unlike the United States, Greece and other areas in Europe do not have standard quality measures in place, but he was confident that standardized measures would soon be part of European cancer care. A more striking difference between the U.S. and Greek systems of cancer care is in the dispensation of chemotherapy.
"In Greece, patients actually pick up their own chemotherapy drugs from government pharmacies. And even though we are in a dire financial condition, every cancer patient is entitled to any treatment that has received approval from two other countries anywhere in the world," explained Dr. Rigakos.
Asked what the most significant takeaway from the Quality Training Program he could apply to his practice is, Dr. Rigakos said: "A systematic approach to problem solving and identifying clinical and operational targets for improvement. As we know, quality improvement is an ongoing process, and ASCO's Quality Training Program prepares oncology teams to meet that challenge."
Institutions Represented on ASCO's 2016 Quality Training Program Team
Members of the 2016 ­Quality Training Program team hail from the following ­locations:
Cleveland Clinic Foundation, Cleveland
Contemporary Oncology Team, Athens, Greece
Grady Health System, Atlanta
JPS Center for Cancer Care, Fort Worth, Texas
NorthShore Kellogg Cancer Center, Illinois (multiple ­locations)
Oregon Health & Science University, Portland, Oregon
Parkland Health & Hospital System, Dallas
Ralph Lauren Center for Cancer Care, New York
Tennessee Oncology (multiple locations)
The Tisch Cancer Institute, Icahn School of Medicine at Mount ­Sinai, New York
University of Virginia Cancer Center, Charlottesville, Virginia (multiple locations)
Vermont Center for Cancer Medicine & Blood Disorders (multiple locations)
Wilmot Cancer Institute, Rochester, New York (multiple ­locations)
Barbara Corning-Davis, MS, CPHQ, Associate Director of Quality Improvement, runs the ASCO Quality Training Program. She explained that the course is structured as experience-based learning, and all participants must have a particular project in mind, so they can immediately apply the skills learned in the course to their practice.
"Dr. Rigakos' team selected a specific QOPI ® measure that they seek to improve, which has to do with measuring and documenting the grading of treatment's toxicity and corresponding dose adjustments. And with that knowledge, they'll be able to better manage their patients and ensure that clinicians are adhering to the guidelines," revealed Ms. Corning-Davis, adding that ASCO has current interest in QOPI ® and the Quality Training Program from other nations such as Spain, Brazil, and New Zealand. "We are looking at ways to deliver the QOPI ® to these nations in a way that maintains the highest standards. Then we plan to continue spreading the training program to other areas in the world," Ms. Corning-Davis concluded.
Program Components
Designed to allow teams to solve a quality problem in their own clinical setting, with guidance from experienced coaches and faculty, the Quality Training Program is a 6-month comprehensive education and training program for interdisciplinary oncology teams. It includes 5 days of face-to-face educational sessions including seminars, case examples, and small group exercises; and a structured and facilitated improvement project selected by each oncology team. ■
Disclosure: Drs. Cox, Grubbs, Rigakos, and Corning-Davis reported no potential conflicts of interest.
Reference
1. Hunis B, Alencar AJ, Castrellon AB, et al: Making steps to decrease emergency room visits in patients with cancer: Our experience after participating in the ASCO Quality Training Program. 2016 ASCO Quality Care Symposium. Abstract 51. Presented February 26, 2016.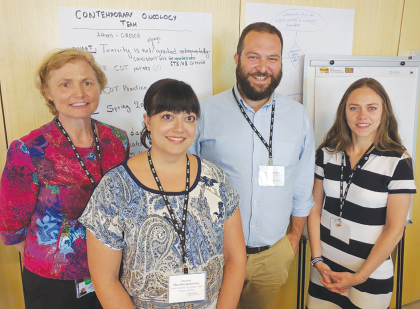 From left to right: Barbara Corning-Davis, MS, CPHQ, Ioanna Theodorakopoulou, Georgios Rigakos, MD, and Effrosini Vlachou.
---