A Complete Guide to Breast Surgery and Reconstruction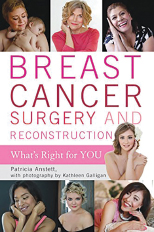 BookmarkTitle:
Breast Cancer Surgery and Reconstruction: What's Right for You
Author:
Patricia Anstett, with photography by Kathleen Galligan
Publisher:
Rowman & Littlefield
Publication date:
June 2, 2016
Price:
$35.00; hardcover, 224 pages
Over the past 2 decades, we have seen tremendous improvement in every aspect of breast cancer management. In fact, no other solid tumor has witnessed such a substantial change and improvement in terms of diagnosis and management as breast cancer.
So much has been written about breast cancer, and at the same time, much in the literature has been underreported about reconstructive surgery. In an attempt to fill that need, Patricia Anstett, a well-published medical writer, has written Breast Cancer Surgery and Reconstruction: What's Right for You, a detailed account of one of the most important issues in the world of oncology. Along with the visual help of photographer Kathleen Galligan, Ms. Anstett has produced a valuable book in both the clinical cancer community as well as the patient-survivor sector.
The title, which emphasizes breast cancer surgery, is somewhat misleading, in that the author concentrates most of her content on reconstruction. This is a good thing because it provides women with sound advice, coming from women who have had to make difficult decisions, balancing long-term outcomes with body-image issues.
To her credit, the author tackles one of today's growing clinical tendencies in breast cancer: choosing mastectomy over lumpectomy and, increasingly, choosing double mastectomy.

— Ronald Piana




Tweet this quote



Intimate and Pragmatic
Organized in 23 chapters, this book is both intimate and pragmatic in content and scope. In chapter one, she discusses the case history of an African American women who was assured by her obstetrician that the lump she found on self-breast examination was probably due to a clogged milk duct. It turned out to be stage II triple-negative breast cancer. In a personalized review of this woman's clinical decision-making process, the author takes the reader on a fascinating and insightful trip along the cancer continuum.
After years of successful treatment, which included a double mastectomy and reconstructive surgery, the patient remarks that she had gotten past the cancer diagnosis that seemed to frame her life for too long. She says, "My advice is be patient with it. Realize you will be a new you. You just have to come to grips with your new look…. You'll feel fine. You'll feel womanly again. It just takes time."
Mastectomy vs Lumpectomy
To her credit, the author tackles one of today's growing clinical tendencies in breast cancer: choosing mastectomy over lumpectomy and, increasingly, choosing double mastectomy. The number of women with early-stage breast cancers who underwent double mastectomies increased from 34.3% in 1998 to 40% in 2011. Ms. Anstett points out that experts are concerned with this trend, as most of the women who opted for double mastectomies had no positive lymph nodes and noninvasive cancers, such as carcinoma in situ. 
The author quotes former ASCO President and CEO, Alan Lichter, MD: "It's a little disturbing [the trend toward double mastectomy], and it bears watching. I certainly understand the motivation at a certain level. Clearly a double mastectomy has finality to it. It brings some peace of mind…. However, for the average woman without predisposing genetic mutations, the risk of a contralateral breast cancer is relatively low."
The clinical paradox is framed. Now what? The author and the esteemed oncologists she spoke to come to the same conclusion: In the end, it's the patient's decision. The case history in this section focuses on Sharon Kiley Heck, now a 72-year-old woman, who was diagnosed with a noninvasive breast cancer at the age of 46 and chose to have double mastectomy. Her case, intertwined with opinions and reflections of doctors and other patients, is a must read for women in this difficult emotional terrain. It actually defines much of this fine book's mission.
The decision about what type of breast surgery to undergo and whether to have breast reconstruction is highly personal. In the end, after much deliberation, Ms. Heck chose double mastectomy and reconstructive surgery with silicone breast implants. "My expectations have been met. After 24 years, I'm still cancer free, but there are issues with my decision to have breast implants, which cause her occasional discomfort. "I worry that when I hug someone they are going to think that my chest feels funny, although no one has ever said that," said Ms. Heck.
Her intimate body-image worry, as she relates so poignantly, is put into perspective by the fact that she's a long-term survivor of a disease that kills more than 40,000 American women each year. This, in and of itself, is a message that the author handles with objective delicacy throughout.
Underreported Issues
The book boldly navigates issues that are underreported in most breast cancer narratives, such as Arab-culture intimacy problems, delayed-reconstruction dilemmas, the "nipple challenges," and pregnancy. Ms. Anstett made many wise choices in her book. She is a capable writer who knows her limitations in the craft of writing. As a result, she has produced an honest, valuable book that deals with clinical and emotional subjects that are daunting and confusing. Women who are facing these issues will be well served by this book.
Kathleen Galligan, a two-time Emmy-award–winning photographer and videographer, contributed photos for the book. Although delightful in capturing the expressions of women in private moments during their cancer journey, they seem unnecessary. Quotes preceding each chapter may have better served the book's central thematic thrust. But that's a minor complaint for a book that provides valuable information, breaking new ground in its method of delivery as well. This book is recommended for The ASCO Post readers. ■
---