Rational Strategies Are Advancing Combination Lymphoma Therapies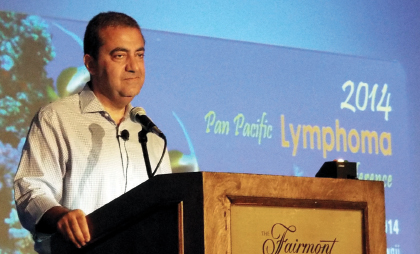 Anas Younes, MD
That's why it's very important to biopsy tumors on treatment, especially if they are not responding well, to see if there is any evidence of activation of a secondary pathway on therapy that can justify a combination strategy.

—Anas Younes, MD
Rational strategies informed by knowledge of a drug's molecular mechanisms are helping to bring new combinations of lymphoma therapies to the clinic, according to Anas Younes, MD, Chief of the Lymphoma Service at Memorial Sloan Kettering Cancer Center in New York.
The Challenge of Too Many Drugs
The number of oncology drugs in development has risen exponentially in recent years, Dr. Younes told attendees of the Pan Pacific Lymphoma Conference, held recently in Kohala Coast, Hawaii. "It's good news that we have more drugs right now, but that also presents a new challenge. How do you choose and how do you prioritize? It is really challenging for drug development," he maintained.
"Every once in a while we hit the jackpot and the drug looks very good in a phase I trial," but response rates in these trials are typically on the order of 20% in unselected patients with diverse lymphoma histologies, Dr. Younes said. "This is again a challenge: what do you do with this phase I data? There is clearly a signal, but then what's the next step? Of course, we tend to prioritize based on unmet need, how much money the company has, and interest in a phase II trial with multiple arms" for different histologies.
Rational Combinations
Rationally designed, mechanism-based combination is one strategy for improving the success rate of novel agents, according to Dr. Younes. The U.S. Food and Drug Administration (FDA) has issued some guidance for trial designers intended to improve the likelihood of eventual approval of novel-novel combinations.1
First, they recommend a compelling biological rationale for using the combination: the two agents must block different targets in the same molecular signaling pathway, must block multiple pathways, or must block resistance/feedback loops. Second, they recommend preclinical or preliminary clinical studies suggesting that the combination provides greater than additive activity or a more durable response than the single agents alone.
An example is the combination of everolimus (Affinitor), an inhibitor of mammalian target of rapamycin (mTOR), and panobinostat, a histone deacetylase (HDAC) inhibitor, which has shown synergy against Hodgkin lymphoma.2 In this case, the combination inhibits negative feedback loops involving the PI3 kinase pathway.
"You can then sort of extend this to a class effect with any PI3 kinase pathway inhibitor, not just an mTOR inhibitor. Other PI3 kinase inhibitors will do the same thing when you combine it with an HDAC inhibitor," Dr. Younes noted. This combination was taken forward in a phase I trial among patients with diverse types of lymphoma, where it showed a promising 43% response rate, although thrombocytopenia was ­problematic.3
Clues From Clinical Studies
"Patient response can give clues on what could be potentially targeted for a combination strategy," Dr. Younes noted. For example, in patients having residual disease after treatment with a novel agent, the remaining tumor likely harbors a potentially targetable resistance to that agent that can be identified through biopsy. "That will require multiple biopsies of patients who have a good response but fail to achieve a complete response…. This again is challenging but really needs to be done more frequently in the setting of clinical trials, either at the time of conversion or at the time of mixed response," he said.
"Baseline biomarkers could not predict that this should be an appropriate combination," Dr. Younes stressed. "Only when you biopsy a patient on therapy, you can pick up this secondary pathway activation that could guide future combination therapies. That's why it's very important to biopsy tumors on treatment, especially if they are not responding well, to see if there is any evidence of activation of a secondary pathway on therapy that can justify a combination strategy."
Molecular Assays and New Trial Designs
Molecular laboratory testing is also helping identify promising novel drug combinations, but even though largely automated, this approach is still laborious, given the numerous drugs, many possible combinations, and different types of lymphomas, Dr. Younes noted. "This is a tremendous effort of bioinformatics and biostatistical analysis, because these cells lines have differences in genetics, cell of origin, and so forth. So you really don't expect to see these combinations to work across the board. You just have to find out where they work preferentially and test this in patients in the clinical setting."
Those combinations showing greatest synergy are moved into clinical testing. "A new clinical trial design is contributing to this changing landscape," Dr. Younes noted. The design allows simultaneous screening of multiple novel combinations in a single phase I trial, as has been done in testing an antibody that targets TRAIL receptor 2 both with bortezomib (Velcade) and with vorinostat (Zolinza) in relapsed lymphoma.4
"You start one doublet and while you are waiting for safety, enroll two or three patients in the second doublet," he explained. "I think this needs to be done more frequently in the future to make the system more ­efficient." ■
Disclosure: Dr. Younes has received research support of clinical trials from Curis, Novartis, GlaxoSmithKline, Janssen, and Pharmacyclics, and has received honoraria from Celgene, Seattle Genetics, Sanofi, Incyte, and Millennium.
References
1. U.S. Food and Drug Administration: Guidance for Industry Codevelopment of Two or More New Investigational Drugs for Use in Combination. June 2013. http://www.fda.gov/downloads/Drugs/GuidanceComplianceRegulatoryInformation/Guidances/UCM236669.pdf.
2. Lemoine M, Derenzini E, Buglio D, et al: The pan-deacetylase inhibitor panobinostat induces cell death and synergizes with everolimus in Hodgkin lymphoma cell lines. Blood 119(17):4017-4025, 2012.
3. Oki Y, Buglio D, Fanale M, et al: Phase I study of panobinostat plus everolimus in patients with relapsed or refractory lymphoma. Clin Cancer Res 19(24):6882-6890, 2013.
4. Younes A: Targeted Therapy of Lymphoma. 2007.
More on Lymphoma

For information about this and future lymphoma conferences, visit https://www.unmc.edu/cce/panpacificlymphoma.htm
---