Don Shula Foundation Donates $1.5 Million to Moffitt Cancer Center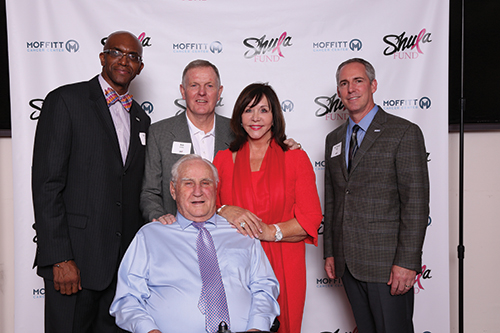 Left to right: Moffitt Vice President of Diversity & Community Relations Dr. B. Lee Green, Bob Griese, Don Shula, Mary Anne Shula, and Moffitt Center Director & Executive Vice President Thomas Sellers.
The Don Shula Foundation is donating $1.5 million to Moffitt Cancer Center to establish The Don Shula Breast Cancer Research Fund (The Shula Fund). Scientists at Moffitt will use The Shula Fund to support cutting-edge research projects that will generate new treatment and prevention strategies for breast cancer patients in Florida and beyond.
Don Shula, the winningest coach of all time, and his wife, Mary Anne, joined Moffitt in announcing the fund at an event held recently in Fort Lauderdale. The Shula family was joined by Pro Football Hall of Famer and Miami Dolphins legend Bob Griese, the Chairman of Moffitt's national Board of Advisors.
The New Shula Fund
The Don Shula Foundation was established in Miami more than 20 years ago as a tribute to Mr. Shula's late wife, Dorothy. According to Mr. Shula, the new Shula Fund will fuel important breast cancer research discoveries that will improve patient outcomes.
"Cancer has touched our family personally, and I know that the more we give to cancer research, the closer we are to finding a cure," said Coach Shula, a member of Moffitt's national Board of Advisors.
A committee comprised of Shula designees, Moffitt leadership, and a Moffitt breast cancer physician-scientist will select the most promising breast cancer research projects to fund. Recent scientific advances in breast cancer research at Moffitt include outlining the best use of genetic counseling and testing, assessing a gene mutation's impact on cancer risk and lifestyle, and identifying environmental risk factors contributing to the disease. The Shula Fund will continue to support similar innovative breast cancer research projects that are being translated into novel treatments to improve patient outcomes. ■
---