Rush's New Hospital Building Listed as One of the Most Innovative Infrastructure Projects in the World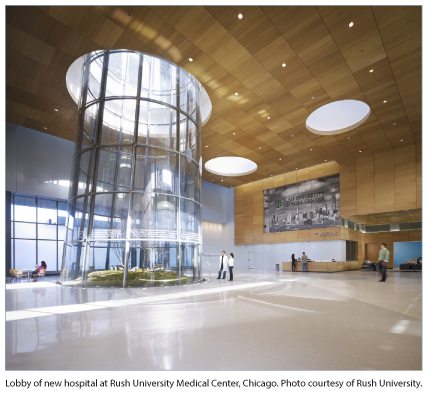 Lobby of new hospital at Rush University Medical Center, Chicago. Photo courtesy of Rush University.
The new hospital at Rush University Medical Center, Chicago, has been listed in KPMG's recent second edition of Infrastructure 100: World Cities Edition, a report showcasing 100 of the most innovative and inspiring urban infrastructure projects from around the world. Rush is one of only 10 health-care projects listed. Only two health-care projects in the United States were included.
The report by KPMG, a worldwide consulting firm, is designed to provide insight into the infrastructure projects that make great cities, with a particular focus on the innovations that make them "Cities of the Future." According to KPMG, the development of sustainable urban infrastructure is one of the greatest challenges of the 21st century. More than half of the global population is already squeezed into cities that, collectively, make up less than 2% of the planet's land. Of the 100 projects identified by the regional judging panels, 10 were selected by a global judging panel as being the most noteworthy within each project category.
The 'Rush Transformation'
The new Rush hospital building, referred to as the Tower, is the centerpiece of the 10-year "Rush Transformation" that also includes a new orthopedics building, a new parking garage and central power plant, renovations of selected existing buildings, and demolition of obsolete buildings. The entire 10-year project was designed and built to conserve energy and water, reduce waste, and use sustainable building materials.
The Tower is the largest new construction health-care project in the world to be LEED Gold-certified for energy use, lighting, water, and material use, as well as incorporating a variety of other sustainable strategies. LEED stands for Leadership in Energy and Environmental Design. The 14-floor, 806,000-square-foot hospital building opened in January 2012 and is recognized as one of Chicago's most distinctive new buildings.
Infrastructure–Healing Link
According to the KPMG report, the changing nature of health-care means that in addition to patients relying on skilled doctors and new technology for recovery, providers are now acutely aware of the links between physical infrastructure, the built environment, psychology, and healing. Below is the list of the 10 most innovative health-care projects as chosen by a panel of independent industry professionals for the Infrastructure 100: World Cities Edition.
The Royal London Hospital, United Kingdom
New Physical Medicine and Rehabilitation Hospital, Kuwait
Kayseri Integrated Health Campus, Turkey
Bahia Suburbio Hospital, Brazil
Integrated Health and Water Management Project, Brazil
Queen Mamohato Memorial Hospital, Lesotho
Victorian Comprehensive Cancer Centre (VCCC), Australia
IIUM Teaching Hospital, Malaysia
Rush University Medical Center Transformation Project
New University of Michigan C.S. Mott Children's Hospital ■
---