Optimizing Treatment for Advanced Prostate Cancer Requires Shifting Focus from Individual Drugs to Integrated Therapies

Newer drugs, including sipuleucel-T (Provenge), cabazitaxel (Jevtana), and abiraterone (Zytiga), can extend survival modestly and ease symptoms for men with advanced prostate cancer. Maximizing the benefit to patients will require shifting the focus from developing individual drugs to developing integrated therapies, according to Christopher J. Logothetis, MD, Chair of the Department of Genitourinary Medical Oncology at The University of Texas MD Anderson Cancer Center in Houston.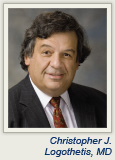 "There are multiple new drugs available to patients with advanced prostate cancer. While each drug works individually, we believe developing optimal combinations and sequences with these drugs is the key to further improving therapy," Dr. Logothetis said.
"By developing a manual on how to use prostate cancer drugs in optimal combinations and sequences, we will be able to design therapies that are greater than the sum of the individual drugs," Dr. Logothetis explained in an interview with The ASCO Post.
Unique Opportunity
"When you look at other cancer types, the greatest clinical benefit has come from using drugs at the right time during the course of the disease and in the right combinations. What is unique about prostate cancer, however, is that the disease is relatively slower-growing and less threatening in the immediate term than other cancer types. This creates an opportunity for clinical research with drug combinations that will actually help the patient being treated in the study and not just create knowledge for the next generation of patients. If drug development is moving quickly enough and the disease is growing slowly enough, the patient can choose to participate in research for both altruistic and pragmatic reasons. In essence, we are prescribing research to help him."
Developing a manual for using prostate cancer drugs "is both straightforward and difficult," Dr. Logothetis said. "The task is straightforward in the sense that different individual drug companies appreciate it is in their best interests to collaborate and design trials that optimize the most effective drug combinations. It is clear a shared clinical research platform needs to develop very quickly."
More complex and difficult may be the job of designing trials in which data collected from one trial are interpreted not only in the context of that trial, but also integrated with data sets from other trials. "What we are advocating is the creation of a new set of trial designs that allow us to look at the consequences of one therapy and how it impacts another," Dr. Logothetis said. He also advocates "creating a new set of biomarkers that are specific to both the disease and the drug and integrate them to see if they change over time."
Empiricism and Beyond
Choosing which drug to administer to a patient with prostate cancer is currently based on "empirically derived general rules that have not always been critically tested," Dr. Logothetis said. "For example, one general rule is that patients who have disease with symptoms or the impending likelihood of symptoms should receive chemotherapy, while patients with less symptomatic, lower-volume disease should initially receive less toxic therapies like immunotherapies." While this seems logical, there is little evidence to back it up, he said.
With sipuleucel-T, an immunotherapy approved for patients with asymptomatic or minimally symptomatic metastatic castrate-resistant prostate cancer, Dr. Logothetis and his colleagues at MD Anderson "generally treat patients who have progressive disease but are relatively well and whose cancers are not likely to threaten them within the next 6 months with sipuleucel-T," he explained. "In contrast, patients with more advanced-stage disease who are more likely to develop symptoms receive chemotherapy."
Ideally, in order to prolong patient survival, the approach to administering prostate cancer drugs should "move beyond empiricism to a rational process based on understanding the underlying biology of the pathways these drugs target," Dr. Logothetis stated. "For example, I think there is a real sense of urgency to better understand precisely how immunotherapies like sipuleucel-T interact with chemotherapy." The critical question about how optimally to use immunotherapy and cytotoxic therapy so they enhance rather than inhibit each other has not been addressed in clinical trials, he said.
"The current FDA-approved indications for both abiraterone and cabazitaxel specify that these agents should be given after docetaxel," Dr. Logothetis continued, "but we are participating in clinical trials where these drugs are being used before docetaxel. If ever there was an anticipated interaction between agents that block pathways central to prostate cancer progression, it is with these drugs. We believe there is good reason to try these therapies in different sequences," he explained. "I think the results from these trials are going to rapidly produce major therapy advances that will prolong survival in patients with advanced disease." ■
Disclosure: Dr. Logothetis has received research support and honoraria from Pfizer, Johnson & Johnson, and Bristol-Myers Squibb.
SIDEBAR: Expect Questions from Your Patients
SIDEBAR: Timing of Prostate Cancer Drugs: Earlier But Not Too Early?
---
Related Articles
Drugs for the treatment of prostate cancer have been in the news because of recent approvals by the FDA, the costs connected with their use, and associated improvements in survival.1 More recently reported was the decision to allow Medicare coverage of sipuleucel-T treatment for men who met the FDA ...
While sipuleucel-T, abiraterone, and cabazitaxel have been approved for patients with advanced disease, they might also be used in patients with earlier-stage disease, according to Christopher J. Logothetis, MD, of MD Anderson Cancer Center. "I think it is fair to say that they will be used better...