Bevacizumab Makes Inroads against Ovarian Cancer

Bevacizumab (Avastin) administered with chemotherapy and continued after chemotherapy improves outcomes in ovarian cancer, according to two multicenter, randomized, double-blind phase III investigations presented at the 2011 ASCO Annual Meeting. The first study, ICON7, incorporated bevacizumab as part of first-line treatment with standard chemotherapy,1 and the second study, OCEANS, used the monoclonal antibody to treat platinum-sensitive, recurrent ovarian, primary peritoneal, or fallopian tube cancer.2
ICON7 Trial

Earlier results of ICON7 presented at the 2010 European Society for Medical Oncology (ESMO) meeting showed that combining bevacizumab with a platinum-containing doublet improved progression-free survival. Gunnar Kristensen, MD, a lead investigator of the study and Senior Consultant in the Department of Gynecologic Oncology, Norwegian Radium Hospital, Oslo, presented an updated progression-free survival analysis and an interim analysis of overall survival at the ASCO meeting. Mature overall survival results will be presented in 2013, he said.
The phase III study randomly assigned 1,528 women with high-risk early-stage and advanced-stage ovarian cancer to 6 cycles of carboplatin plus paclitaxel every 3 weeks vs the same chemotherapy with bevacizumab at 7.5 mg/kg every 3 weeks continued for an additional 12 cycles. At baseline, median age was 57 years, and 69% had serous histology.
The updated analysis showed a prolongation of progression-free survival for the addition of bevacizumab, with a net gain of 2.4 months. Median progression-free survival was 17.4 in the control arm vs 19.8 in the bevacizumab-containing arm (P = .039). At a median follow-up of 28 months, a trend toward prolonged overall survival with bevacizumab was observed in the interim analysis, with median overall survival not yet reached (hazard ratio = 0.85; 95% confidence interval = 0.69–1.04).
Further analysis of overall survival showed that patients with a high risk of recurrence (ie, stage III suboptimally debulked with > 1 cm tumor after surgery or stage IV after surgery) derived greater benefit from bevacizumab than other patients. At a median follow-up of 28 months, 47% of high-risk controls were dead vs 34% of high-risk women treated with bevacizumab (P = .002).
"This represents a median gain in survival of about 8 months and a 36% reduction of risk of dying among high-risk patients," Dr. Kristensen stated. Given the high cost of using bevacizumab and the fact that the high-risk group derived preferential benefit from front-line bevacizumab, Dr. Kristensen said that for now, he restricts the use of bevacizumab to high-risk patients. "We need the final survival analysis," he added.
OCEANS Trial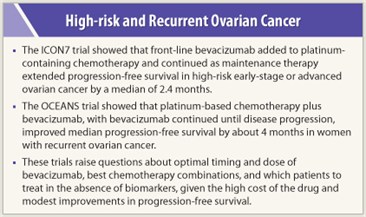 OCEANS was a positive study showing that bevacizumab added to carboplatin/gemcitabine followed by bevacizumab maintenance therapy provided a clinically meaningful benefit in recurrent ovarian cancer, achieving a 52% reduction in risk of progression and a median increase of 4 months in progression-free survival compared with carboplatin/gemcitabine alone. According to the investigators, safety data were reassuring and consistent with the known side-effect profile of bevacizumab.
"Bevacizumab plus carboplatin/gemcitabine followed by bevacizumab maintenance should be considered a new option for recurrent, platinum-sensitive ovarian cancer," said Carol Aghajanian, MD, of Memorial Sloan-Kettering Cancer Center in New York, who presented results at the Annual Meeting.
OCEANS randomly assigned 484 patients in a 1:1 ratio to receive either four cycles of carboplatin/gemcitabine plus placebo or the same regimen of carboplatin/gemcitabine plus bevacizumab at 15 mg/kg every 3 weeks continued until disease progression. The primary endpoint of progression-free survival was met. At a median follow-up of 24 months, median progression-free survival was 8.4 months with standard carboplatin/gemcitabine vs 12.4 months for the bevacizumab-containing arm (P < .0001).  Moreover, 79% of women who received bevacizumab had significant tumor shrinkage vs 57% in the carboplatin/gemcitabine–alone group. The curves separated between the two arms at 2 months and remained separate at 2.5 years of follow-up.
Dr. Aghajanian said that the next step is to evaluate the role of bevacizumab plus chemotherapy in platinum-resistant ovarian cancer and to combine it with other emerging novel therapies.
Added Perspective
Andrew Seidman, MD, Memorial Sloan-Kettering Cancer Center, who moderated a press conference where these data were released, noted that ICON7 and OCEANS show the benefit of antiangiogenic maintenance therapy at two different doses of bevacizumab (7.5 and 15 mg). No head-to-head studies comparing the two doses have been performed.
"The data support a potential role for bevacizumab as the first biologic agent in ovarian cancer," he stated.
Regarding the OCEANS results, he said: "A 52% improvement in progression-free survival with time away from cytotoxic chemotherapy lets women live longer and have more active lives. It is reassuring that there were no new safety signals [with bevacizumab] in this trial." ■
Disclosure: Dr. Kristensen has been a consultant for Roche. Dr. Aghajanian has been a consultant for and has received research funding from Genentech. Dr. Seidman reported no potential conflicts of interest.
Expert Point of View: Bevacizumab Makes Inroads against Ovarian Cancer
References
1. Kristensen G, Perren T, Qian W, et al: Result of interim analysis of overall survival in the GCIG ICON7 phase III randomised trial of bevacizumab in women with newly diagnosed ovarian cancer. 2011 ASCO Annual Meeting. Abstract LBA5006. Presented June 4, 2011.
2. Aghajanian C, Finkler NJ, Rutherford T, et al: OCEANS: A randomized, double-blinded, placebo-contolled, phase III trial of chemotherapy with or without bevacizumab (BEV) in patients with platinum-sensitive recurrent epithelial ovarian, primary peritoneal, or fallopian tube cancer. 2011 ASCO Annual Meeting. Abstract LBA5007. Presented June 4, 2011.
---
Related Articles

Formal discussant, Anil Sood, MD, The University of Texas MD Anderson Cancer Center, Houston, said that both studies presented important information, but several issues should be considered, including the best combination with bevacizumab, whether the benefits accrue from bevacizumab alone or...