ASCO's International Cancer Corps Launches Initiatives in Ethiopia and Vietnam
Volunteers sought to help build cancer care infrastructure.

Imagine just four oncologists attempting to provide care for a population of 82 million people living in a country covering twice the territory of Texas. That's the state of cancer care in Ethiopia.
And imagine a country of more than 90 million people—more than twice the population of California—where the lion's share of people with cancer don't know they have cancer and thus don't seek medical attention until their disease is advanced. This is Vietnam.
Epidemiologists estimate that a majority of the world's new cases of cancer are in low- and middle-income countries like Ethiopia and Vietnam. The situation is dire.
That's why the International Cancer Corps (ICC)—which ASCO launched with the international medical education organization Health Volunteers Overseas (HVO) in Honduras in 2010—has just expanded to Ethiopia and Vietnam. The purpose: to help bring care to underserved populations by assisting with the training of oncologists and others involved with the treatment of cancer patients.
Priorities Targeted to Each Country's Needs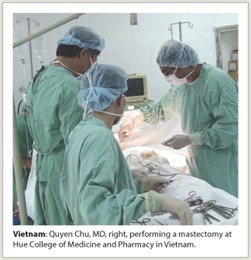 In the coming months, ASCO member volunteers will begin packing up and heading to the two new sites, singly or in teams, staying for 1 to 4 weeks, with other health professionals going over 3 to 4 times a year, said Quyen D. Chu, MD, HVO Program Director for Vietnam. Dr. Chu is Albert Sklar Endowed Professor of Surgery and Director of the Peritoneal Surface Malignancies Program at the Feist-Weiller Cancer Center at Louisiana State University Health Sciences Center in Shreveport.
Through the new HVO/ICC partnership with Vietnam's University of Hue, volunteers will help develop curricula, lead workshops in treatment areas that have the greatest need, and provide side-by-side clinical instruction. "The point is to assist with building infrastructure, enhancing what they already have and helping them keep abreast of the latest technology," said Dr. Chu, who conducted a needs assessment in Vietnam for the new ICC program and volunteered there in 2010.
Because the lack of a national screening program in Vietnam contributes to a significant number of patients presenting only after their disease is advanced, developing a more robust palliative care program is a priority there.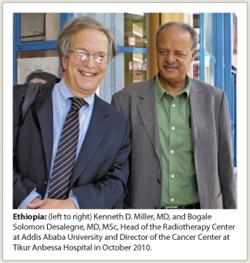 In Ethiopia, the HVO/ICC's major objective will be addressing the shortage of oncologists. Volunteers will help establish a 3-year residency program in clinical oncology at Tikur Anbessa (Black Lion) Hospital in Addis Ababa, the only hospital in Ethiopia that sees cancer patients. In addition, HVO/ICC volunteers will provide training to residents enrolled in the hospital's internal medicine training program, and more specialized oncologic training to surgeons, radiotherapy specialists, nurses, pathologists, and other health-care professionals who provide cancer care at Black Lion. Volunteers will also help develop a national cancer plan and education in cancer prevention measures. Assignments will range from 2 to 4 weeks. 
The HVO Program Director for Ethiopia is Kenneth D. Miller, MD, Director of the Adult Cancer Survivorship Program at Dana-Farber Cancer Institute.
Honduras Focus Has Been on Training Providers
ASCO and HVO chose Honduras as their first location for collaboration, because Honduras has fewer than 20 oncologists to serve a population of 8 million, and just one public hospital where cancer care is available. The Honduras HVO/ICC program focuses on three hospitals in the capital city of Tegucigalpa, with special attention given to the surgical oncology residency program there, which has just two residents at any one time.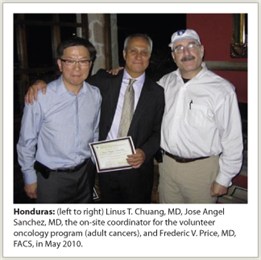 Linus Chuang, MD, volunteered in Honduras in May and November 2010. What impressed him most about the HVO/ICC program was its focus on capacity building. Dr. Chuang, Associate Professor of the Division of Gynecologic Oncology and Co-Director of the Minimally Invasive Surgery Department of Obstetrics, Gynecology, and Reproductive Science at Mount Sinai School of Medicine, said that other humanitarian efforts he's been involved with focused primarily on caring for patients in immediate need. In contrast, this program's value is in sharing clinical knowledge and skills with international colleagues, helping residents, fellows, and doctors already on the ground enhance the way they manage cancer patients.
"These young doctors will go and work in little villages, and in their lifetimes they will help countless patients—not just the 20 people I could help during my short time there," said Dr. Chuang, adding that his volunteer work through HVO/ICC was one of the most edifying things he's ever done.
For additional information about the International Cancer Corps program with HVO and to learn how to volunteer in Honduras, Ethiopia, or Vietnam, send an email to ASCO at international@asco.org or to HVO at d.stonehirsch@hvousa.org. ■
---