Susan M. Love, MD, MBA, Breast Cancer Surgeon, Researcher, and Advocate

Susan M. Love, MD, MBA, a renowned surgeon, author, researcher, and patient advocate who dedicated her life's work to breast cancer care, died on July 2, 2023, at her home in Los Angeles. The cause of death was recurrent leukemia. She was 75.
Born in Long Branch, New Jersey, on February 9, 1948, Dr. Love moved with her parents to Puerto Rico and then to Mexico, where her father, James Arthur Love, was a salesman for an industrial manufacturer. After briefly considering becoming a Roman Catholic nun while studying at the College of Notre Dame of Maryland, Dr. Love finished her Bachelor's degree at Fordham University in the Bronx, New York, and earned a medical degree from the Downstate College of Medicine of the State University of New York in 1974. She later received a Master of Business Administration degree from the University of California, Los Angeles (UCLA), in 1998.
Dr. Love did her surgical residency at Beth Israel Hospital in Boston, and, in 1987, she became Assistant Clinical Professor of Surgery at Harvard Medical School. The following year, Dr. Love founded the Faulkner Breast Center, a clinic nearly entirely run by a female medical staff, at Faulkner Hospital in Boston, and she would soon become a prominent crusader against breast cancer, a disease that remains the second leading cause of cancer death in women in the United States. This year, breast cancer will take the lives of about 43,700 women.1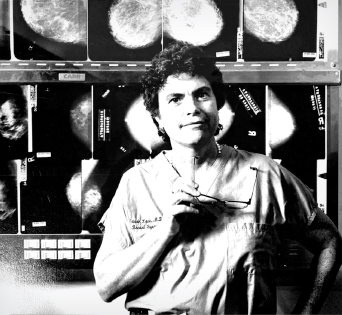 Susan M. Love, MD, MBA
An early outspoken critic of medicine's paternalistic attitude in the treatment of breast cancer, Dr. Love argued against the conventional procedure of radical mastectomy and questioned what she called the "slash, burn, and poison" approach—surgery, radiation, and chemotherapy—and advocated instead for breast-conserving treatment and for patient empowerment.
In an interview she gave in 2018 in The UCLA Anderson Blog, Dr. Love explained how she came to specialize in breast cancer.2 "It was pure sexism," she said. "I was a Chief Resident in Surgery at Harvard, and when I finished, nobody offered me a job. So, I hung up a shingle, and the people referred to me were all women with breast problems. And I found I could make a much bigger difference in that arena than I could fixing hernias and doing general surgery. There's always something unique that, as a woman, you can bring to the table that actually makes it better."
Pursuing Her Causes: Research, Patient Advocacy, and Social Justice
By the early 1990s, Dr. Love was gaining national attention for building an advocacy movement in breast cancer. She had published her first book, Dr. Susan Love's Breast Book, written with Karen Lindsey, which was dubbed "the bible for women with breast cancer" by The New York Times. Now in its sixth edition, the book has been translated into German, Dutch, Chinese, Japanese, Spanish, and Hebrew. An updated seventh edition is slated for publication this fall.
Dr. Love cofounded the National Breast Cancer Coalition in 1991. The following year, she joined the David Geffen School of Medicine at UCLA and launched the UCLA Breast Center, now known as the UCLA/Revlon Breast Center.
However, during this time, Dr. Love's activism was not limited to the pursuit of advancements in research in breast cancer; it extended to her personal life as well. In 1993, Dr. Love and her partner, Dr. Helen Sperry Cooksey, became the first homosexual couple to win approval from the Massachusetts Supreme Court to jointly adopt a child, Katie. Dr. Love was the biological mother who had conceived the child through artificial insemination.
At the time, same-sex marriages were outlawed throughout the United States, making adoptions between same-sex couples difficult. Dr. Love and Dr. Cooksey later married in 2004 in San Francisco, during the brief period before same-sex marriages became illegal in California in 2008. (In 2015, the U.S. Supreme Court ruled that the Constitution grants same-sex couples the right to marry throughout the country.3)
In 1996, Dr. Love retired from surgical practice, but she remained active in innovative research and advocacy through the Dr. Susan Love Foundation for Breast Cancer Research, focusing on the cause and prevention of breast cancer. Shortly before her death, Dr. Love and colleagues published the results of their study showing that artificial intelligence software applied to portable ultrasound devices could accurately identify breast malignancies, which could improve breast mass triage in women living in remote and resource-limited settings.4
The foundation's research efforts include the Love Research Army (formerly the Love/Avon Army of Women), which recruits volunteers worldwide to participate in breast cancer studies. Currently, there are more than 383,000 people enrolled in the research.5
Living Life to the Fullest
In 2012, a diagnosis of acute myeloid leukemia thrust Dr. Love into unfamiliar territory in which the physician was now the patient. "There is a sense of shock when it happens to you," Dr. Love said in an interview with The Columbus Dispatch.6 "In some ways, I would have been less shocked if I got breast cancer because it's so common. But getting leukemia was a world I didn't know. Even when you're a physician, when you get shocking news like this, you sort of forget everything you know and are scared the same as everybody else."
Chemotherapy and bone marrow transplantation were effective in putting the cancer in a durable remission. The treatments enabled Dr. Love to return to work and pursue her other interests, including dance, travel, good food, and wine, until her death.
"It just reminds you that none of us are going to get out of here alive, and we don't know how much time we have," Dr. Love said in an interview with The New York Times in 2013.7 "I say this to my daughter, whether it's changing the world or having a good time, that we should do what we want to do. I drink the expensive wine now."
Dr. Love is survived by her wife, Dr. Helen Sperry Cooksey; their daughter, Katie Patton-LoveCooksey; her sisters, Christine Adcock and Elizabeth Love; and her brother, Michael James Love. 
REFERENCES
1. American Cancer Society: Key Statistics for Breast Cancer. Available at www.cancer.org/cancer/types/breast-cancer/about/how-common-is-breast-cancer.html#:~:text=Breast%20cancer%20is%20the%20second,decline%20of%2043%25%20through%202020. Accessed July 17, 2023.
2. The UCLA Anderson Blog: Dr. Susan Love Hurdled Sexism to Make Greater Strides Toward a Cure for Cancer. Available at https://blogs.anderson.ucla.edu/anderson/2018/02/dr-susan-love-hurdled-sexism-to-make-greater-strides-toward-a-cure-for-cancer.html. Accessed July 17, 2023.
3. Human Rights Watch: US: Supreme Court Upholds Same-Sex Marriage. US Joins 18 Other Countries That Recognize Marriage Equality. June 26, 2015. Available at http://www.hrw.org/news/2015/06/26/us-supreme-court-upholds-same-sex-marriage. Accessed July 17, 2023.
4. Berg WA, López Aldrete AL, Jairaj A, et al: Toward AI-supported US triage of women with palpable breast lumps in a low-resource setting. Radiology 307:e223351, 2023.
5. Dr. Susan Love Foundation for Breast Cancer Research: Love Research Army—Bringing Together Researchers and People to Advance the Work. Available at https://drsusanloveresearch.org/about-the-army-of-women/. Accessed July 17, 2023.
6. The Columbus Dispatch: Surgeon's illness inspires new perspective on disease. February 20, 2013. Available at www.dispatch.com/story/lifestyle/health-fitness/2013/02/21/surgeon-s-illness-inspires-new/23459529007/. Accessed July 17, 2023.
7. Parker-Pope T: Susan Love's Illness Gives New Focus to Her Cause. The New York Times, February 18, 2013. Available at https://archive.nytimes.com/well.blogs.nytimes.com/2013/02/18/susan-loves-illness-gives-new-focus-to-her-cause/. Accessed July 17, 2023.
---