NCCN Foundation Announces Awards for Rising Cancer Research Leaders

The National Comprehensive Cancer Network® (NCCN®) and the NCCN Foundation® have announced six new recipients for the 2021 NCCN Foundation Young Investigator Awards Program. The honorees will receive up to $150,000 in funding in the course of 2 years to advance research on important issues in oncology. These early-career investigators from NCCN Member Institutions represent tomorrow's leaders for advancing cancer care.
"NCCN is committed to improving the lives of people with cancer by supporting research that is novel, transparent, and meaningful," said Wui-Jin Koh, MD, Chief Medical Officer, NCCN. "The NCCN Foundation Young Investigator Awards Program exemplifies this objective by fostering emerging talent and exploring promising areas for study."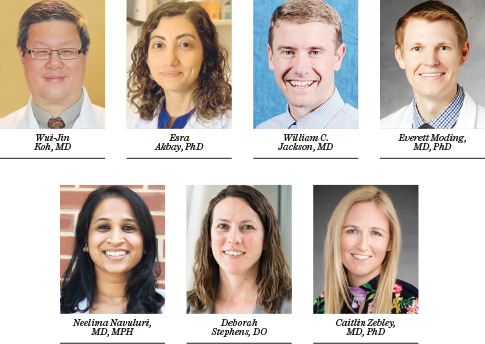 2021 Young Investigator Awards Recipients
Esra Akbay, PhD, University of Texas Southwestern Simmons Comprehensive Cancer Center: "Activating Antitumor Innate Immunity to Overcome Checkpoint Blockade Resistance in Non–Small Cell Lung Cancer"
William C. Jackson, MD, University of Michigan Rogel Cancer Center: "A Phase II Randomized Trial of Moderate Versus Ultra-Hypofractionated Post-Prostatectomy Radiation Therapy"
Everett Moding, MD, PhD, Stanford Cancer Institute: "Resolving Sarcoma Evolution During Tumor Development and Radiation Therapy"
Neelima Navuluri, MD, MPH, Duke Cancer Institute: "Intervention Mapping to Improve Lung Cancer Screening Among Black Veterans"
Deborah Stephens, DO, Huntsman Cancer Institute at the University of Utah: "Nonmelanoma Skin Cancer in Patients with Chronic Lymphocytic Leukemia: Biology and Prevention"
Caitlin Zebley, MD, PhD, St. Jude Children's Research Hospital: "Epigenetic Reprogramming of CAR T-Cell Therapy."
The research from these recipients will be presented during the NCCN 2023 Annual Conference. Recipients of the 2018 NCCN Young Investigator Awards presented their research during the NCCN 2021 Virtual Annual Conference; those abstracts are now available in JNCCN—Journal of the National Comprehensive Cancer Network. The NCCN Foundation has awarded $8.1 million since 2011 through the Young Investigator Awards program, to a total of 57 researchers.
---