Cancer on the Global Stage: Incidence and Cancer-Related Mortality in Bahrain
World Health Organization Region: The Americas


Hope Craig, MSPH

Chandrakanth Are, MBBS, MBA, FSSO, FRCS, FACS
The Kingdom of Bahrain is a high-income island nation located in the Persian Gulf. The nation is an archipelago consisting of two separate groups of islands spanning 30 miles north to south, 10 miles east to west, and about 3.5 times the size of Washington, DC. Though situated in a region rich in oil, Bahrain itself has small stores of petroleum and instead relies on processing crude oil from neighboring countries.1 In recent years, the financial, commercial, and communications sectors have also grown.
With a population of just over 1.5 million people, Bahrain is a small country with a population growth rate of less than 1% and an average life expectancy of 80 years at birth (Table 1). Almost 90% of people live in urban areas, and the majority (74%) are Muslim.2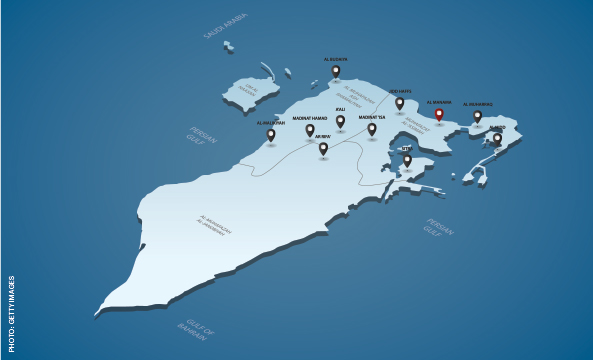 Consistent with regional trends in the Persian Gulf, the burden of cancer in Bahrain is rising.3,4 Latest available data indicate that breast, colorectal, and lung cancers, followed by non-Hodgkin lymphoma and leukemia, are the five most frequently diagnosed cancers in Bahrain, each with associated risk factors (Figure 1).5
Significant risk factors for colorectal cancer, for example, include obesity, smoking, sedentary lifestyle, and a high-fat/low-fiber diet. Almost one-third of the population of Bahrain is overweight or obese (Table 1).2,6 Smoking is a prominent behavioral risk factor for lung cancer. The overall prevalence of smoking in Bahrain (including cigarettes, shisha [waterpipe], pipes, and cigars) is 19.9%. The prevalence of cigarette smoking alone (manufactured or hand-rolled) is 13.8%, with a 22-fold higher rate in males (27%) than in females (1.2%).6
Cancers of the lung, breast, colorectum, stomach, and liver account for the five leading causes of cancer-related mortality (Figure 2).5 It is predicted that the cancer incidence and cancer-related mortality in Bahrain will rise by 170% and 220%, respectively, over the next 2 decades (Figures 3 and 4).5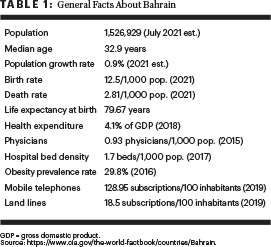 These rising cancer trends are noteworthy in Bahrain, where a national cancer control policy is in place that has the ability to provide high-quality comprehensive cancer care for all citizens.7,8 -Bahrain is one of the countries in the Arab region with preventive policies in place to target behavioral risk factors for various cancers. These measures include operational policies to reduce the tobacco burden and preventive policies for obesity and physical inactivity.7
Bahrain also has free cancer treatment facilities in a public hospital, the Salmaniya Medical Complex, which has an oncology services center with up-to-date technology for cancer diagnostics and treatment.8 It is anticipated that these resources and interventions will help tackle the predicted rise in cancer burden in Bahrain. 
DISCLOSURE: Ms. Craig reported no conflicts of interest. Dr. Are is a board member with Global Laparoscopy Solutions; has received research funding from Pfizer; and has a patent with the University of Nebraska Medical Center for a laparoscopy instrument.
REFERENCES
1. Smith CG, Crystal JA: Bahrain. Encyclopedia Britannica. Available at https://www.britannica.com/place/Bahrain. Accessed July 20, 2021.
2. Central Intelligence Agency: The World Factbook—Middle East: Bahrain. Available at https://www.cia.gov/the-world-factbook/countries/Bahrain. Accessed July 20, 2021.
3. Hamadeh RR, Abulfatih NM, Fekri MA, et al: Epidemiology of breast cancer among Bahraini women: Data from the Bahrain Cancer Registry. Sultan Qaboos Univ Med J 14:e176-e182, 2014.
4. Nasaif HA, Al Qallaf SM: Knowledge of colorectal cancer symptoms and risk factors in the Kingdom of Bahrain: A cross-sectional study. Asian Pac J Cancer Prev 19:2299-2304, 2018.
5. International Agency for Research on Cancer, World Health Organization: Cancer Today/Population Fact Sheets: Bahrain, Globocan 2020. Available at https://gco.iarc.fr/today/data/factsheets/populations/48-bahrain-fact-sheets.pdf. Accessed July 20, 2021.
6. World Health Organization: National noncommunicable diseases risk factors survey 2007. Kingdom of Bahrain Ministry of Health, 2009. Available at http://www.who.int/ncds/surveillance/steps/2007_STEPS_Survey_Bahrain.pdf. Accessed July 20, 2021.
7. World Health Organization: Cancer Country Profile 2020: Bahrain. Available at www.who.int/cancer/country-profiles/BHR_2020.pdf. Accessed July 20, 2021.
8. International Association of Cancer Registries: Bahrain Cancer Registry Profile Page. Available at http://www.iacr.com.fr/index.php?option=com_comprofiler&task=userProfile&user=1328&Itemid=498. Accessed July 20, 2021.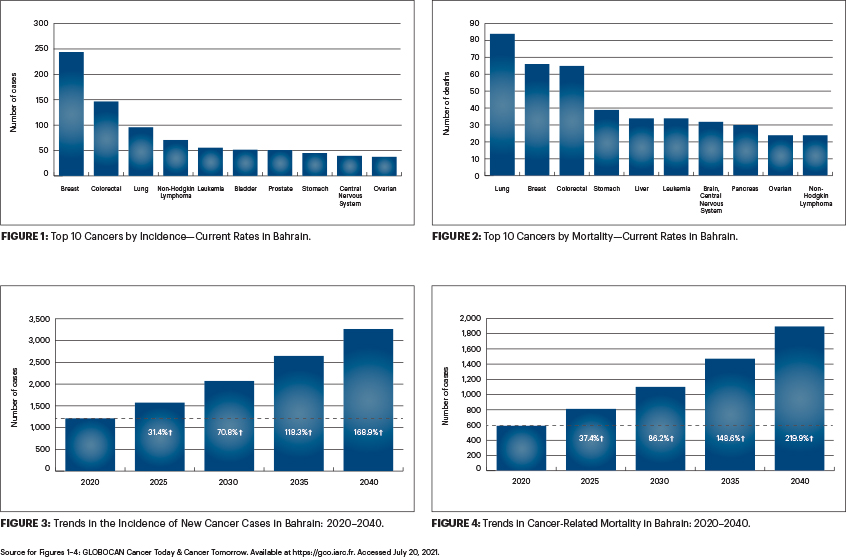 ---