From Istanbul to Orange County, an Oncologist's Journey to a Leadership Role in Quality Care


Pelin Cinar, MD, MS
Pelin Cinar, MD, MS, was born and reared in Istanbul, Turkey. "My father ran a small furniture business, and my mother was a homemaker. However, I had a distant cousin who was an obstetrician-gynecologist, but he did house calls and treated any number of health issues in the community. Early on, I began looking up to him and appreciated his caring and altruistic behavior. So, even as a child, I knew I wanted to do something in the health sector," said Dr. Cinar.
Seeking business opportunities not readily available in Istanbul, Dr. Cinar's two older brothers emigrated to Southern California. When Dr. Cinar was 15 years old, her parents made the considerable decision to reunite the family, also emigrating to California. "Fortunately, when I was in junior high school in Turkey, I attended an English-emergence school, which helped me adjust when we moved to the United States. For a teenaged girl, leaving her social network and moving to a foreign country can be emotionally devastating, but my transition was made easier by my love of dance, which I studied in Turkey. I went to Irvine High School in Orange County and immediately joined the dance team, which helped me integrate into the school's social milieu," said Dr. Cinar.
During her junior year, Dr. Cinar's mother developed breast cancer; given that her parents didn't speak English, Dr. Cinar was suddenly thrust into the role of surrogate parent for her ailing mother. "We had friends who were somewhat familiar with the health-care system, and I quickly began to learn the terms and procedures, which helped me direct my mother through her care. I went with her on all her doctor's visits, serving, among other things, as her translator. So, in effect, at the age of 16, I was acting as a patient navigator for my mother. I found I really liked the challenge and the people I was dealing with, so that experience truly solidified my decision to become a doctor," noted Dr. Cinar.
Staying Close to Home
After graduating from high school, Dr. Cinar attended the University of California, Irvine (UC Irvine), largely because she wanted to remain close to her mother. "The UC Irvine experience was simply wonderful. I had a mentor, Dr. Hoda Anton-Culver, who introduced me to cancer epidemiology, my first exposure to cancer outcomes. After receiving my BS and BA from UC Irvine, I applied to medical schools; I was not accepted on the first round, so I did a master's program at the school of social sciences, with a focus on epidemiology, which would prove valuable later in my oncology career," she said.
In 2003, Dr. Cinar entered the UC Irvine School of Medicine, where she also did her residency in internal medicine. "My favorite rotations were in the oncology clinics. I loved each discipline and decided that oncology was going to be my career. During my residency, my mother's breast cancer recurred, which also deeply affected my desire to pursue oncology," she explained.
Following her residency, Dr. Cinar began her fellowship training in hematology and oncology at UC San Francisco (UCSF), where she was appointed Chief Fellow. "I have been very fortunate to be connected with amazing people who have influenced me personally and professionally. When I entered fellowship, I wasn't exactly sure what I wanted to do as a subspecialty and was thinking either thoracic or gastrointestinal (GI) oncology. As a first-year fellow, we had to join journal clubs and case conferences, and I did a hematologic case conference that I found interesting, but I still was up in the air. Then, I serendipitously spoke with Alan Venook, MD, who asked if I would like to join his GI oncology group. I said absolutely, and that's how I became a GI oncologist," she related.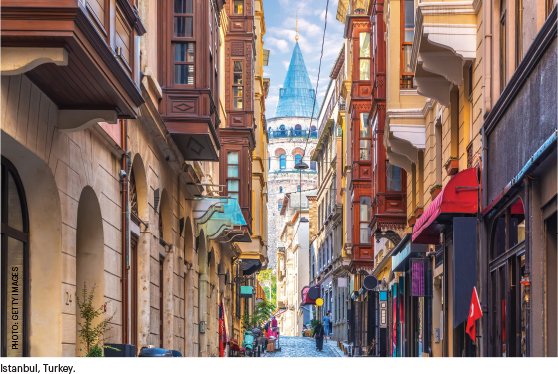 Dr. Cinar continued: "Alan's group accepted me right off, and I knew I'd made the right decision. In fact, Alan became my chief mentor and helped every facet of my career. In the group, I also had the great fortune to work with other recognized oncologists, such as Andrew Ko, MD, and past ASCO President Margaret Tempero, MD. During my fellowship, my close aunt was diagnosed with pancreatic cancer, and, in large part, that's what sparked my interest in that disease. Naturally, Andrew and Margaret are leaders in the field, so we developed a close working relationship, which was a terrific learning experience for me."
Finding Her Passion
During her fellowship, Dr. Cinar found what she described as her "true passion" in her career. "We didn't have anyone on faculty who specialized in quality and patient safety, which was what I wanted to do, but I didn't know how to advance the desire into a solid path forward. As luck would have it, Stanford was looking for a GI oncologist and for an associate medical director of its quality program at the cancer center. I got the job and had the opportunity to work with another past ASCO president, Doug Blayney, MD, who was the center's director and a leader in the quality movement. He also became a valuable quality oncology mentor. I worked with Doug for 2 years, which was an invaluable experience for my career," she shared.
Back to UCSF
During her tenure at Stanford, her first mentor, Dr. Venook, continually reached out to Dr. Cinar to see how things were progressing. Dr. Cinar noted that each conversation ended with the invariable question: When are you coming back to UCSF? Then, at the end of Dr. Cinar's second year at Stanford, Dr. Venook called, this time with a career-changing overture. "Alan said the UCSF cancer center wanted to develop an oncology quality care program and asked if I'd be interested. I said absolutely, and, in 2016, I left Stanford to rejoin UCSF to develop its quality and safety program," she explained.
Since beginning the program in 2016, Dr. Cinar has led numerous initiatives to improve the guidance and level of safety for patients with cancer. She noted that her daily schedule has slowly begun to resemble what it was prior to the COVID-19 pandemic. Asked to describe the impact that COVID had on her operations, she said: "The biggest challenge was the uncertainty. We didn't know what kind of surge we were going to get or how to prepare for it. So, we had to rapidly devise innovative ways to deliver critical care to our oncology patients under extremely difficult circumstances. We transferred our in-person business to telehealth visits and implemented rigorous screening methods for patients who had any concerning COVID respiratory symptoms. It was challenging, but the UCSF team is terrific, and we worked together to ensure that our patients with cancer received the high-value care they deserved."
Returning to Normal
As UCSF returns to pre-COVID normal, Dr. Cinar does 1 day per week in clinical practice, seeing patients with pancreatic cancer. "Outside of the clinic, I lead a lot of the patient safety issues. For instance, if there is a medication error, we track it down and isolate it, and from there we can make systematic adjustments if needed. On the outcomes side, my job is to evaluate the metrics and determine how we can improve. In addition, I lead a lot of communities within and outside the cancer center that look for strategies to improve care, which also includes implementing data into our electronic medical records system. So, it's a very busy week," she added.
How does a super-busy oncology leader decompress? "Well, I have a 4-year-old son, who, on multiple levels, keeps me grounded. He's obsessed with dinosaurs and is therapeutic." 
DISCLOSURE: Dr. Cinar has served as a consultant or advisor to Astellas.
---