AMA, Satcher Health Leadership Institute Announce Inaugural Recipients of Health Equity Advocacy Fellowship

The American Medical Association (AMA) and the Satcher Health Leadership Institute at the Morehouse School of Medicine recently announced the selection of 12 physicians as the inaugural group of fellows for the Medical Justice in Advocacy Fellowship. This new collaborative initiative is intended to empower physician-led advocacy to advance health equity, removing barriers to optimal health for all.
More than 300 applications were received nationwide. The selected fellows represent a unique group of physicians from around the country encompassing multiple specialties, all with a commitment to addressing the root causes of health inequities and improving the health and well-being of their patients and the communities they serve.
The 2021–2022 Medical Justice in Advocacy fellows are:
Eileen Barrett, MD, MPH, SFHM, MACP
Amber Clark, MD
Charles Calvin Coleman, MD
Lorenzo Antonio Gonzalez, MD, MPL
Omar Guzman, MD
Kamaal A. Jones, MD
Kameryn J. Lee, MD, MSPH, FACOG
Melissa Palma, MD, MPH
Avani K. Patel, MD, MHA
Shilpen Patel, MD, FACRO, FASTRO
Maya Ragavan, MD, MPH, MS
Ramona Rhodes, MD, MPH, MSCS.
Building a More Inclusive Society
"It is an honor to welcome the inaugural cohort of physicians for the Medical Justice in Advocacy Fellowship," said AMA's Chief Health Equity Officer Aletha Maybank, MD, MPH. "The AMA is committed to educating and empowering a new generation of physician leaders that can effectively advocate for advancing equity and justice within their own communities, bringing us closer to our goal of improving the health of our nation."
"We are thrilled to provide the selected fellows with an innovative mentoring and training platform that uses an antiracist and equity-centered framework. This initiative is a unique opportunity to equip physicians with the tools, skills, and knowledge to engage in institutional and political health advocacy, offering solutions for a more healthy, equitable, and inclusive society," said Daniel E. Dawes, JD, Professor of Health Policy and Executive Director of the Satcher Health Leadership Institute and author of The Political Determinants of Health.
The fellowship will cultivate physicians as the next generation of advocacy leaders, driving meaningful policy and structural changes that ensure equity and justice in medicine and their communities. Under the mentorship of renowned multidisciplinary health-equity experts, the fellows will work collaboratively to generate and exchange solutions for implementing healthy equity projects focused on ensuring better health outcomes and closing health gaps for patients and their communities.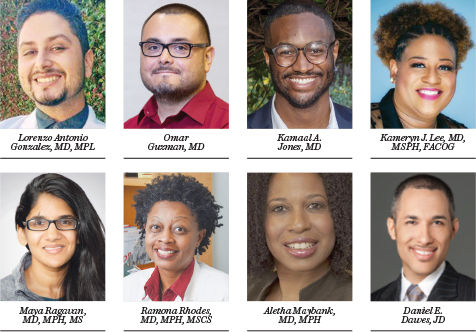 ---