Roswell Park Gynecologic Oncologists Awarded Leadership Roles

Roswell Park Comprehensive Cancer Center Deputy Director Kunle Odunsi, MD, PhD, FRCOG, FACOG, announced the promotion of three staff members to leadership positions. "The dedication of this trio of physicians to their patients and Roswell Park's mission is unmatched," said Dr. Odunsi, who also serves as the Robert, Anne & Lew Wallace Endowed Chair in Cancer Immunotherapy, Chair of the Department of Gynecologic Oncology, and Executive Director of the Center for Immunotherapy. "I am so pleased to announce their new appointments. I know all of them will flourish in their new roles."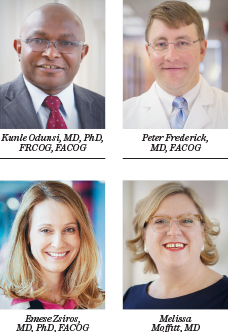 The promoted staff members are:
Peter Frederick, MD, FACOG, was named Clinical Chief of Gynecology. In his 10-year tenure at Roswell Park, Dr. -Frederick has been integral in developing and promoting the gynecologic robotics program and training surgeons in these techniques. He will continue to serve as Associate Dean of Graduate Medical Education. He succeeds Shashikant Lele, MD, who will remain as a staff physician on the gynecologic oncology team. Dr. Frederick earned his medical degree from the University at Buffalo's Jacobs School of Medicine and Biomedical Sciences and completed a fellowship in gynecologic oncology at the University of Alabama at Birmingham.
Emese Zsiros, MD, PhD, FACOG, was named Director of Research. On staff since 2014, Dr. Zsiros has a passion for providing personalized care, fine-tuning surgical techniques, and diving deep into cancer immunotherapy research. She currently leads the only testing center in the area endorsed by the Fundamentals of Laparoscopic Surgery. In this leadership role, she will guide the research strategy of the department with the goal of benefiting patients with gynecologic malignancies. A graduate of the University of Debrecen, Hungary, Dr. Zsiros completed a residency at the McGaw Medical Center of Northwestern University and fellowship training in gynecologic oncology at the University of Pennsylvania.
Melissa Moffitt, MD, was named Fellowship Program Director. A new addition to Roswell Park's medical staff, Dr. Moffitt will promote learning for fellows and residents in each of the center's competency areas and oversee the Graduate Medical Education programs. In keeping with her strong engagement in community outreach, she will also work closely with Roswell Park's Cancer Survivorship Center, addressing important topics related to cancer, fertility, and sexual health. Dr. Moffitt obtained her medical degree from the University of California Davis School of Medicine. She completed a residency at the University of Massachusetts Medical School and fellowship training at the University of Southern California Medical Center. 
---