NCI Funds Studies of Impact of Telehealth and Telemedicine Capacity for Rural Patients Amid COVID-19 Pandemic

The National Cancer Institute (NCI) has awarded the Sidney Kimmel Cancer Center–Jefferson Health (SKCC) a supplemental grant (P30) to study the role of telehealth in delivering cancer care during the COVID-19 pandemic. The project will evaluate the impact of telehealth on health outcomes, patient and clinician well-being, and health equity. The NCI has also presented a supplemental grant to Dartmouth's and Dartmouth-Hitchcock's Norris Cotton Cancer Center (NCCC) for research related to the sustainability of telemedicine for rural patients with cancer.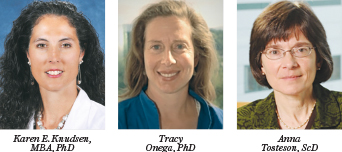 Caring for Patients at an Increased Risk
SKCC first implemented telehealth as part of its cancer care strategy in 2017, allowing the center to rapidly expand related activities, thus reducing risk and exposure as well as assuring continuity of care. Virtual appointments include new patient consultations, follow-up visits, multidisciplinary visits, and virtual visits with the oncology social work team. From January 1 through March 15, 2020, SKCC completed 456 telehealth visits in medical, surgical, and radiation oncology. After the onset of the COVID-19 pandemic, between March 16 and June 7, the institution completed 7,952 telehealth visits.
A previous pilot study of surgical patients at SKCC found that postoperative telehealth visits reduced readmissions and emergency department visits while improving patient satisfaction. The researchers plan to extend these findings and further assess the impact of telehealth on these outcomes by comparing the pre-telehealth expansion prior to the COVID-19 pandemic, mid-pandemic telehealth expansion, and post-telehealth expansion post-pandemic. 
Partnerships With Other Organizations
The SKCC telehealth research team will also meet regularly with the two other U.S. institutions that were awarded P30 supplements: Stephenson Cancer Center at the University of Oklahoma and Dartmouth-Hitchcock NCCC.
"Each cancer center serves a different patient population. The centers' collaboration will provide an opportunity to compare and analyze the impact of telehealth on ethnically and socioeconomically diverse populations in different geographic settings," noted Karen E. Knudsen, MBA, PhD, Executive Vice President of Oncology Services and Enterprise Director of SKCC.
"The ongoing telemedicine services provided by the Dartmouth-Hitchcock Center for Telehealth and Connected Care have increased almost 25-fold since the pandemic began, and many clinical care teams have transformed to mostly telemedicine appointments," said Tracy Onega, PhD, Associate Director for Community Outreach and Engagement and Co-Director of the Cancer Population Sciences Research Program at NCCC.
Dr. Onega will lead a research team together with Anna ­Tosteson, ScD, Associate Director for Population Sciences at NCCC. The investigators will explore the explosive growth of telemedicine during the COVID-19 pandemic to learn what factors can be sustained over time, what adaptations are necessary, and the impact on patients of this shift in care delivery.
By studying the change in telemedicine capacity and related outcomes, the team hopes to acquire a greater understanding of where telemedicine is best used to enhance the quality, ease, and safety with which cancer care is delivered across the continuum. The timeliness of this research allows a unique opportunity to examine the effects of a public health crisis that will shape the future of health care.
---