Managing the Cost of Cancer Care Can Be Overwhelming
This ASCO Resource Can Help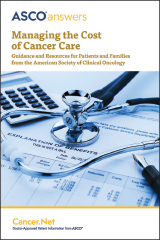 A cancer diagnosis is often overwhelming in and of itself, and adding financial burdens to the mix can sometimes feel unmanageable. Provide your patients with practical guidelines with the Managing the Cost of Cancer Care booklet from ASCO Answers. It covers health insurance benefits, information about the Affordable Care Act, tips, and more.
ASCO Answers are the ideal take-home patient education resources. Download free printable PDFs at www.cancer.net/ascoanswers or visit www.cancer.net/estore to order a pack of 50 booklets for just $20. Free domestic shipping is available, and members save 20%. 
© 2020. American Society of Clinical Oncology. All rights reserved.
---