Juanita L. Merchant, MD, PhD, Appointed to Ludwig Institute's Scientific Advisory Committee

Ludwig Cancer Research recently welcomed Juanita L. Merchant, MD, PhD, to the Scientific Advisory Committee of the Ludwig Institute for Cancer Research. Dr. Merchant is a practicing clinician and an accomplished researcher at the University of Arizona, Tucson, where she is Professor and Chief of Gastroenterology and Hepatology. She joins a group
of distinguished scientists who advise the Scientific Director of the Ludwig Institute, Chi Van Dang, MD, PhD, on the organization's research strategy, priorities, and scientific staffing.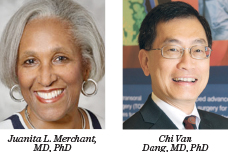 "We are excited to have Juanita on board as an advisor, and I am sure our research program will benefit a great deal from her guidance and advice," said Dr. Dang. "Her extensive experience investigating the genesis and prevention of gastrointestinal cancers will be of great value to the committee, especially since laboratories across Ludwig Cancer Research are actively engaged in related investigations."
From the Laboratory to the Community
Dr. Merchant has long studied how bacteria like Helicobacter pylori contribute to the development of gastric cancers. Her lab has described how inflammatory factors produced in response to microbial infection and the modulation of a cellular signaling cascade (the sonic hedgehog pathway) prompt changes in gastric tissue and local immune cells that precede the emergence of such tumors. She and her team also discovered that a controller of gene expression known as ZBP-89 contributes to the development of colon cancer, and they are exploring its role in carcinogenesis and regulation by butyrate, a metabolite of dietary fiber produced by commensal gut bacteria.
In addition, Dr. Merchant has made some surprising discoveries about the cellular origins of duodenal neuroendocrine tumors known as gastrinomas—showing they likely originate from neural tissues of the intestines rather than the cellular lining of the gut, as was commonly believed. The findings have implications for the development of targeted therapies for gastrinoma, and she and her team have now constructed mouse models to further elucidate the molecular and physiologic mechanisms that fuel this cancer.
As a clinician, Dr. Merchant is also a co-investigator in the Partnership for Native American Cancer Prevention. In this capacity, she is studying how to ensure respectful, culturally sensitive, and effective interactions for cancer research and care between the University of Arizona Cancer Center and underserved Native American communities. As a leader of this effort, she also serves as an intermediary between tribal communities and federal and state agencies. 
---